Kobe Bryant Was 'Thirsty' Like Michael Jordan, but His Former Hall of Fame Teammate Refuses to Consider Him for the GOAT Title
Michael Jordan and Kobe Bryant were two of the greatest players to ever play in the NBA. They could essentially score the ball on command, and they both shared similar killer instincts during crunch time.
However, Bryant's former Hall of Fame teammate, Mitch Richmond, recently refused to put Kobe in the GOAT conversation with MJ, as Mamba's Jordan-like qualities weren't enough to put him in the debate.
Kobe Bryant aspired to be like Michael Jordan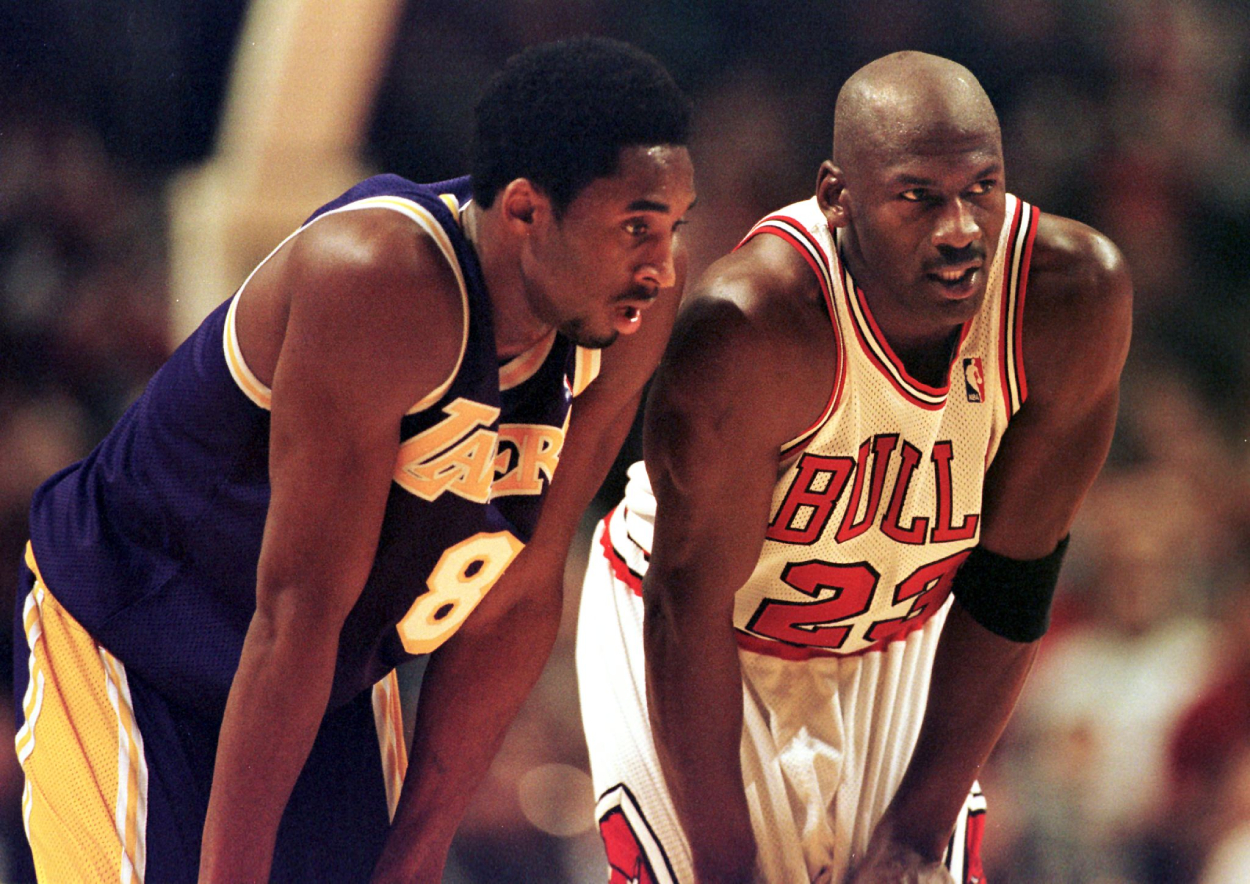 Watching Kobe Bryant's NBA highlights is almost like watching Michael Jordan in a Los Angeles Lakers jersey. They had the same moves and even played with the same type of fire and tenacity.
In fact, Bryant wanted to be like MJ so bad that he would watch Michael's interviews on team planes.
"He wanted to be him more than anything in the world — and be better," his former Lakers teammate Jon Barry said on an episode of The Dan Patrick Show earlier this year. "He got close, but that's all he wanted."
While that could have led to Jordan disliking or being intensely competitive with the LA legend, the two stars actually formed a close relationship.
"Maybe it surprised people that Kobe and I were very close friends," Jordan said at Kobe's memorial ceremony in 2020, per ESPN. "But we were very close friends."
However, Mamba's similarities with His Airness didn't just automatically put him in the GOAT conversation.
Mitch Richmond still thinks Michael Jordan is the GOAT
Mitch Richmond is a Naismith Memorial Basketball Hall of Famer, and, given that they were both stars in the 1990s, he played against Michael Jordan on many occasions throughout his NBA career.
However, he also played with Bryant during his final season in 2001-02. And at that point, Richmond was no longer in his prime, but he played on a Lakers team with Kobe and Shaquille O'Neal that ended up winning its third consecutive title that year.
"You know he (Jordan) was going to come at you each and every night," Richmond said during a recent episode of T.O. and Hatch Getcha Popcorn Ready. "Kobe had that same thing, and I think all the great ones have it, that they're thirsty to score."
But although Bryant was "thirsty" like MJ, the latter is still the GOAT in Richmond's eyes.
"Of course (Jordan is); I went up against him each and every night," he said. "… Kobe was, he's in that level. No question about it. But Mike changed the game in so many other ways, not only on the court but off the court. And then guys all of a sudden started doing endorsements, getting checks from not just playing basketball. He just opened the door for a lot of things."
Michael Jordan and Kobe Bryant both had legendary careers
Most people will likely agree with Richmond's opinion, but Michael Jordan's GOAT status (in the eyes of many) doesn't mean Kobe Bryant was a slouch.
Here's a look at each of their stats and accomplishments.
Michael Jordan:
14-time All-Star
Six-time NBA champion
Six-time NBA Finals MVP
Five-time league MVP
10-time NBA scoring leader
30.1 career points average (No. 1 all-time)
32,292 career points (Fifth all-time)
Kobe Bryant:
18-time All-Star
Five-time NBA champion
Two-time NBA Finals MVP
One NBA MVP award
Two-time NBA scoring leader
25.0 career points average (13th all-time)
33,643 career points (Fourth all-time)
Again, it's hard to give one player the edge over the other, but Bryant achieved everything he did in large part because of Jordan. MJ helped pave the way for him, and he has done so for many other greats as well.
Whether you still think Kobe Bryant deserves GOAT recognition or not, though, all of Michael Jordan's accomplishments came first.
Stats courtesy of Basketball Reference