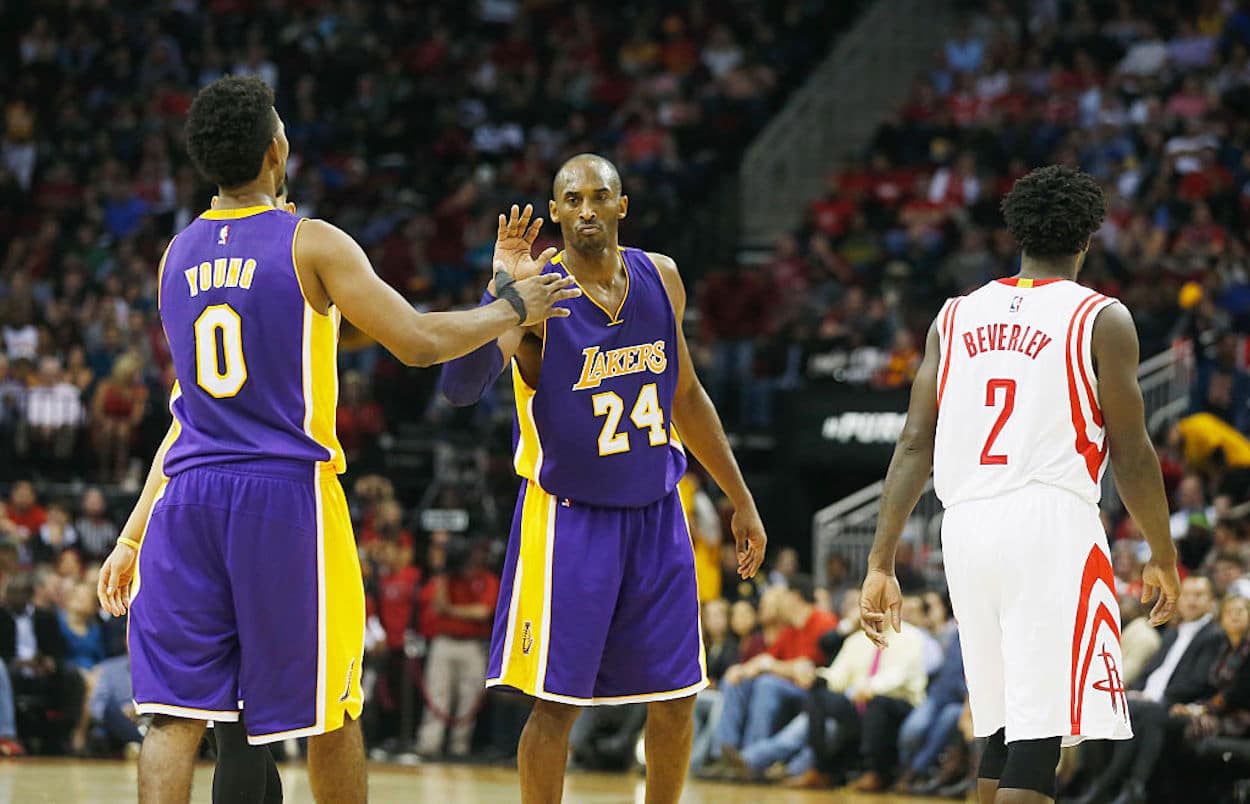 Kobe Bryant Threw a Teammate's Adidas In the Garbage, Shed a Few Tears, and Popped Some Champagne After His Final NBA Game
If you wanted to interact with Kobe Bryant, you needed to leave your Adidas gear at home. Just ask Nick Young about that.
When you think of competitive NBA players, a couple of names probably land at the top of your list. Michael Jordan, due to his sheer pop-cultural presence, will be up there, and Kobe Bryant won't be far behind. The late Lakers legend wanted to be like Mike, after all, and became famous for his Mamba Mentality.
That was even apparent after Kobe's final NBA game. While the guard shed a few tears and signed plenty of autographs for his peers, there was one line he wouldn't cross. When Nick Young approached Bryant with some Adidas, there was no other option. They were bound for the trash.
Sound unbelievable? Let's travel back to April 2016 and go inside the Lakers' locker room.
Kobe Bryant might have been feeling sentimental, but he wasn't going to sign any Adidas
From afar, the lasting memory of Kobe Bryant's final NBA game was his 60-point performance. That seemed like the perfect way for the star, who had made a name for himself by shining on the biggest stage, to go out. Behind the scenes, though, there was some additional Mamba Mentality on display.
As recorded in an old SB Nation post, Nick Young tried to get his Adidas sneakers signed by Bryant in honor of their final game together. Kobe, however, wasn't having it.
"I think the feeling was like we won a championship. They had the champagne bottles after. But yeah, it was great. The confetti, the five-minute intro he had, Kobe signing autographs — We was all in line like we was fans, you know, in the locker room — the fact that he threw my Adidas and didn't sign my Adidas, I was a little disappointed in that," Swaggy P said at the time. "But … he could not end without something like that, so … I think he threw my shoes in the trash, but yeah, that's Kobe for you."
In fairness to Bryant, his dislike for Adidas wasn't a one-off phenomenon. On another occasion, he balked at doing an interview with a reporter wearing the brand's gear.
The guard also revisited that experience during a VladTV interview.
"Yep, and he said, 'Hell na,' and threw [the sneakers] in the trash," Young remembered. "He don't like Adidas. Said, 'F Adidas. I don't mess with Adidas. But lucky I had my Nike Kobes. He signed those. But he always used to, I knew he was gonna do something. I was hoping he'd sign it, but I kinda knew he was gonna do that. Just cause he always messed with me."
Bryant, however, wasn't in full competitive mode after the final whistle had blown. According to Young, the Black Mamba even shed a few tears knowing that his career had finally come to an end.
"He cried a little bit in the locker room," the former Laker continued. "Yeah, yeah, yeah, yeah. Then we, like, celebrated in the locker room. … Then we like celebrated. Everybody had champagne, poured champagne on him and all of that."
In a way, that night proved to be a pretty solid way for Kobe to go out. While winning a championship would have been ideal, he got to 1) drop 60 points in a victory, 2) needle Nick Young and Adidas, and 3) celebrate with his teammates.
Many players don't get to choose when they ride off into the sunset. Not only did Kobe Bryant get that chance, but he did it his way.
Have thoughts on this topic? Keep the conversation rolling in our comments section below.