Kobe Bryant Tried to Manipulate Russell Westbrook to Create Friction With Kevin Durant
Kobe Bryant held a fierce passion for the game that pushed him to become an all-time great. The former Los Angeles Lakers star used that to gather an edge over his opponents fueled by his sheer will and determination.
However, Bryant also ventured into the mental aspect of the game to get a competitive advantage. All that once led the Hall of Famer to attempt to influence Russell Westbrook to create internal friction with Kevin Durant.
Kobe Bryant served as the anchor for 2012 Team USA
During the 2012 Summer Olympics, Kobe Bryant remained at peak form as one of the league's best players.
Although the Lakers were two seasons removed from winning back-to-back NBA titles, the star guard's play kept them in the championship picture. Bryant was coming off a campaign where he averaged 27.9 points despite playing on 58 regular-season games.
The 33-year-old headed into the offseason hoping to build toward capturing his sixth championship to match his idol Michael Jordan. Before that, he served as a crucial factor on the 2012 Team USA. He averaged 12.1 points that helped guide the squad to a perfect 8-0 record to earn a second straight gold medal that he showed off in teammate Pau Gasol's locker.
Bryant also used the opportunity to represent his country for another motive that impacted his NBA title chances.
Kobe Bryant tried to create friction between Russell Westbrook and Kevin Durant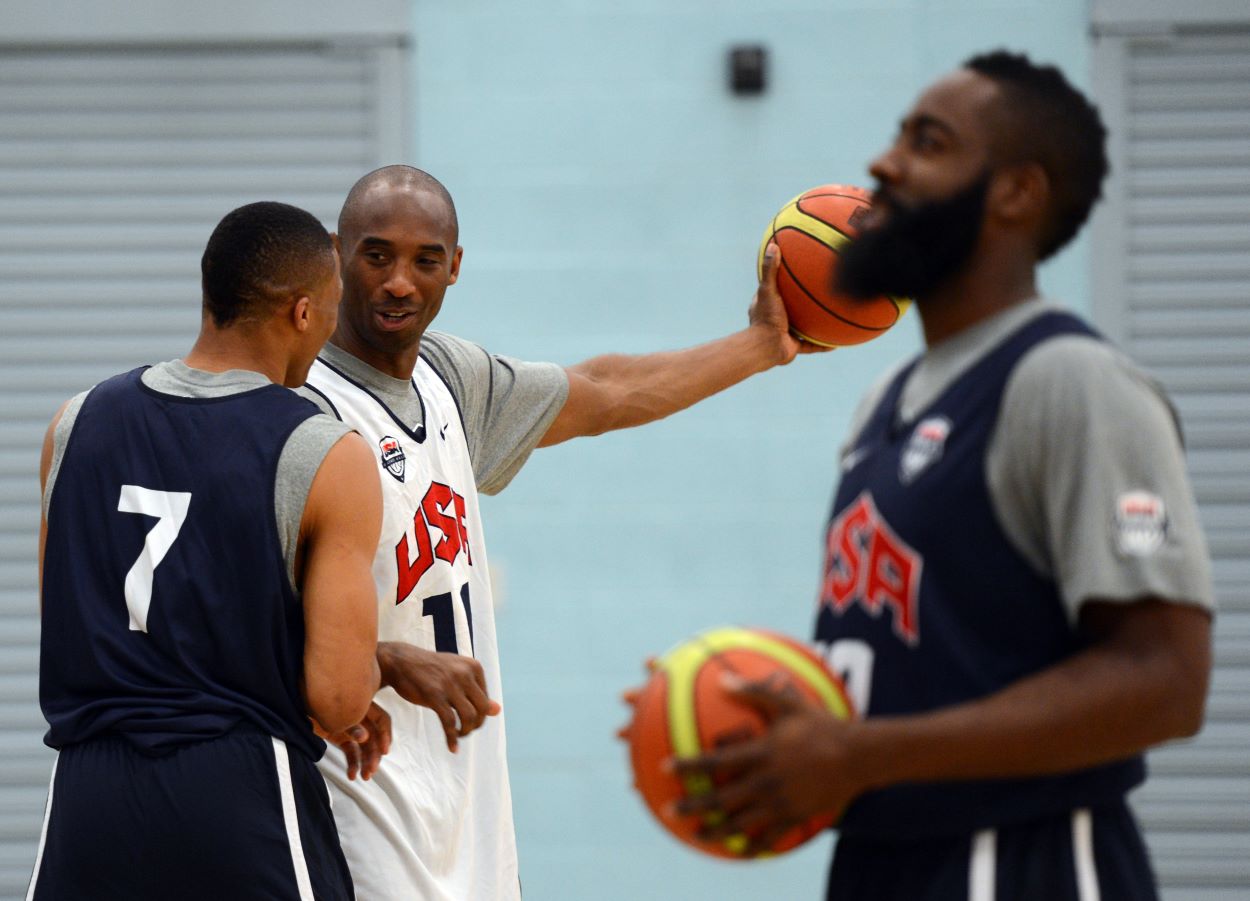 Beyond becoming one of the league's greatest players, the former Lakers star was a mastermind at getting into opposing players' heads.
Bryant always attempted to get the edge over his opponents in any way possible. During a recent episode on The WOJ Pod, ESPN's Adrian Wojnarowski revealed that the five-time NBA champion used the 2012 TEAM USA Basketball team to get inside Russell Westbrook's head to cause friction with Kevin Durant with the Oklahoma City Thunder.
"Kobe used Team USA [to play mind games]," Wojnarowski said. "He was more worried about those guys in Oklahoma City. Kobe would tell Westbrook, 'Why do you keep letting KD win the scoring title? You should be winning the scoring title. He would try to get that in Westbrook's head to try to send him back to Oklahoma City to create friction. Just for a little edge to keep the Lakers out front."
The Thunder were fresh off losing in five games to the Miami Heat in the 2012 NBA Finals. Westbrook and Durant emerged as the team's two most prominent scorers, while James Harden was turning into a lethal scorer off the bench after winning the Sixth Man of the Year award.
Westbrook was coming off his second straight year averaging north of 20 points. Meanwhile, Durant had just earned his third consecutive scoring title after averaging 28.0 points. Although it wasn't an issue the star forward was the Thunder's top-scoring option, Bryant found a way to at least put that thought into Westbrook's mind.
Bryant's mind games may not have played a factor in Westbrook and Durant splitting four summers later, but his poking and prodding showcased his mental approach to the game.
Russell Westbrook is struggling to find his way with the Lakers
Fast forward to nearly a decade later, Westbrook's career path has taken him to play for his hometown team.
The experience has been anything but joyful as he's struggled to find his footing in a Lakers' uniform. At times he's become an offensive liability due to his shooting woes and decision-making.
Despite the writing being on the wall that his Los Angeles stint won't go beyond one campaign, he has the final 23 regular-season games to make a significant impact. The Lakers are sitting in a challenging spot, holding the ninth spot in the Western Conference standings.
Anthony Davis' ankle injury is a massive blow, but it opens the door for Westbrook to step into a more prominent offensive role. The opportunity is there for Westbrook; it's on him to make the most of the situation.
Like Sportscasting on Facebook. Follow us on Twitter @sportscasting19.
RELATED: Russell Westbrook Needs to Listen to Dwyane Wade If He Wants to Excel as LeBron James' Lakers Teammate