Kobe Bryant Visits 'Jimmy Kimmel Live,' Dishes on Disastrous Season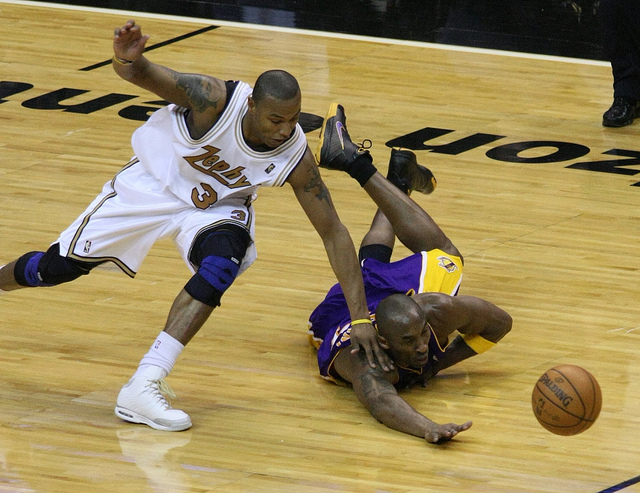 In some ways, it's good for Kobe Bryant that Los Angeles Clippers owner Donald Sterling is the unequivocal owner of  the 2014 version of the "worst basketball related year," because the Black Mamba hasn't had an awesome one himself. Playing in only six games for the entire year as he attempted to come back after rupturing his Achilles' Tendon, Bryant spent the majority of the season sidelined as his Los Angeles Lakers stumbled to an abysmal 27-55 record.
"It has been highly enjoyable," Kobe sarcastically told Jimmy Kimmel as he joined the talk show host's program on Thursday Night. "I would rather stay at home and eat paint chips. It was tough, man, it was really, really tough." The 35-year old NBA legend also touched on the Clippers controversy, a moment of introspection for a player who had almost exchanged Forum purple and gold for the other Los Angeles team almost a decade ago.
"At the time, the biggest concern was, was [Sterling] willing to spend to have a successful team?" Bryant said. "He said during the meeting that he is willing to make that commitment to bring another championship team to Los Angeles." While alluding to past skepticism regarding Sterling's financial commitment to a winning roster, Kobe admitted that, "He has done it, he has spent the money to keep Blake and DeAndre and [Chris Paul] and those guys."
Bryant was also prompted by Kimmel to discuss Phil Jackson's recent allegation that Kobe — who was coached by Jackson during each of his championship seasons — told Michael Jordan (another Jackson alumni) that he'd "kick his ass" in a game of one-on-one. Seriously. The video is below, if you have doubts.
"It's half true," Kobe responded, pointing out that Jackson puts out books frequently and needs to market them. "Michael was dishing it out to me after I scored 81." For reference, Bryant is the NBA's second all time single game scoring leader, behind Wilt Chamberlain, who scored 100. Kobe continued with, "He was barking about how I could never do it against him, 'there's no way you woulda scored 80 on me, I woulda fouled out.'" Bryant explained that while his respect for Jordan usually kept him in check, "on that particular occasion I had to remind him that I did have 42 in one half against him, so …" Kobe trailed off, but his point was pretty obvious.