Kobe Bryant Vowed to 'Cut' the Philadelphia 76ers 'Hearts out' Before Winning the 2001 NBA Finals
More than perhaps any player in NBA history not named Jordan, Kobe Bryant had a vicious killer instinct. It wasn't enough for him to beat an opponent; Bryant had to dominate them into submission. The LA Lakers played the Philadelphia 76ers in the 2001 NBA Finals, and despite growing up in Philly, the Lower Merion High School graduate had no issues attacking the Sixers during the series.
After Bryant and Shaquille O'Neal had brought LA to a 2-1 series lead, Kobe let a little trash talk fly.
Bryant and the Lakers led the 76ers 2-1 and had two more games to play in Philly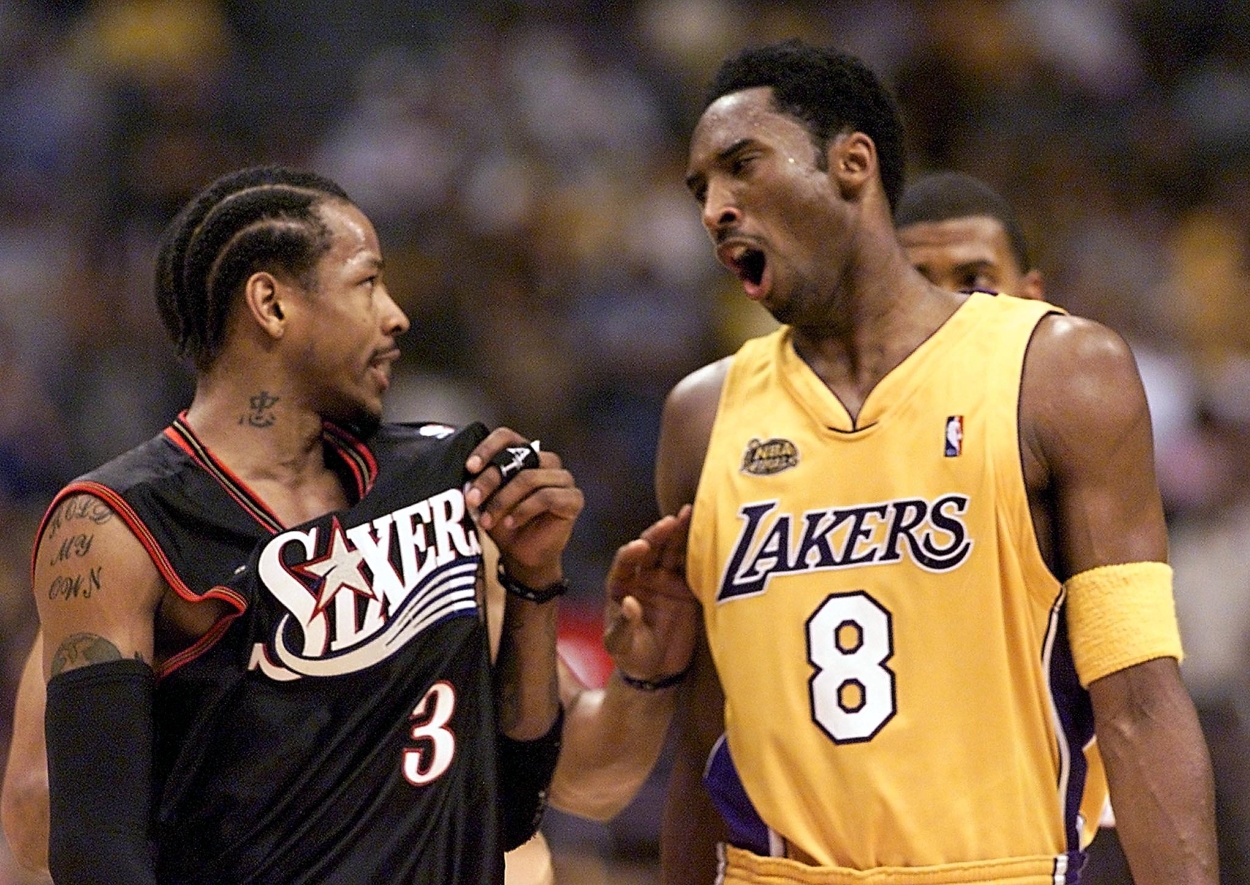 LA was coming off its first of three straight championships and blew through the Western Conference that postseason. The Sixers had battles with Toronto and Milwaukee, but they did what they were supposed to do as the No. 1 seed in the east and cemented a spot in the finals.
Allen Iverson and his Philly team then shocked the world in Game 1. That year's MVP and his Sixers squad were overwhelming underdogs. But AI scored 48 points, and Philadelphia won 107-101 in overtime. Bryant didn't have a great Game 1, playing 52 minutes but scoring only 15 points.
The 18-time all-star scored a game-high 31 in Game 2, though, a 98-89 LA victory. He added eight rebounds and six assists — as well as two steals and two blocks — in the win.
Bryant then vowed to "cut (Philadelphia's) "hearts out"
After the Game 3 win, Bryant made his graphic promise, and the Lakers beat the 76ers by double digits in each of the next two games. It was the Lakers' second consecutive title. The Black Mamba called his shot and won in his hometown.
The future Hall of Famer nearly posted a triple-double in a 100-86 Game 4 win, totaling 19 points, 10 rebounds, and nine assists. He had a second straight double-double with a 26-point, 12-rebound performance in the clincher.
In true Kobe fashion, according to a story on ESPN.com, Bryant had no regrets about his comments even amid a significant amount of backlash:
"In terms of an apology, I'm not apologizing for saying I'm going to come kick some a**. I'm just not going to do it. But I certainly embrace the city and I love everything that it's taught me. So, I'm deeply appreciative of it."

Kobe Bryant and his comments toward Philadelphia in the 2001 NBA Finals
Bryant later admitted that playing in Philly was always significant to him
He would never take back what he said in the heat of competition; if he did, he wouldn't have been Kobe. But Bryant did admit that Philadelphia was a special place for him as he got to the later stages of his career.
"It has a great deal of significance, I think more now, than I used to feel when I would come back here when I was 21-22 because I don't know how many more times I'll be playing in front of Philadelphia fans at this stage of my career. So, it becomes a little bit more important."

Bryant on playing in Philly later in his career
Bryant was a legendary trash talker and an all-time competitor. Sometimes those two were one and the same. He used them both to his advantage in the 2001 finals and indeed did cut the 76ers hearts out on their home floor for his second of five NBA championships.
All statistics courtesy of Basketball-Reference.
RELATED: Jerry West Changed the Course of NBA History and Created the Shaquille O'Neal-Kobe Bryant Lakers With a Single Move