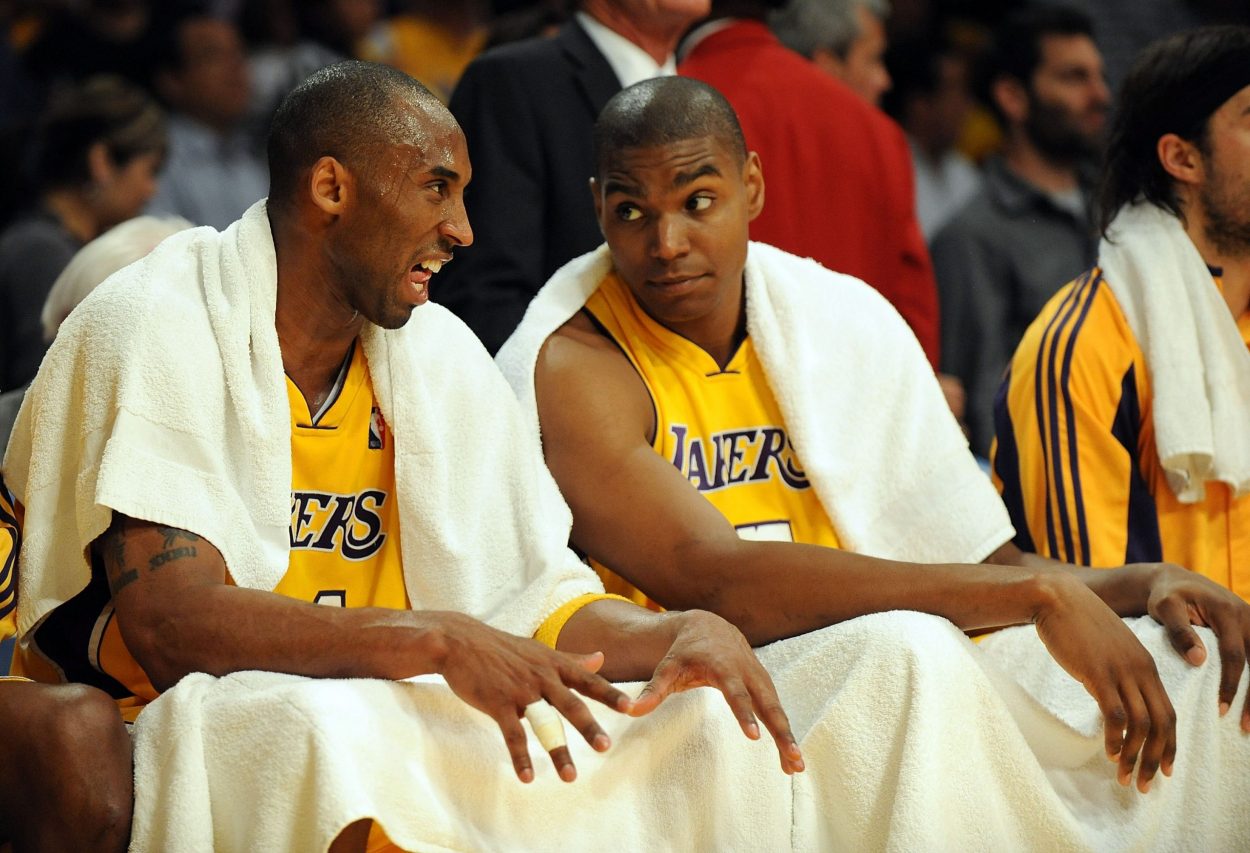 Kobe Bryant Showed Zero Sympathy For Andrew Bynum's Injury Woes During the Lakers' 2010 NBA Championship Season: 'Welcome to the Club'
Andrew Bynum suffered a small tear in his right meniscus during the 2010 NBA Playoffs, which threatened to derail the Los Angeles Lakers' title hopes. But Kobe Bryant, who played through injuries his entire career, had no sympathy for the young center. He fully expected Bynum to play through the pain.
Win at all costs. That was the mantra Kobe Bryant embraced during his 20-year career with the Los Angeles Lakers. It's also a credo he instilled with teammates.
Bryant and the Lakers were gunning for back-to-back championships during the 2009-10 season, but a late injury to young center Andrew Bynum threatened to derail their title hopes. Having long understood the determination it took to win a championship, Kobe showed little sympathy for Bynum's plight. Bryant offered his own way of suggesting that Bynum dig deep and play through the pain.
Kobe Bryant played through numerous injuries throughout his career
Kobe Bryant never let injuries get in the way of his pursuit of championships or individual excellence.
Bryant played through an assortment of physical maladies. He sprained an ankle during Game 2 of the 2000 NBA Finals and missed Game 3, which the Indiana Pacers won to claw back into the series. But Kobe played in Game 4, scoring 28 points and keeping the Lakers in front when Shaquille O'Neal fouled out in the overtime period.
Bean's willingness to gut it out during those Finals set the tone for the remainder of his career. He battled through recurring shoulder issues during the 2003-04 season as LA made it to the Finals for the fourth time in five seasons. Perhaps most notably, Bryant had a plethora of issues with dislocated fingers.
One such injury came during the 2009-10 season, when Kobe suffered an avulsion fracture in his right index finger. That setback came after Bryant sustained a torn ligament and separate avulsion fracture during the 2007-08 season. He decided to forego surgery entirely during the summer of '08 because of the Olympic Games and never had a procedure done.
Thus, Bryant played with an injured pinkie and later a hurt index finger on his shooting hand throughout the 2009-10 campaign. Needless to say, he didn't have much to offer when news of Andrew Bynum's knee issues arose in May 2010.
Kobe offered a terse response upon learning of Andrew Bynum's torn meniscus
The 2009-10 Lakers won eight fewer games than the season before, but Kobe Bryant and Co. still looked like one of the most dangerous teams in the NBA entering the playoffs. One injury appeared to change that, though.
Andrew Bynum suffered a small tear of the meniscus in his right knee during the first round against the Oklahoma City Thunder. The former All-Star was a critical piece in LA's frontcourt, averaging 15.0 points and 8.3 rebounds while serving as a vital rim protector.
A Lakers team without Bynum certainly could have been more vulnerable. But Bryant never even indulged the thought of the young center being ruled out. He offered a simple response when asked about his reactions to news of Bynum's injury.
The quote speaks to Bryant's mentality. He demanded his teammates to live up to his standards and fight through the pain.
Bynum practically had no choice but to play. Indeed, he chose to put off surgery until after the season. It was a massively important decision, too, because the Lakers needed Bynum's interior presence throughout the remainder of those playoffs.
Bynum played a smaller but important role as the Lakers won a second consecutive title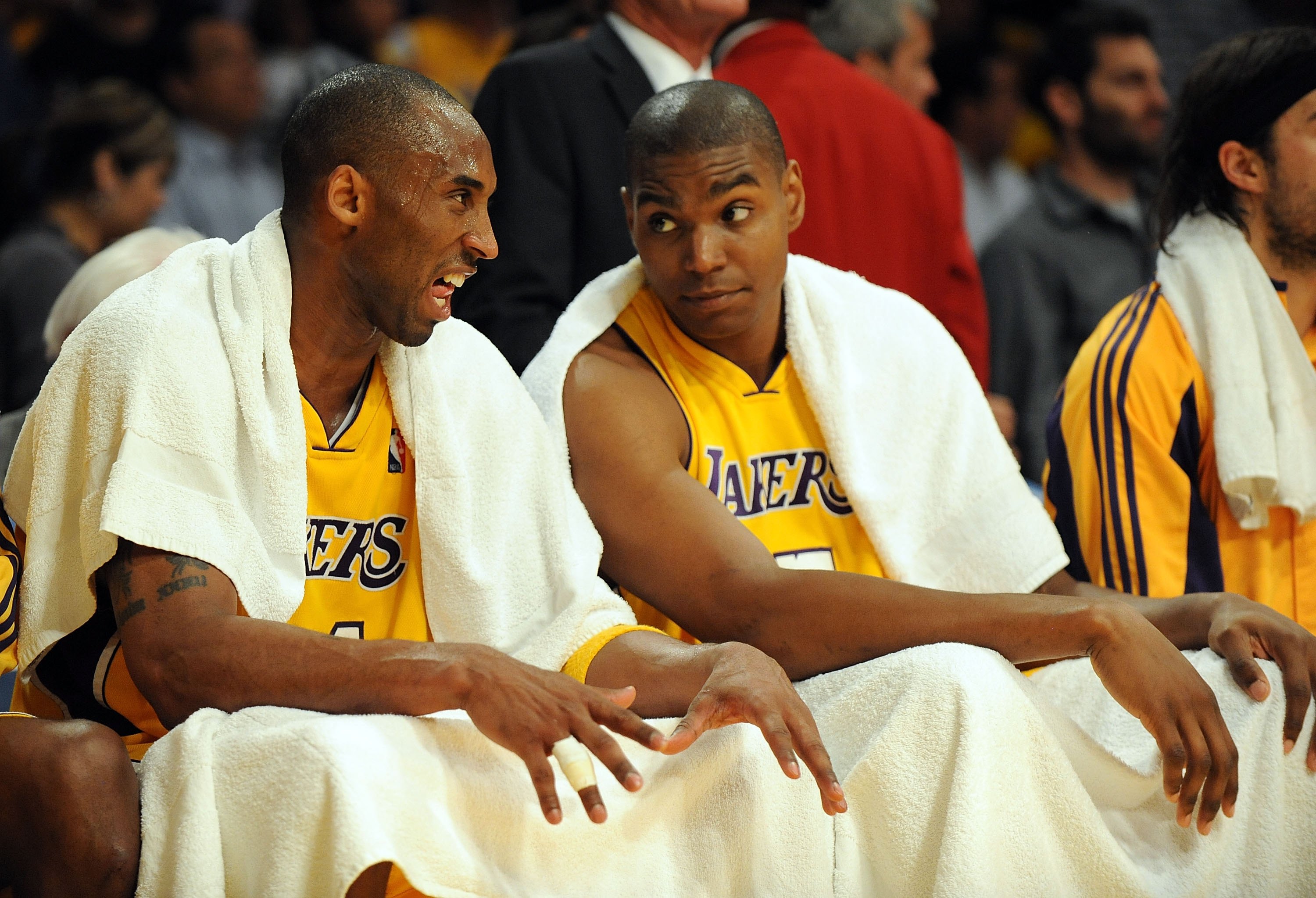 Lakers head coach Phil Jackson smartly managed Bynum's minutes during the playoffs. Jackson often chose to go with rotations featuring Pau Gasol in the middle and Lamar Odom as a point forward.
But while Bynum might have seen a decreased workload, he still played an imperative role in the frontcourt. The New Jersey native averaged 1.2 blocks in just 18.1 minutes per game during the Western Conference Finals against the Phoenix Suns. He also gave LA a necessary rebounder against the Boston Celtics frontcourt of Kevin Garnett and Kendrick Perkins in the NBA Finals.
Bynum put it all on the line, and his contributions helped Kobe Bryant and the Lakers get across the finish line en route to back-to-back titles. Not that Kobe expected anything less.
Stats courtesy of Basketball Reference.