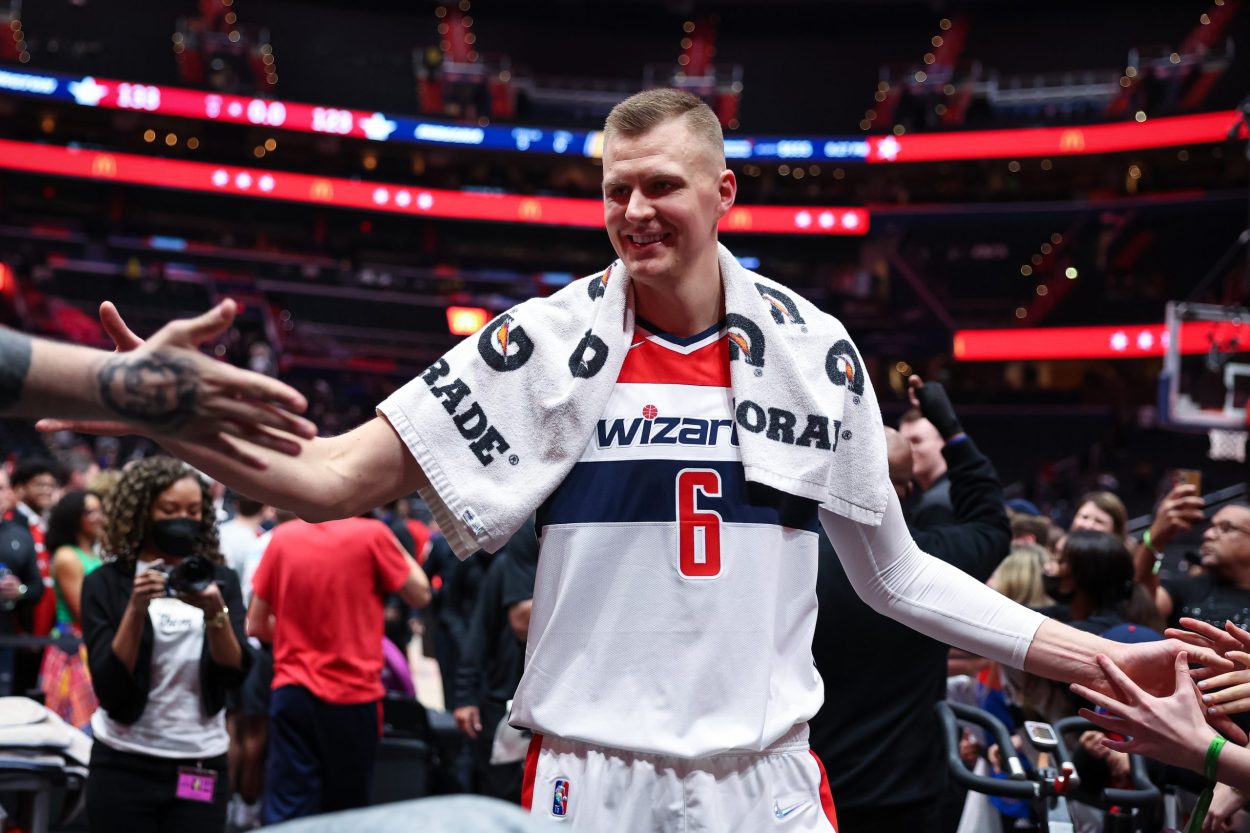 Kristaps Porzingis Looks Like The Unicorn Again in Wizards Debut
Kristaps Porzingis dominated in his Wizards debut. Is this the version of KP that Washington will get next season?
The Washington Wizards' deadline-day acquisition of Kristaps Porzingis looked like a possible last-ditch effort to add another star-caliber talent alongside Bradley Beal. Then again, much has been made about whether Porzingis still deserves the "star" label.
Well, KP sure looked like The Unicorn of old in his Wizards debut on Sunday. That means everything for a Washington team desperate for even just a sliver of momentum.
The Wizards could have difficulty reaching the NBA play-in tournament, especially with Beal sidelined after previously undergoing season-ending wrist surgery. However, a strong closing stretch from Porzingis could determine Beal's comfort level in signing a max extension with the franchise this summer. That feels far more consequential than a possible one-and-done play-in berth.
Kristaps Porzingis had a sparkling Wizards debut
Porzingis earned the "Unicorn" nickname because of his ability, as a 7-footer, to do just about everything on a basketball court. He showed the full breadth of his skills Sunday against an exciting Indiana Pacers team.
After missing 14 straight games with a knee injury, the 26-year-old scored 25 points in just over 21 minutes of action. Porzingis shot 7-of-12 from the field and 3-of-4 from beyond the arc, also getting to the line for 10 free-throw attempts and recording a pair of blocks on the other end.
The Latvian big man looked spry in his return to the hardwood. He even flashed for a lob on Washington's first possession of the game and had a spectacular chase-down block on Pacers wing Oshae Brissett in the second quarter.
Porzingis seemed much more comfortable as the game went along, scoring 15 of his 25 points in the second half. He showed little hesitancy on catch-and-shoot triples and made the most of his post touches. He also had multiple clutch buckets on rim runs down the stretch.
This confident, bouncy version of Porzingis is one the Wizards would love to see going forward.
Porzingis can show his value as a second star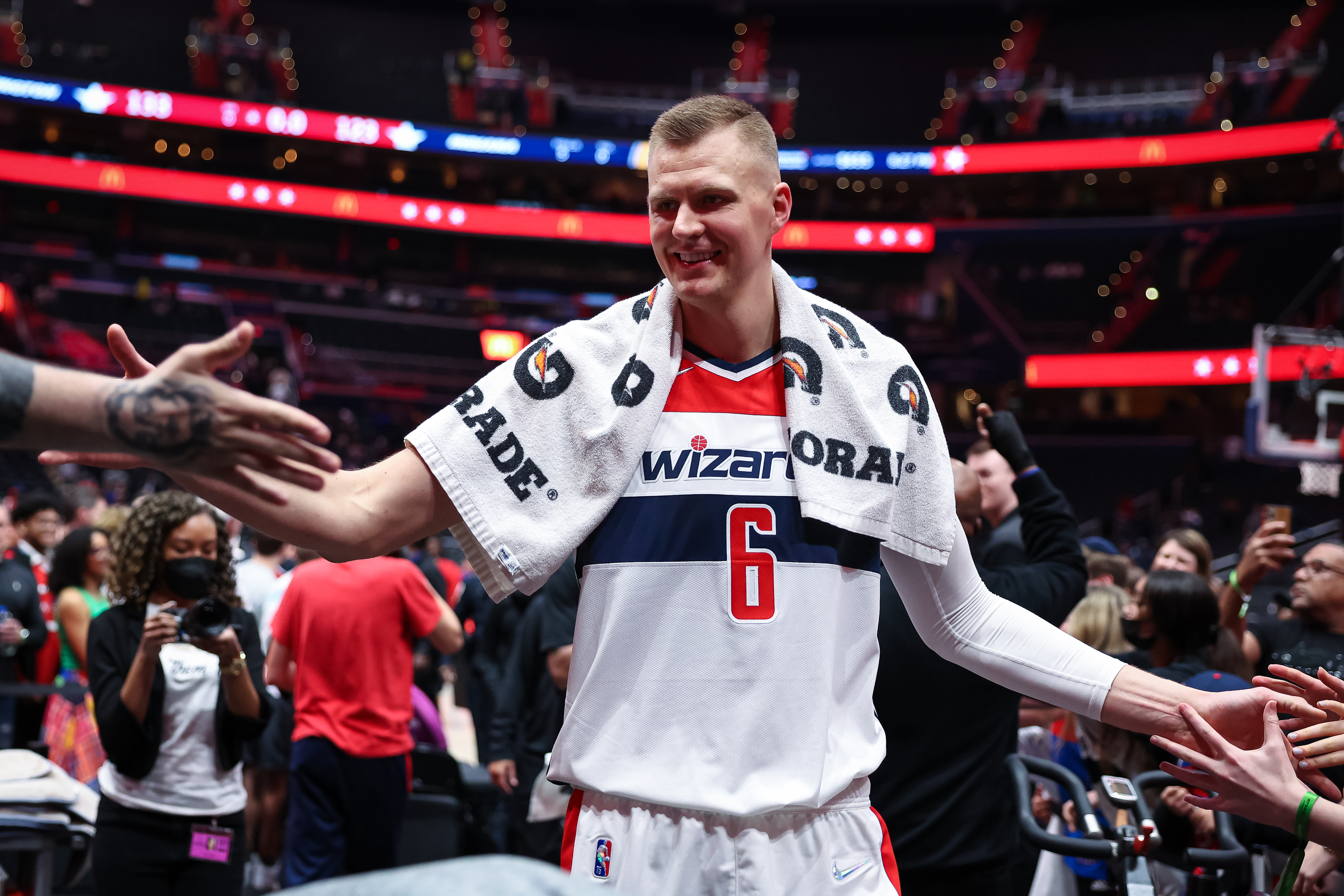 Kristaps Porzingis has his deficiencies. He's a subpar rebounder for someone with his size, and his rim-protecting instincts have waned a bit in recent seasons. The injury history remains in the foreground.
Still, Porzingis showed Sunday why he could ultimately be a complementary second star next to Bradley Beal.
The Unicorn spaced the floor more effectively for the Wizards with his ability to shoot from the perimeter. Washington capitalized on the spacing, shooting 17-of-42 (40.5%) from beyond the arc while recording 32 free-throw attempts and 33 assists. A squad that former Wizards forward Davis Bertans previously alluded to as dysfunctional looked anything but in the win.
Indeed, Porzingis unlocks so much for Washington. His improvements on the low block make him a better offensive option in that regard than Daniel Gafford and Thomas Bryant, and he gives the Wizards a more threatening feel when he knocks down outside jumpers. He doesn't add tremendous value to team defense, but that's already been an issue plaguing Washington for years now.
Porzingis' upside as a second star could eventually mean everything to Beal.
The Wizards' combo guard (when healthy) occasionally struggled to get to his mid-range spots because of the lack of spacing and shooting. If Porzingis provides both at a semi-consistent level, then Beal figures to have more leeway to attack on-ball defenders at his discretion. Unlike Washington's other bigs, Porzingis is not paint-bound, which opens things up for Beal and the rest of the Wizards' ball-handlers.
Then again, this is all assuming that Beal re-signs with Washington this summer. Porzingis' late-season showing could loom large here, as well.
A healthy KP could convince Bradley Beal to sign $246 million contract
Beal recently said it's "fair" to assume he is leaning toward signing a $246 max contract with the Wizards this summer. Porzingis can play a role in determining Beal's future.
Immediately following his trade to Washington, Porzingis was thought a possible candidate to sit for the remainder of the season if the Wizards elected to tank. However, head coach Wes Unseld Jr. said KP would debut when healthy.
That debut has come, and it was quite impressive. What happens if a healthy Unicorn shines down the stretch and leads the Wizards to the play-in tournament? Even if he doesn't, could Porzingis flash enough to make an impression in Beal and the rest of his new teammates?
Porzingis' partnership with Luka Doncic never panned out. But he has a fresh start in the nation's capital and can immediately begin convincing Beal that he has what it takes to pull a magic act in turning the Wizards into winners.
Stats courtesy of Basketball Reference.