Kurt Busch Explains His Emotions After Experiencing the New Atlanta Track: 'I'm That Brain Emoji Where My Brain is Blowing Off'
To help explain his experience at the reconfigured Atlanta Motor Speedway (AMS), NASCAR Cup Series driver Kurt Busch pretended to be an emoji. 
The one that displays a mind exploding. 
Attempting to embellish his impressions after going back, Busch said AMS was fast.
And it was new. 
Kurt Bush favored the old AMS, trying to 'digest' redesign
To Busch, it was a mind-blowing ride.

When asked by motorsport.com about being one of the first NASCAR drivers to test tires and the Next Gen cars at AMS, Busch turned into a comedian.
"I'm that brain emoji where my brain is blowing off," he deadpanned.
But seriously …
"It's a lot to digest," Busch added.
For him, it probably was. He favored the old 1.5-mile layout. He knew the grooves, claiming four premier series checkered flags. Now, at 1.54 miles, the track's corners feature 28-degree banking, the steepest of any of the circuit's intermediate tracks. The width of the corners was cut to 40 feet (from 55 feet).
AMS officials made the long-needed renovations to help increase speed and pack the machines tighter for additional nose-to-tail dynamics.
Busch: 'It's an engineering marvel to bank a race track with this much banking'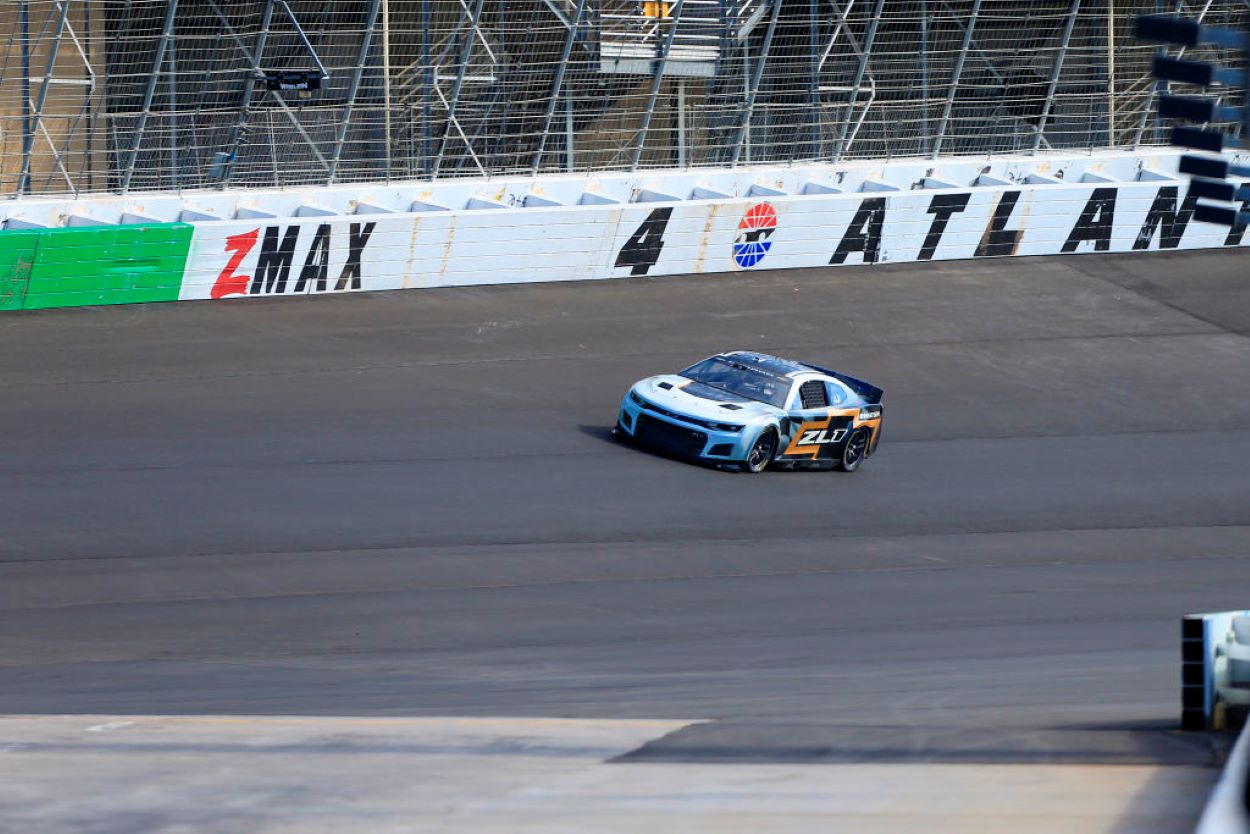 Among his four wins at the old AMS, Busch captured the last race on the now dearly departed asphalt, the Quaker State 400 Presented by Walmart. Hours after the Victory Lane celebration, construction workers started tearing up the track for the first time since 1997.
In his first season driving the Michael Jordan-backed No. 45 Toyota for 23XI Racing, Busch executed the tests with drivers Chris Buescher and Ross Chastain on Jan. 4. They christened the track.
Busch praised the designers.
"It's an engineering marvel to bank a race track with this much banking and keep the turns this sharp and to have it as smooth as it is," Busch said. "They did a really good job."
Busch said his peers compared the racing style to that Daytona International Speedway and Talladega Superspeedway.
"… It's a clean slate, and the Next Gen car is a clean slate …," Busch said.
AMS tire and Next Gen car test picked up pace with group racing 
On Jan. 4, Busch drove with the two other drivers and formed three-car drafts. The next day, more machines joined the fray.
That's when the tempo of the testing session picked up.
"Once we got out there in a group, the pace picked up by over a second having the cars draft together," Busch said. "There's a lot of speed that you have by yourself, and things were amplified way more than what we expected when we had just three cars drafting with each other.
"In NASCAR, we have our Daytona and Talladega style draft, and those are on 2.5- and 2.66-mile tracks. This is a mile-and-a-half. Things are going to be moving quicker. You're going to be digesting things much faster."
To Busch, the AMS experience was truly mind-blowing.
Like Sportscasting on Facebook. Follow us on Twitter @sportscasting19.