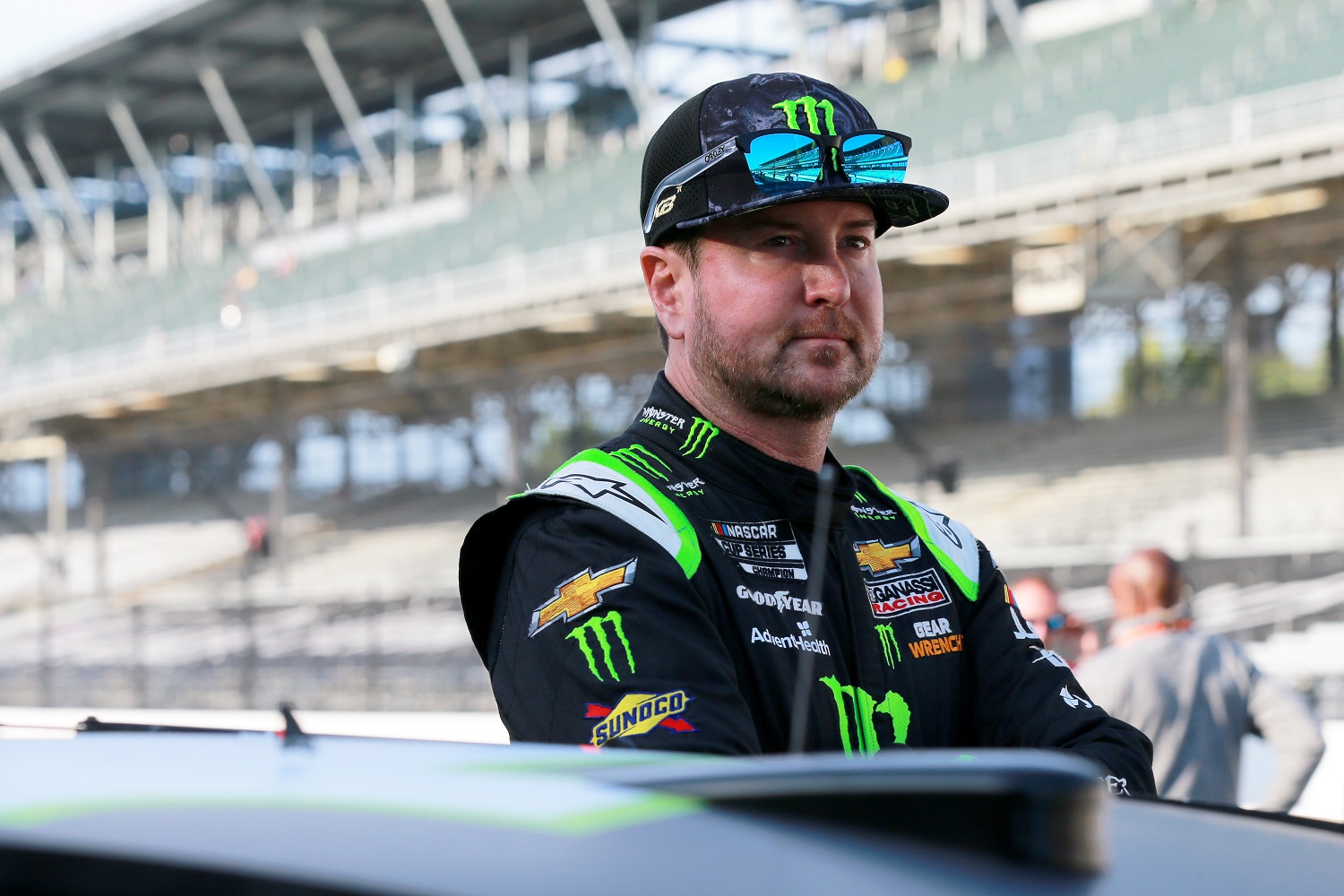 Kurt Busch and Michael Jordan Might Be 2 of the Few People in NASCAR Who Don't Care About What Rick Ware Racing Just Hinted
Rick Ware Racing is strongly hinting it has two charters available, but Michael Jordan and Kurt Busch apparently struck a deal for 23XI Racing elsewhere.
Article Highlights:
Rick Ware Racing appeared to confirm this weekend that it will drop to two cars in 2022
The Associated Press is reporting that 23XI Racing has landed a charter for Kurt Busch's car
The NASCAR Cup Series charter market remains hot and unsettled
Social media became must-see browsing for NASCAR fans over the weekend thanks to one of the Cup Series' least consequential teams up until now. Rick Ware Racing teased the entire industry with a tweet that threatens to change plenty about what we thought we knew about the 2022 season.
It's a heck of a way to kick off the offseason heading into the introduction of the Next Gen car. Kurt Busch and Michael Jordan may have taken notice, but an even newer development suggests they no longer care.
Rick Ware Racing drops a big hint about 2022
Rick Ware Racing dropped a "100 days to Daytona" acknowledgment on Twitter over the weekend. Sharp-eyed observers latched onto two other numbers at the bottom of the graphic: 15 and 51.
The tweet caption: "Just in case anyone was wondering, we're just going to leave this right here."
Well, what Rick Ware Racing seems to be leaving is a message that it will only run two cars. Counting the one it operated in collaboration with Richard Petty Motorsports last season, though, RWR is supposed to possess four NASCAR Cup Series charters. However, the tweet suggests that owner Rick Ware only intends to field two teams in the debut season for the Next Gen car.
RWR has been the subject of constant criticism for fielding inferior teams, but Rick Ware has said his plan for the past two years was to keep his powder dry and wait until the rollout of the Next Gen to start investing to become competitive. In October, RWR announced agreements for technical support and hardware supplied by Stewart-Haas Racing and Roush-Yates Engines.
If the fresh speculation that Ware will run two cars instead of four is accurate (and the owner offered such hints before), that could mean pouring all the resources into those two cars in a bid to shed the bottom-feeder status.
It also means that there are two charters in play, and that's where Kurt Busch and Michael Jordan, not to mention a bunch of other teams, come into play.
It sounds like 23XI Racing has found a charter for Kurt Busch
Michael Jordan's new 23XI Racing team will double in size in 2022 as Kurt Busch comes over to join Bubba Wallace. That announcement came during the just-concluded season, but the unanswered question involved how 23XI would acquire one of the 36 charters that would make running the second Toyota go more smoothly.
Well, Jenna Fryer of The Associated Press tweeted that Toyota executive David Wilson said Jordan and co-owner Denny Hamlin have landed the charter, which guarantees a spot on starting grids as well as more prize money. However, Fryer also commented on another thread to suggest the charter perhaps didn't come from Rick Ware Racing.
If that is the case, then the market for charters ahead of the Daytona 500 could be even more chaotic than expected. Considering NASCAR charters have been selling for $10 million or more recently, just about every team is watching closely.
If Kurt Busch is set, the sellers' market for NASCAR charters is weaker
The 23XI Racing team has been the subject of intense speculation regarding a 2022 charter. But if Michael Jordan has acquired one for Kurt Busch's car and it didn't come from Rick Ware Racing, then it's no longer a sellers' market this offseason.
Next on the clock to buy or lease would seem to be GMS Racing, which will debut in 2022 with Ty Dillon driving but does not yet have a charter.
A close second is Spire Motorsports, which has been wheeling and dealing for a year. Last season, Spire leased a charter to Trackhouse Racing, owned by Justin Marks and Pitbull, for use by Daniel Suarez and the No. 99 Chevy.
While Spire reclaimed that charter, the team sold its two other charters to Kaulig Racing, which will be new to the NASCAR Cup Series in 2022. Kaulig has committed to just one full-time car for Justin Haley thus far, but it will hang on to the second so AJ Allmendinger can run the road courses and select other races.
However, Sports Business Journal projects Spire as a potential buyer before Daytona. But with Rick Ware Racing potentially having two charters available, there's fresh equilibrium in the marketplace, making a deal potentially easier.
Like Sportscasting on Facebook. Follow us on Twitter @sportscasting19.