Kurt Warner Argues Mac Jones Is Better Than Tom Brady Was at This Stage of His Patriots Career: 'He's Playing Ahead of His Years'
Mac Jones is making the New England Patriots look like geniuses right now. He's been the best rookie quarterback in 2021 despite being the fifth player taken in the draft at his position. Hall of Fame quarterback and NFL Network analyst Kurt Warner believes Jones is already better than Tom Brady was at this stage of his career in New England.
Mac Jones is making a strong impression in 1st season with the Patriots
The New England Patriots probably counted their blessings when Mac Jones slid in the 2021 NFL Draft. He fell all the way to the Patriots at No. 15 overall.
Four quarterbacks went before Jones (Trevor Lawrence, Zach Wilson, Trey Lance, and Justin Fields). While the other names struggled throughout the first half of the regular season, the Alabama product began to come into his own.
Jones has accumulated 2,333 yards, 13 touchdowns, and seven interceptions through the Patriots' first ten games. His completion percentage (69%) ranks fourth among all NFL quarterbacks.
The Jacksonville, Florida native has been the best rookie signal-caller by far. Pro Football Focus currently has him graded at 87.0, making him the only first-year quarterback with a grade above 65.0.
In defense of the other rookies, Mac Jones landed in the perfect situation. He excelled in Nick Saban's system at Alabama and has quickly picked up on Josh McDaniels' system in New England.
Jones' impressive start has already garnered praise from people in and around the NFL.
Kurt Warner says the rookie QB is better than Tom Brady was at this stage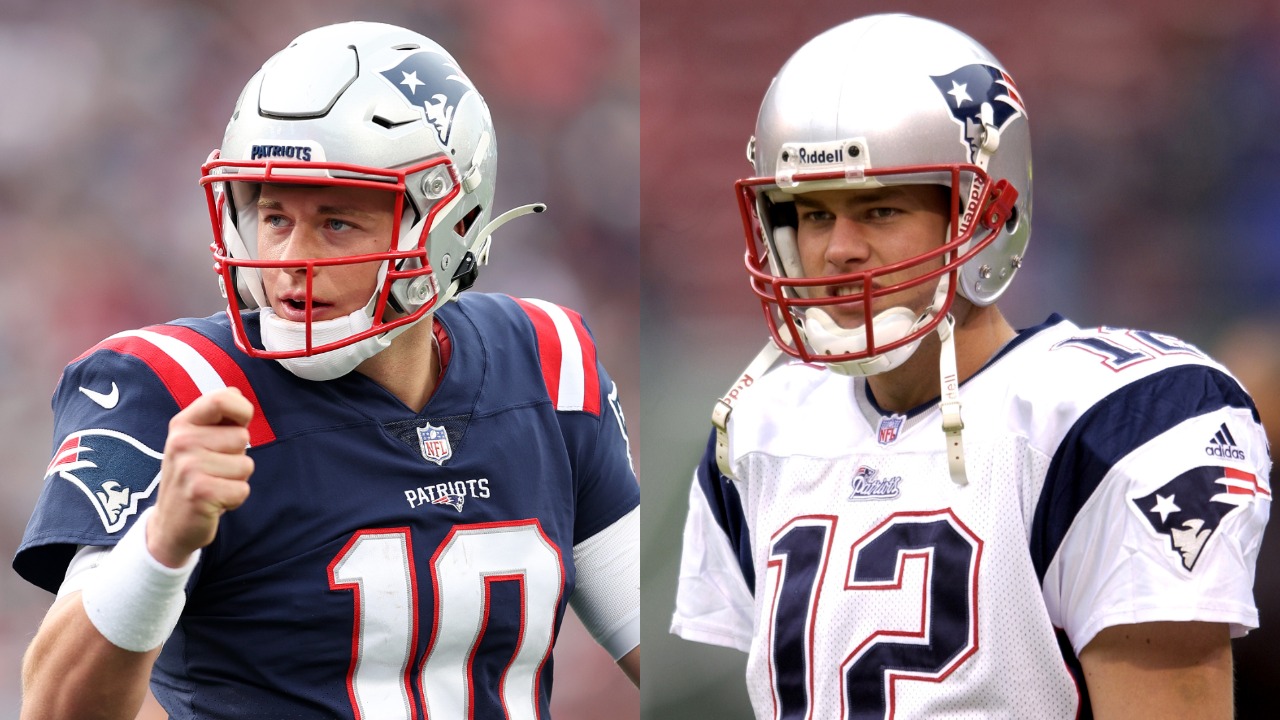 Mac Jones is just 23 years old, but he looks like a seasoned veteran on the football field at times.
Pro Football Hall of Famer and NFL Network analyst Kurt Warner thinks very highly of the Patriots' rookie quarterback. While he sees similarities between Jones and Tom Brady, he believes the former Crimson Tide standout is ahead of the curve.
Warner joined The Rich Eisen Show to discuss the differences between Jones and Brady at the early stages of their respective careers.
"If you're going to go back to that season [2001], I would say you're getting more from Mac Jones than you got from Tom Brady," said the two-time MVP. "He's playing ahead of his years. He's a guy that has shown that he can make big throws. More importantly, he's a guy that shows you he can make the right play most of the time."
Warner added that, at the time, the Patriots didn't need Brady to do as much as they do Jones in 2021.
"Brady was really a placeholder that first year, you know," he said. "Even in the Super Bowl, Brady threw for 150 yards when they beat us. It was really built on defense and running the football. Mac is not in that same mold. They're putting a lot on his shoulders, and they're asking him to make plays."
Jones will forever be compared to Brady
No matter what Mac Jones does in his NFL career, people will always tie him to Tom Brady. While it's unfair to compare him to the greatest quarterback of all time, that's just the fact of the matter.
Brady was a sixth-round draft pick out of Michigan. Not many people had high expectations for him coming out of college. However, he proved everyone wrong and became the GOAT.
On the other hand, the New England Patriots drafted Jones in the middle of the first round. The expectations are different this time around.
No one expects the rookie to win seven Super Bowls and make 14 Pro Bowls, but there is a standard set in New England. It would be foolish to think the fans expect anything less than winning football.
Tom Brady left New England and won a Super Bowl with the Tampa Bay Buccaneers. Surely, Bill Belichick wants to prove he can win one with Mac Jones.
Jones passes the eye test, and he has the potential to be a really good player for the Patriots for a long time.
All stats courtesy of Pro Football Reference.