Kurt Warner Sent a Message of Support To His NFL Colleague
Being an NFL player is a nasty business. You can play your tail off, work hard, and still get replaced. Kurt Warner knows all about this experience. He once found himself benched in favor of a much younger player. Another colleague of Warner's recently experienced something similar. Always an NFL ambassador, Warner reached out to him with a message of support.
Kurt Warner's brief time as the Giants' quarterback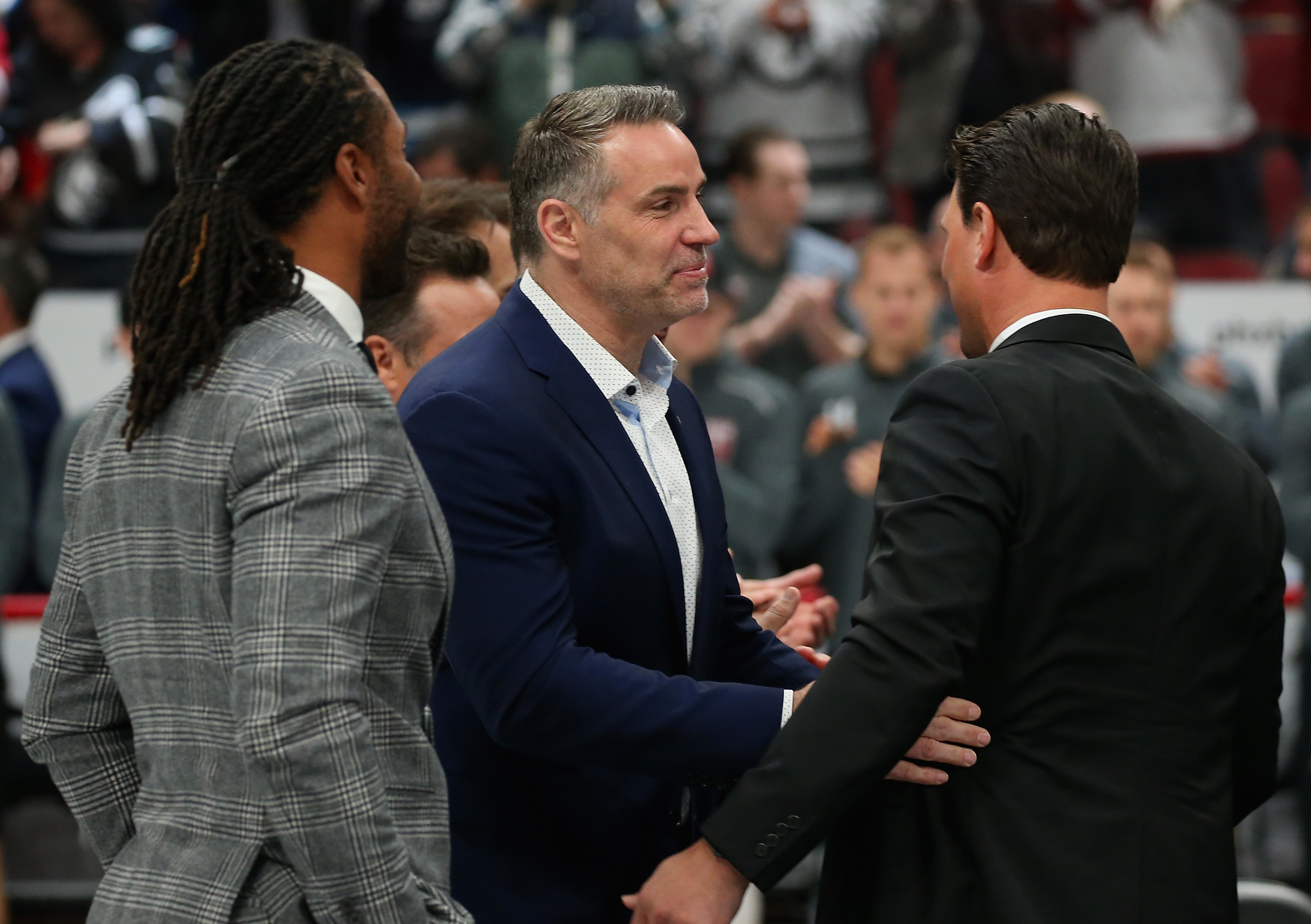 Warner's career began and ended with some fairy-tale stories. He entered the league as a former Arena League quarterback who wasn't expected to start for the St. Louis Rams. After an unfortunate injury to starter Trent Green, head coach Dick Vermeil inserted Warner and he led them to a Super Bowl championship.
Near the end of his career, he led the Arizona Cardinals to a Super Bowl appearance. While they didn't win, it was still a great run for a team that had been a losing franchise for a long time. 
Sandwiched between Warner's time in St. Louis and Arizona was a brief stint in New York. Coming off a thumb injury, St. Louis allowed Warner to walk in free agency. The Giants signed him but only as a stopgap solution. They had recently acquired Eli Manning, and Manning was earmarked to start sooner rather than later.
Warner played fairly well during his short stint as a starter in New York, but before midseason, he was displaced by Manning. He found himself yet again discarded on the NFL's quarterback scrap heap. 
Ryan Fitzpatrick's current situation in Miami
Ryan Fitzpatrick has spent his NFL career knowing what he is: a capable quarterback who can put up big numbers but is never viewed as the face of the franchise. Fitzpatrick has had multiple stops during his career. Some of his numbers have been rather gaudy. But he's never gotten the opportunity to be a franchise quarterback.
It's not some unfair slight against Fitzpatrick; he's an imperfect player who turns the ball over a decent amount. But nevertheless, he found himself in a good situation in Miami this season. He was the quarterback of a young but talented team in a wide-open division. 
That's why Fitzpatrick was more than a little shocked when he was removed as the starting quarterback. Much like Warner, he was yanked in favor of the team's chosen quarterback of the future. This time it's not a Manning though. It's Tua Tagovailoa, the Dolphins' 2020 first-round pick and former Alabama Crimson Tide QB. 
It was only a matter of time until Fitzpatrick was pulled, but this seemed earlier than expected. Tagovailoa suffered a season-ending injury to end his collegiate career, so the fact that Miami didn't wait longer made this especially surprising. 
The message Kurt Warner gave to Ryan Fitzpatrick
Warner can obviously relate to what Fitzpatrick is going through and took the time to say so on Twitter. He was basically in the exact same situation as Fitzpatrick. He was playing well for a solid Giants' team and then pulled at what seemed to be the height of his play. What made the tweet even more memorable was that Warner's then-protege Manning replied to the tweet and thanked Warner for being such a class act during the transition. 
Fitzpatrick can learn something from the Warner-Manning move the Giants made. Fitzpatrick can clearly still play. There are going to be plenty of teams next season looking to draft a quarterback. If Fitzpatrick can go to a talented team that's trying to take their time grooming a signal caller, he may end up in a starting role again. Look at a situation like Washington: they'll likely be drafting a quarterback after benching Dwayne Haskins this season. 
There aren't too many people in the world who can do what Fitzpatrick does: reliably get the ball downfield in an NFL game. He'll have a job somewhere next year if he wants one.