Kurt Warner Sounds off on the Browns' Difficult Upcoming Decision on Baker Mayfield: 'You Can't Give Him That Contract'
The Cleveland Browns' 2021 season will end in disappointment. Despite entering the season with one of the NFL's most talented rosters, the Browns missed the playoffs. The biggest storyline out of Cleveland all season has been the performance of Baker Mayfield. Hall of Fame quarterback Kurt Warner thinks Mayfield has potential but hasn't earned the trust of the front office.
Kurt Warner needs to see more from Baker Mayfield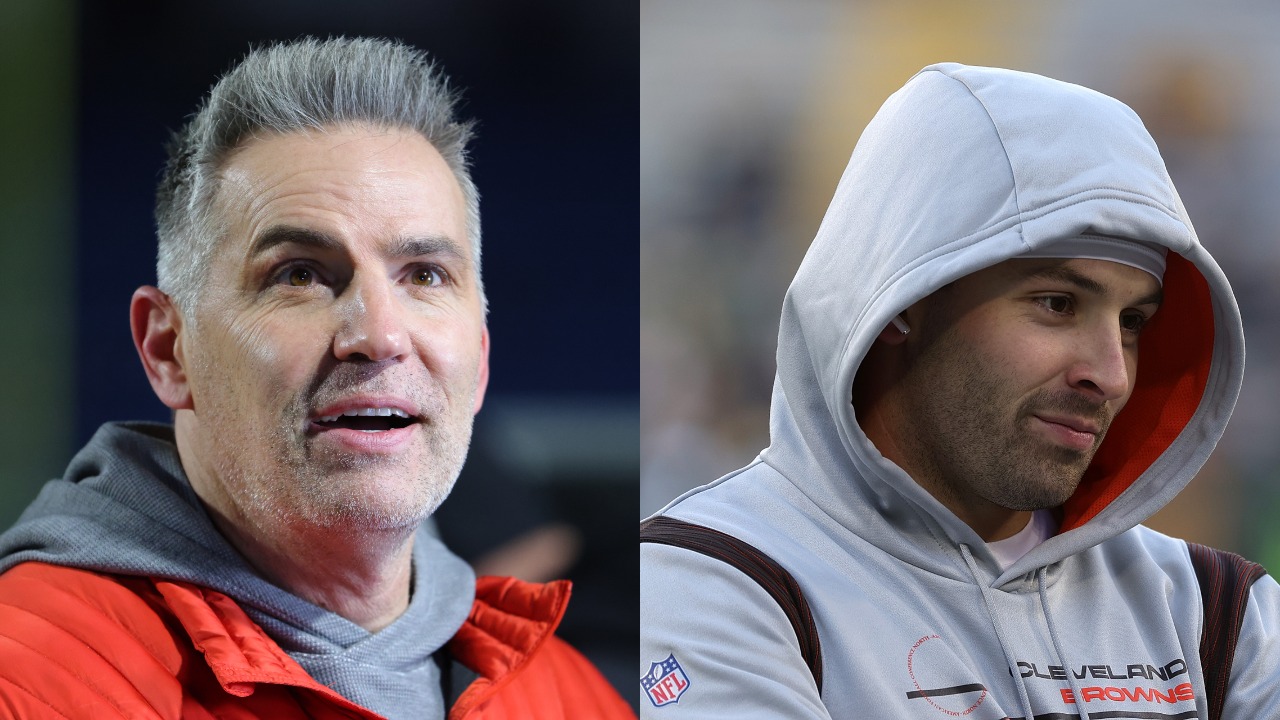 It's been a roller-coaster season for Baker Mayfield. He's battled multiple injuries, fallen out with Odell Beckham Jr., and dealt with criticism from Cleveland Browns fans. Regardless of the circumstances, Mayfield's job is to perform at a high level. He hasn't done that, and it shows in the losing record.
While the team's failures don't fall entirely on the 26-year-old quarterback, he plays a significant role. Hall of Famer and NFL Network analyst Kurt Warner feels that Mayfield has work to do to ensure he gets a long-term contract.
"You see a guy that has all kinds of potential," Warner said on The Rich Eisen Show. "But you see a guy that's been majorly inconsistent. He has all the stuff you want from your franchise guy off the field. The question becomes can you give us that same consistency on the field."
Warner believes Mayfield has the arm talent but hasn't been able to flourish in this Browns offense in 2021.
"If he's going to be that next level in the NFL, he'll have to be in an offense where he can make difference-making throws," Warner added. "But probably not asked to make 40 throws because that consistency hasn't been there. I don't think he can be a guy you can lean on in every given moment."
When asked about Cleveland's evaluation of Baker Mayfield, Kurt Warner says the franchise needs more.
"You're not making that decision right now," said Warner. "And if you have to, you can't give him that contract. He hasn't shown that he can be the guy. You've got to spend that money in other places."
The Browns QB is entering the last leg of his rookie contract
Kurt Warner isn't arguing that Baker Mayfield can never be the guy in Cleveland. However, numbers don't lie, and he's yet to prove himself as the franchise quarterback.
Mayfield is in his fourth NFL season but has yet to truly take a leap forward as a starting quarterback. The Browns picked up his fifth-year option, so he'll be under contract through the 2022 season. After that, he'll become an unrestricted free agent.
Cleveland will have the opportunity to sign the Oklahoma product to a new long-term contract, but does he deserve one?
As Warner mentioned, Mayfield has shown signs of promise. He put together a decent rookie season, throwing for 3,725 yards, 27 touchdowns, and 14 interceptions.
Mayfield regressed in 2019 before enjoying his most productive season in year three. He threw for 3,563 yards, 26 touchdowns, and eight interceptions while completing 62.8% of his passes.
It's difficult to question the fourth-year quarterback's arm talent and toughness. However, his accuracy and decision-making have been questionable over the years. He's battled injuries for much of the 2021 season, but his completion percentages in previous seasons weren't any better.
General manager Andrew Berry and the front office would be wise to think long and hard before giving Mayfield a huge payday.
How Mayfield ranks against the other QBs in his draft class
The 2018 NFL Draft will be one to remember, for reasons good and bad. Five quarterbacks went in the first round. The Cleveland Browns kicked things off by selecting Baker Mayfield with the No. 1 overall pick.
With the top-pick tag comes a great deal of pressure. No matter what Mayfield does in his career, people will always compare him to the guys who went off the board after him.
Although the former Oklahoma Sooners standout has underwhelmed, he's been better than Sam Darnold and Josh Rosen. Both were highly touted prospects coming out of college but have been massive disappointments.
Darnold had a rough start with the New York Jets, and he's yet to prove to the Carolina Panthers that he can be "the guy." Rosen never found his footing in the NFL after the Arizona Cardinals drafted him. The UCLA product had an abysmal rookie season. He's been with three different teams but never lasted more than one season with each.
On the other hand, Josh Allen and Lamar Jackson have drastically exceeded Mayfield's production through their first four seasons.
The Buffalo Bills struck gold with Allen at No. 7 overall. He seems to be getting better every year, both as a player and a leader. After a rough rookie season, the Wyoming product has led Buffalo to three straight playoff appearances.
Jackson took the league by storm when he took over the Baltimore Ravens' starting quarterback job. The Ravens have posted an impressive 37-12 record with Jackson under center. He has two Pro Bowls and a Most Valuable Player Award under his belt.
Mayfield is the third-best quarterback in the 2018 class by default. However, he has ground to make up to catch up to Allen and Jackson. Fortunately for Mayfield, the Browns will likely give him one more year to sell himself.
All stats courtesy of Pro Football Reference and contract figures courtesy of Spotrac.