Kwame Brown Firmly Denied Any Rumors That Michael Jordan Made Him Cry: 'Sometimes a Lie Sounds Better Than the Truth'
It was 20-plus years ago, so a lot of the luster on the Michael Jordan-Kwame Brown relationship (or lack thereof) has faded. But specific stories stick in NBA fans' minds. Like when MJ was so hard on his 19-year-old rookie during a Washington Wizards practice that he made him cry.
When looking back at the details of how hard Mike was on a high-school kid trying to live up to lofty, No. 1 overall pick expectations, the crying story doesn't seem out of the realm of possibility.
But, as Kwame claimed, that story isn't true. He wouldn't let His Airness, even as a player-executive, push him that far.
Kwame Brown was the No. 1 overall pick as Michael Jordan's first decision as a Wizards executive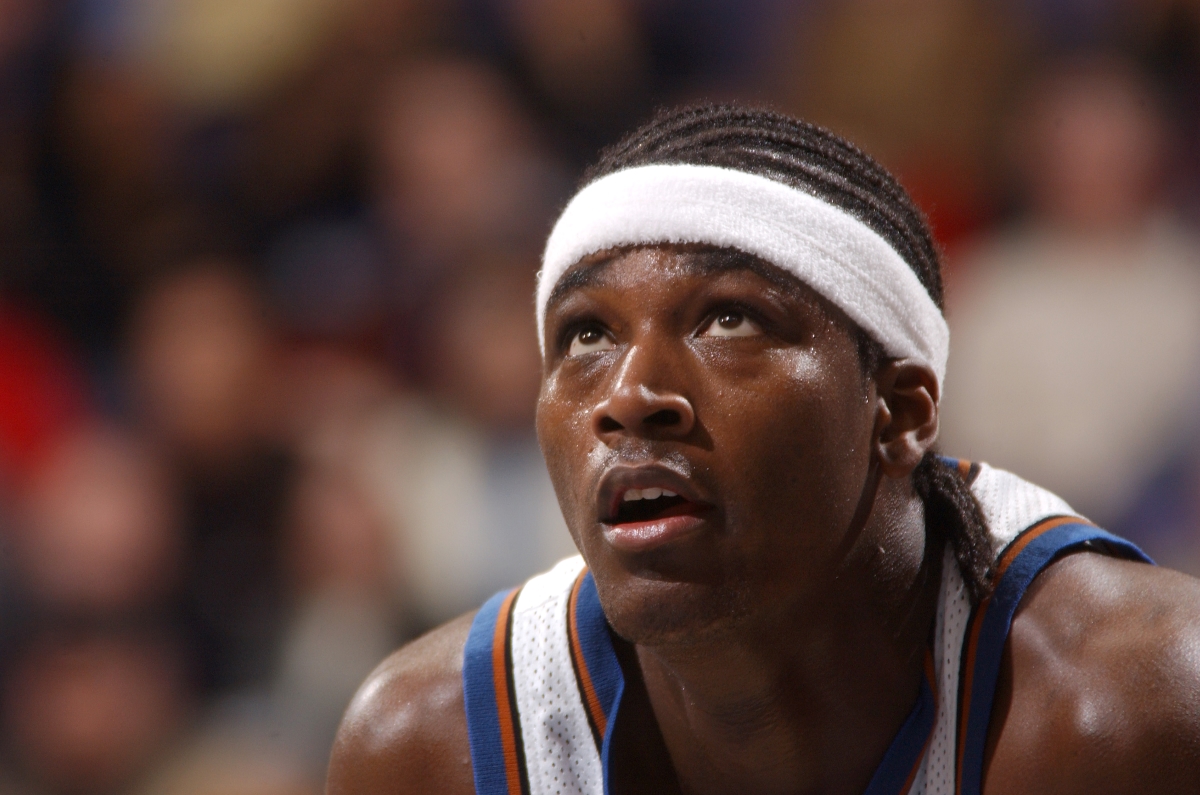 He was already a six-time NBA champion and had already retired. Twice. But after signing on to run a run-down Washington Wizards franchise, Jordan decided that wasn't enough.
He needed to get on the floor to play and practice with his team to show them how things were done.
And as his first executive decision and potential franchise player, Black Jesus was harder on Brown than anyone else.
What's often discussed now is Jordan's treatment of his rookie and its effect on Brown's career. Although, as Brown explains it, MJ never beat him down to the point that he shed tears.
Brown denies the claim that Jordan made him cry during a Wizards practice
In an excerpt from Michael Leahy's book When Nothing Else Matters on ESPN.com, numerous stories of The Goat's treatment of Brown are laid bare.
At first, Leahy explained, Jordan did his best to be patient with Brown and take him under his wing. But that patience quickly turned to frustration, which quickly turned to anger.
From the excerpt:
"He proceeded to humiliate Brown, mocking him while scoring at will, declining to help him up when the teenager fell hard to the floor, winning lopsidedly and, at the end, yelling at Brown to acknowledge his superiority in front of the team:
"You better call me 'Daddy,' (expletive)."
"Michael was breaking him down," one observer recounted, "probably to build him up. But there was a lot of breaking down."
Then came Leahy's most famous story. Jordan came at Kwame with a host of homophobic slurs, as it was told in a report in The Washington Post:
Many Washington players got the business end of a Jordan harangue, but he designated second-year forward Kwame Brown as the whipping boy, referring to him, as reported by The Washington Post, as a "flaming [slur]." A source told SI that Jordan ritually reduced Brown to tears in front of the team.

The story of Michael Jordan making Kwame Brown cry
But Brown firmly denies those rumors. He admitted Jordan was hard on him but that he never shed a tear over his leader's tough love.
"Michael has never brought me to tears," he said. "Did he upset me a lot? Yeah. I mean, he's a competitor.
"I think it's much to do about nothing," Brown said. "So many people want to make up stories about Michael Jordan."
And then, as Brown said in a Hoops Hype interview (h/t The Post):
"That's just plain old gossip, and it's sad that media outlets would write things they have no clue about. But I guess I get it. Sometimes a lie sounds better than the truth and it sells more papers or magazines."

Kwame Brown on the story that Michael Jordan made him cry during a Wizards practice
It's not impossible to think MJ did go after Kwame so hard he cried. But, as Brown claimed, he understood it was just Mike being Mike
The journeyman center went on to have a legitimate NBA career
It's mostly forgotten at this point, but Kwame wasn't an NBA draft bust. He never lived up to No. 1 overall pick expectations, but the 6-foot-11 center played 13 seasons in the league and earned more than $62 million.
Not exactly a "bust" of a career.
MJ even brought Brown back into the fold when he was team governor of the Charlotte Bobcats a few years later.
Jordan was notoriously hard on teammates, even going back to his glory days with the Chicago Bulls. That never changed with the Wiz.
But the Glynn Academy product vehemently denies that No. 23 ever made him cry.
All statistics courtesy of Basketball Reference.
RELATED: Despite Being Labeled as a Michael Jordan Draft Mistake, Kwame Brown Had an Overlooked Career That Netted Him More Than $60 Million