Kwame Brown Crawls Into the News Cycle With Homophobic Rant About Russell Westbrook's Latest Wardrobe Choice
Russell Westbrook made waves recently with a tweet showing off a new look. His close-cropped hair dyed blue, Westbrook sported a buttoned sweater, black boots, and what appeared to be a pleated skirt. Some of the reactions were less than favorable. Perhaps none were as visceral as former NBA player Kwame Brown's response to Westbrook's sartorial choices.
Westbrook has long dabbled in fashion, launching the Honor the Gift clothing line in 2016. Brown, the No. 1 overall pick of the Washington Wizards and Michael Jordan in 2001, had a disappointing career. He's spent recent months blasting anyone and everyone he feels had a hand in his demise. While his latest comments weren't in that vein, the 39-year-old held nothing back about what he thought of Westbrook's fashion taste.
Kwame Brown is letting the bitterness out
In May 2021, Kwame Brown unleashed on his critics. A social media blast followed a podcast appearance by former Washington teammate Gilbert Arenas, but Brown's wrath didn't come with the precision of a sniper. Instead, it was a shotgun blast that aimed at Arenas, podcast hosts Stephen Jackson and Matt Barnes, and many others.
For starters, Brown claimed Jordan drafted him for one purpose: to trade him to the Chicago Bulls for 1999 first overall pick Elton Brand. Brown came to the NBA with pressure no previous top pick had endured. He was the first high-school player selected with the No. 1 overall pick.
Brown has defenders. Journalist Jason Whitlock accused Jordan of abusing Brown and sabotaging the youngster's career. The year after Jordan left the Wizards, Brown showed some of his potential by averaging 10.9 points and 7.4 rebounds in 30.3 minutes a game. But injuries and personality conflicts undermined his tenure in Washington.
Brown played 12 seasons in the NBA with seven teams. His career averages of 6.6 points and 5.5 boards aren't the worst by a first overall draft pick. But they're much closer to the bottom of the list than they are to the top.
Several months after lashing out, Brown decided to put Russell Westbrook in his crosshairs.
Brown's homophobic rambling at Russell Westbrook
While many on social media criticized Russell Westbrook's look, Kwame Brown reacted particularly strongly to the tweet from Westbrook showing off his attire.
Brown's comments crossed the line from fashion to questioning Westbrook's masculinity. The Ballislife.com account shared the viral video on Twitter.
"There's two ways you could go. You bite the apple and wear them mother****** dresses like Russell Westbrook or whatever the f*** his name is, I don't even wanna say his name no more. …. Not no [n-word] I ever grew up and messed around with gonna be walking around in the streets with a dress on and some mother****** boots and keep my respect and say he heterosexual."

Kwame Brown
Westbrook is renowned for his unique fashion choices. As society attempts to move past gender- and sexual-orientation-based stereotypes, Brown's comments play like something from a much earlier time.
If you're not a fan of Westbrook's look, that's fine. Many wouldn't be. But declaring himself the judge of what is and is not masculine, heterosexual attire is where Brown crossed the line.
Kwame Brown has an unquestioned right to feel how he feels but he went too far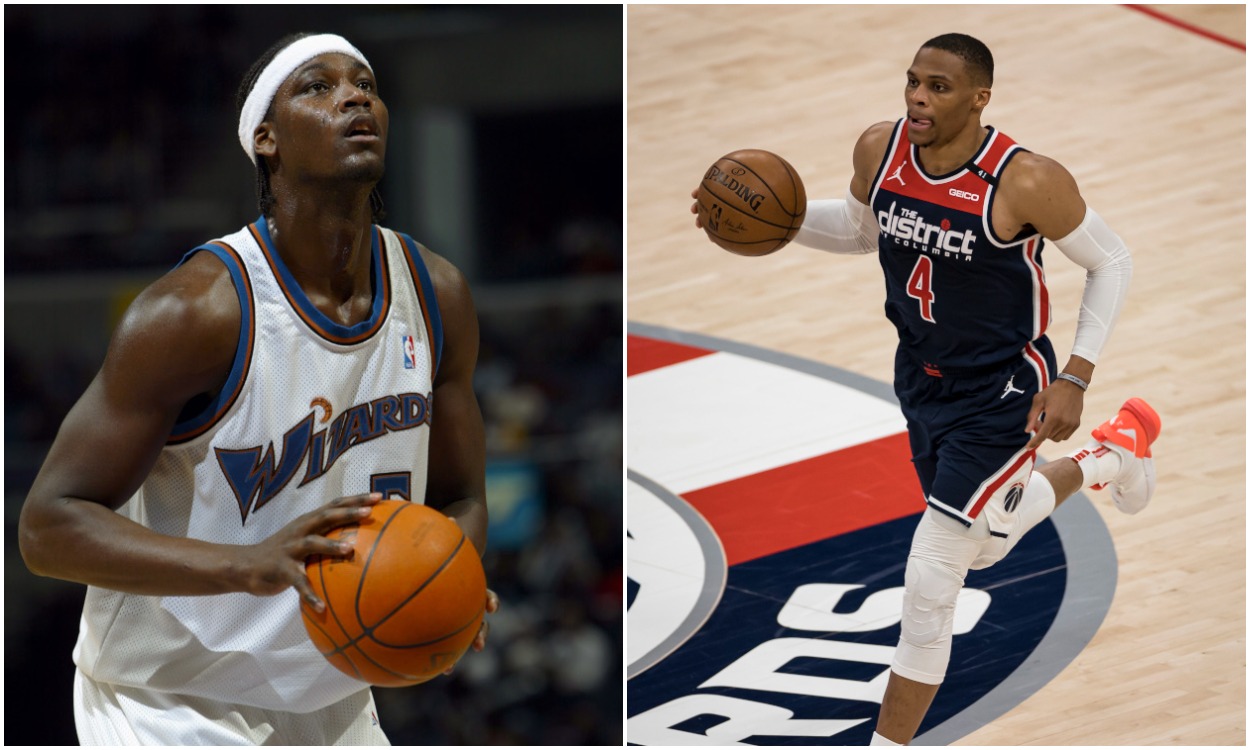 Kwame Brown's NBA career didn't go as he hoped. After two decades of having the "bust" label around his neck like an albatross, he's justified in lashing out. Challenging a journalist to fight is likely a bridge too far, but in fairness, Stephen A. Smith clapped back hard against Brown's offer.
But Brown is profiting off his plight. His Kwame Brown Bust Life YouTube channel has more than 400,000 followers. He also earned $64 million in the NBA. Sympathize with Brown for the bad breaks as you will, but it's not like he'sbeen devoid of opportunity throughout his professional career.
No one is guaranteed stardom. But it's too lazy and straightforward to declare Brown has no place to criticize Russell Westbrook because Russ is a better basketball player. Brown enjoys the freedom to think and say as he chooses.
It's when he paints entire sections of the population with stereotypes and broad generalizations that Kwame Brown steps out of bounds. It has nothing to do with the successes or failures he had as an NBA player.
Statistics courtesy of Basketball Reference.