Kyle Busch, 2 Other NASCAR Drivers Disappoint During Wise Power 400
Former driver and Fox Sports analyst Clint Bowyer offered his pre-Wise Power 400 advice on how to navigate the old, five-lane, bumpy track at Auto Club Speedway, "or you're going to be in big trouble."
Driver Alex Bowman warned that combining a challenging track surface and his NASCAR Cup Series peers' developing comfort level with the new Next Gen cars would lead to a Gen 6 rarity, single-car incidents.
Bowman, who ended up crashing and placing 25th, was right.
Just ask Chase Elliott, Christopher Bell, Josh Bilicki, and, of course, the most disappointing finisher on Feb. 27 …
Kyle Busch, 14th place 
How it ended: Did he really start?
Sixteen laps into the Wise Power 400 at Auto Club Speedway, Busch, a pre-race favorite, proved Bowman correct early, spinning out while uncontested.
Busch's day was just getting started, without much California sunshine.
On Lap 86, his machine suffered a rear flat tire.
He also encountered overheating issues and a water leak.
Fans listening on the No. 18 team's radio could hear Busch's frustrations.
"I'm running out of water," he said. "What do you want to do? We'll either blow up or fix it."
Busch, who has four wins at the venue, re-entered the race after repairs and gamely worked his way through the field. He finished running but well off his projected pace.
Perhaps it was the lack of practice time? Maybe for a younger driver, but Busch, a 20-year Cup veteran, entered Feb. 27 with 11 top-five finishes in 22 starts at Fontana.
His latest bid, however, effectively ended early.
Harrison Burton, 33rd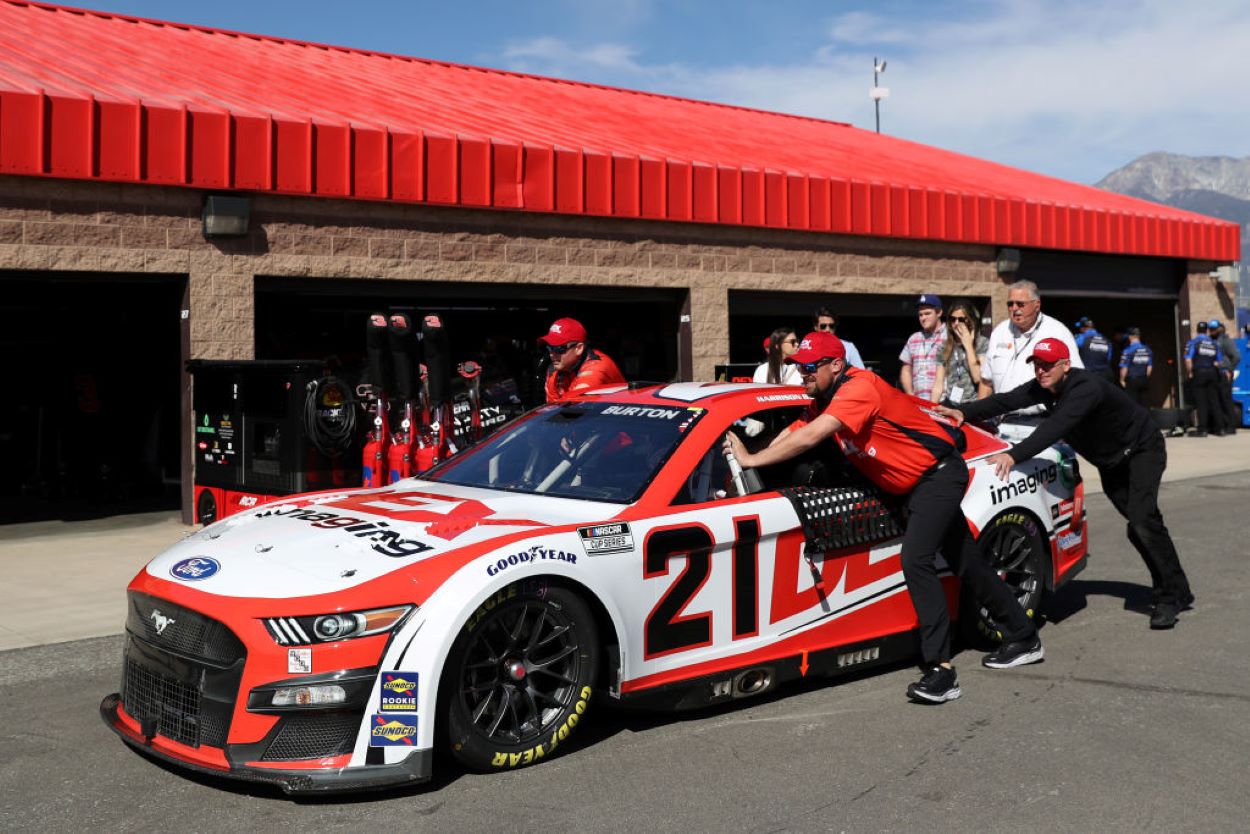 How it ended: On Lap 157, blinded by smoke, he drove right into Bubba Wallace's out-of-control machine.
After an impressive Stage 1 during the 64th Daytona 500, the Rooke of the Year candidate became a darkhorse favorite to capture the season's second race. After all, he needs a win to keep pace with Daytona 500 champion Austin Cindric.
The rookie chase is already clinched if Burton or Todd Gilliland go winless.
Burton was competitive at Daytona, leading for three laps. At Fontana, however, he never challenged the leaders.
In two starts for Wood Brothers Racing's iconic No. 21 ride, Burton recorded DNFs.
"I don't know how many crashed, but there was a lot of smoke, and I couldn't see where I was going," Burton said, reported by NBC Sports. "… It was a frustrating day. It felt like we weren't running as well as we needed to be anyway."
William Byron, 34th
How it ended: A careless mistake, and Byron accepted the blame,  
Tyler Reddick absorbed Byron's mishap. 
Able to effectively "ride the wall" through the opening two stages, Reddick led 90 of the opening 152 laps until the No. 8 Chevrolet encountered a flat tire along Turn 1. With Reddick not making any moves, Byron lost control on a pass attempt and struck Reddick's machine.
Byron led for 16 laps before his untimely mistake.
"So frustrated I made that mistake for our team today," Byron said via Tweet. "What a fast car, and we were making our way back to the front. I got loose, getting under the 8 who had a flat.
"Thankful for such a fast car, and I know we'll be back stronger next week" at Las Vegas Motor Speedway.
Like Sportscasting on Facebook. Follow us on Twitter @sportscasting19.
RELATED: Kevin Harvick Expecting' Trial by Fire' for NASCAR'S New 18-Inch Tires at 'Rough' Fontana Track