Kyle Busch Admits He Was 'Shocked' When His Former Crew Chief Dumped Him: 'You Quit on Me'
Kyle Busch is one of the most successful drivers in NASCAR history. However, after a disappointing 2020 season, Busch's 2021 season could prove to be challenging thanks to some significant changes, as he is no longer working with his former crew chief Adam Stevens. So, why did the two split? Kyle Busch — who is looking to rack up more wins in 2021 than he did in 2020 — recently revealed what happened between the two of them.
Kyle Busch's Cup Series wins are 10th in NASCAR history
RELATED: Tony Stewart Once Called Joey Logano a 'Little Rich Kid Who Has Never Had To Work in His Life'
Over the years, Kyle Busch has proven to be one of his era's most successful drivers, as his 57 Cup Series wins are 10th all-time. According to NASCAR.com, Busch also holds the record for wins in the Xfinity Series and the Truck Series.
Busch additionally won two Cup Series championships in 2015 and 2019.
"We were the underdog, or so everybody said," Busch said after winning his 2019 championship, according to The New York Times. "That was the consensus. It was the same thing in 2015 when I won the first time."
He continued: "It means everything to win this championship again. There were a lot of doubters when we won the first one."
Kyle Busch was 'shocked' about his split with former crew chief Adam Stevens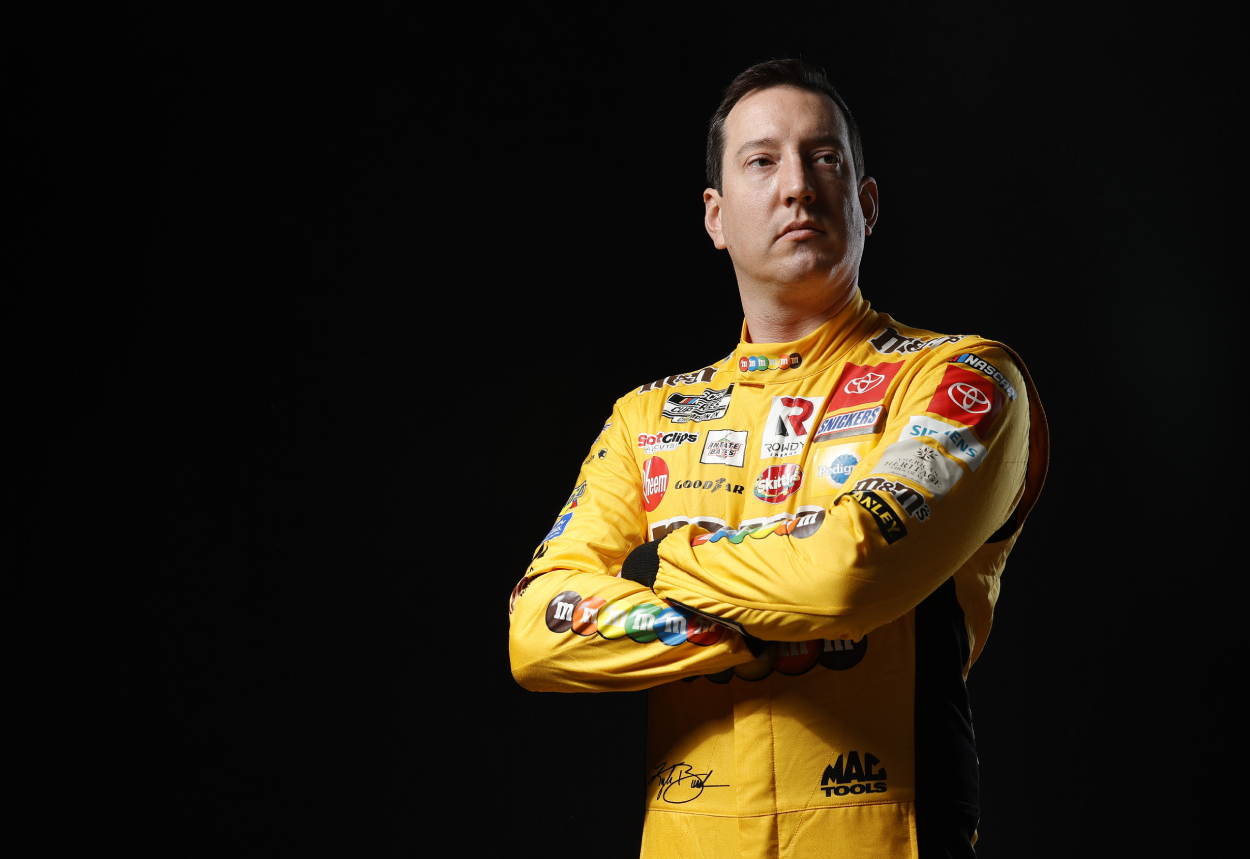 RELATED: Bubba Wallace Had a Strong Conversation With Kyle Larson After Larson's Racial Slur: 'It's in Your Vocabulary, Dog'
Busch had a disappointing 2020 season, as he finished eighth in the Cup Series standings and was eliminated after the Round of 12. He also only won one Cup race the entire year. This then led to Busch and his former crew chief Adam Stevens going their separate ways.
"I asked Adam for a couple changes to be made over the offseason, and he didn't agree with my philosophy on those changes," Busch said on the Feb. 10 episode of In Depth with Graham Bensinger, according to NASCAR.com. "So he said 'you know what, I'm going to do something different and let you do something different and we'll see what happens.'"
Busch said that Stevens "shocked" him when he made the decision to leave his team.
"I was like, 'well, essentially you just told me you quit on me'," Busch said, per NASCAR.com. "So … uh, OK. See you later. Now I have to go find somebody else on who's going to be the next guy to step in and take over the reins to be crew chief for the 18 M&Ms team."
He continued: "I flat-out told him in the beginning of the conversation that 'I believe in you. I trust in you. I want you. You're my guy. We've done this already for six years. We've won two championships. Like, there's chemistry here and we have a working relationship where we understand one another.'"
Well, that sounds messy.
Now, Kyle Busch must figure out how to earn some wins with a new crew chief this season.
He looks to find success with a new crew chief this NASCAR season
RELATED: NASCAR Reporter Jamie Little Reveals Why She Left ESPN and Moved To FOX
In 2021, Stevens will work on Christopher Bell's team, while Busch now has Ben Beshore as his new crew chief. Beshore won four Xfinity races as Harrison Burton's crew chief last year. He also previously worked as Busch's engineer from 2015 to 2018, according to FOX.
"He kind of knows my little quirks," Busch said, according to NBC Sports. "I have a whole new team essentially. The only guy that is the same is the car chief. Everybody else is different. I've got a whole new group of guys that I've got to learn, and I've got to teach them how I do things and what my system is and how I like stuff, where I had all of that for the past five years, six years. … Just getting into a rhythm and getting into races and practices and stuff is where all that is learned."
This should certainly be an interesting season for Kyle Busch.