Kyle Busch's Joe Gibbs Car Will Look Drastically Different in 2023
As soon as Kyle Busch approached a popular playground in Huntersville, North Carolina, kids stopped playing and ran up to the NASCAR premier series driver. It was Halloween 2013 (or 2014?), and Busch was in full costume.
With a broad smile, Busch, dressed in his familiar yellow M&Ms Sunday best, handed out big bags of Mars Inc. promotional candy to everyone at the park but an old sportswriter, who declined.
The two-time Cup champion paused for a few minutes to talk and interact with the kids, who enjoyed meeting a local celebrity – and getting a lot of candy.
Kyle Busch and Joe Gibbs Racing set to celebrate Mars association in '22
After next season, Busch will not make such impromptu promotional appearances, holding bags of candy for kids of all ages. Mars announced it will end its 15-year association with Joe Gibbs Racing and 30-year relationship with NASCAR after the 2022 season. 
Mars' national series sponsorship is NASCAR's longest-tenured partnership. 
Dave Alpern, Joe Gibbs Racing (JGR) president, told Sports Business Journal that the international candy company informed the racing team of its intentions last summer, giving JGR more than a year to secure a new sponsor. JGR, which believes it remains in a good place, announced a multi-year extension with its other major sponsor, Interstate Batteries. 
JGR and Mars agreed on their final three-year extension in 2019, calling for Mars to serve as primary sponsor for 25-30 races on the No. 18 Toyota. The deal was valued at $20 million per year, according to forbes.com. 
Mars has been a sponsorship stable for NASCAR national series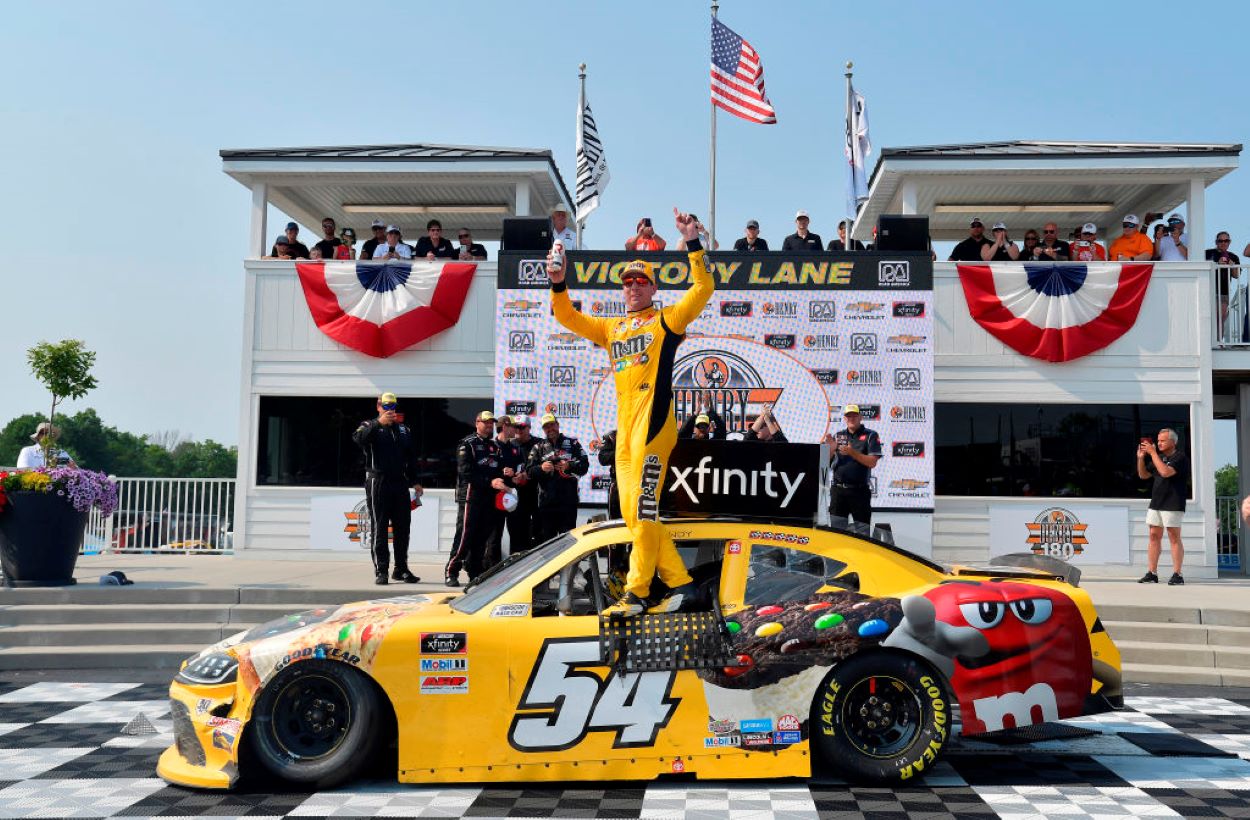 Mars first stamped its mark on a stock car in 1991 as a secondary sponsor. It agreed to a primary sponsorship deal with MB2 Motorsports and driver Ernie Irvan eight years later. In 2003, Robert Yates Racing came calling, and a deal was struck for the No. 38 machine driven by Elliott Sadler.
The industry named M&Ms as the "official chocolate of NASCAR" in 2006, according to forbes.com, and the company inked what proved to be a long-term relationship with JGR two years later.
The M&Ms logo has long been a staple of NASCAR. Few companies have had more successful partnerships with NASCAR teams.
Here are two of NASCAR'S longest-tenured, ongoing sponsorship deals:
FedEx and Joe Gibbs Racing
Pepsi and Hendrick Motorsports
Busch: 'We have a relationship so much deeper than just having the honor of driving their colorful cars'
For longtime Cup fans, it will feel strange to see Busch driving a car other than the M&Ms Toyota in 2023. It will be strange for him, too.
Addressing the relationship in a statement reported by NBC Sports, Busch said: "During this time, Mars Associates have been like family to myself, Samantha, and Brexton. In particular, my friendship with the Mars Family will be something that will last a lifetime. We have a relationship so much deeper than just having the honor of driving their colorful cars."
Busch claimed NASCAR drivers' championships in 2019 and '15 and 55 Cup events with Mars as a sponsor.
"… I'm glad we have the 2022 season to celebrate Mars and the contributions they have made to our sport over the past three decades," JGR owner Joe Gibbs said in a statement.
Kids of all ages who live near the JGR headquarters certainly will miss the promotional candy give-aways.