Kyle Busch Says He's 'Going About Life as Normal' Despite COVID-19 Delta Threat
Many people despise Kyle Busch. Asked for a reason, they might offer a scenario like his recent NASCAR Cup Series playoff crash that prompted Busch to go ballistic and drive aggressively through the pits. But regardless of whether he deserves hatred or a hefty dose of karma, one of the most successful drivers in motorsports embraces controversy.
Busch is also unafraid to speak his mind, even if what he says isn't what everyone wants to hear. That includes his comments on the COVID-19 pandemic and his vaccination status.
Kyle Busch should hope his recklessness doesn't catch up to him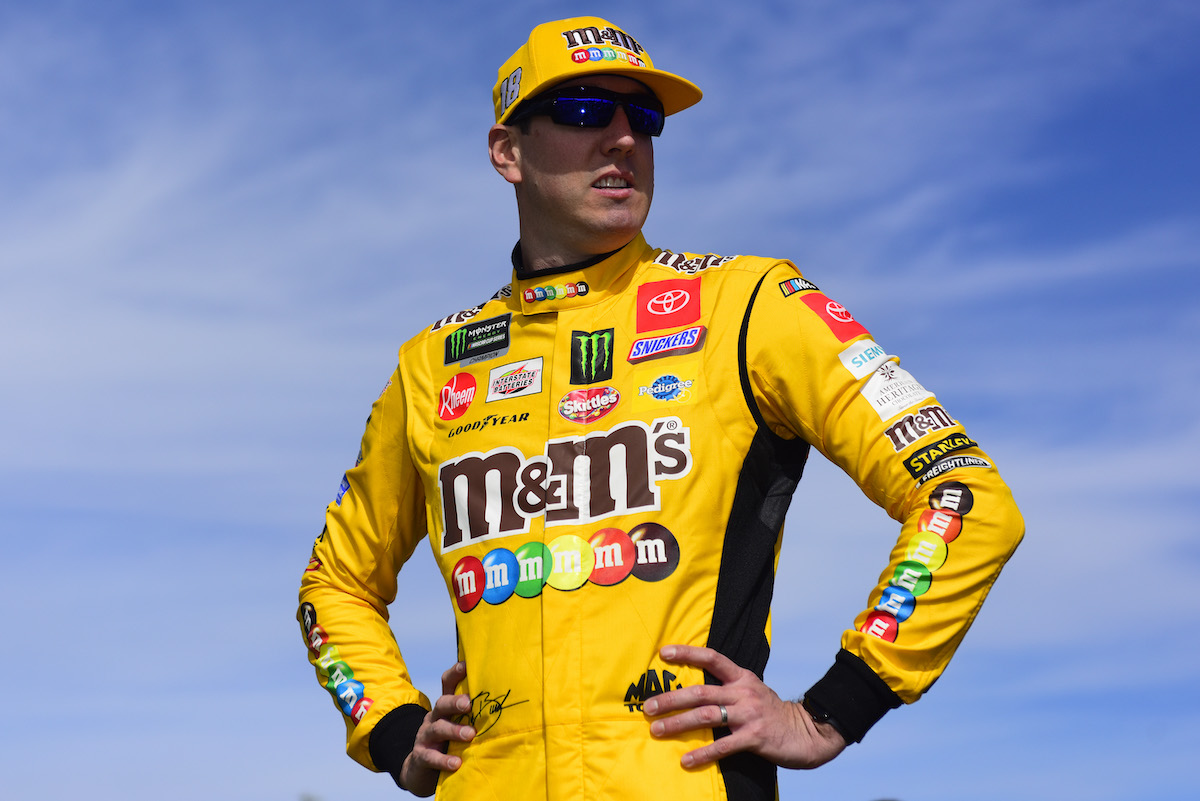 It has been a tough year for many NASCAR drivers and fans. However, Busch should hope his lousy attitude and recklessness don't come back to bite him.
Asked about the precautions he's taking regarding the coronavirus and Delta variant, Busch flatly replied, "I haven't changed anything. I'm going about life as normal," The Charlotte Observer reported.
His terse response isn't surprising, considering his normal confrontational behavior.
Kyle Busch fiercely protects his privacy regarding his vaccination status
Busch is not alone in remaining mum about whether he's gotten the jab. Most of NASCAR's biggest names haven't revealed their coronavirus vaccination status. And they're not required to discuss it for privacy reasons.
At least one driver, Aric Almirola, has said, "That's like me asking you if you've had a vasectomy."
And in true Kyle Busch style, when asked about his thoughts on getting vaccinated, he replied, "I look at all of that stuff as very personal, very choice-driven, and nobody needs to know what people's choices are," USA Today reported.
"But now everybody's asking for vaccination status cards and everything and where you go, so I guess HIPAA doesn't exist anymore," Busch added, referring to the U.S. rule restricting the release of medical information without a patient's consent.
A few drivers, such as Joey Logano, have said they've done everything possible to stay safe and stay in the NASCAR playoffs, including getting vaccinated. Another big name is Jeff Gordon, who admitted in April that he had tested positive for the coronavirus after his first dose. He said he has since gotten fully vaccinated.
NASCAR is trying to keep drivers and fans safe
Although drivers are not required to divulge their vaccine status, NASCAR still takes the risk seriously. Some drivers have had to miss races because of coronavirus-related circumstances.
One example is when Corey LaJoie was exposed to someone who had tested positive and, as an unvaccinated driver, was quarantined for seven days. He ended up missing the race at Michigan.
NASCAR has also implemented several policies and protocols to keep spectators and teams safer because of the Delta variant. The newest regulations include restrictions on access areas for guests, the media, and drivers.
NASCAR even modified Victory Lane to reduce exposure. Now there are staggered times, secure routes, and facemask requirements. Also, fewer people are allowed in Victory Lane.
In addition, hauler areas that used to be accessible are now off-limits, even to the media. Journalists are now required to make engagements in controlled and socially distanced settings to protect the drivers.
And NASCAR clearly states that regardless of vaccination status, the organization requires facemasks in all enclosed areas, without exception. Those rules are unlikely to change in the immediate future.
RELATED: Dale Earnhardt Jr. Is the Only NASCAR Driver Who Can Claim This Distinction