Is Kyle Busch or Kurt Busch the Better Driver? Dale Earnhardt Jr. Explains Why 'It's Hard to Tell'
Like any other sport, motorsports is highly competitive. But few opponents must face direct competition from their family members. Dale Earnhardt Jr. knows what that's like after racing against his father, Dale Earnhardt Sr. Brothers Kyle Busch and Kurt Busch know too. The siblings' competitiveness has even invited comparisons. And in one of his podcast episodes, Earnhardt discussed the differences and similarities between the Busch brothers. He also gave his opinion on why naming one the better driver is problematic.
Kyle Busch and Kurt Busch have had outstanding NASCAR careers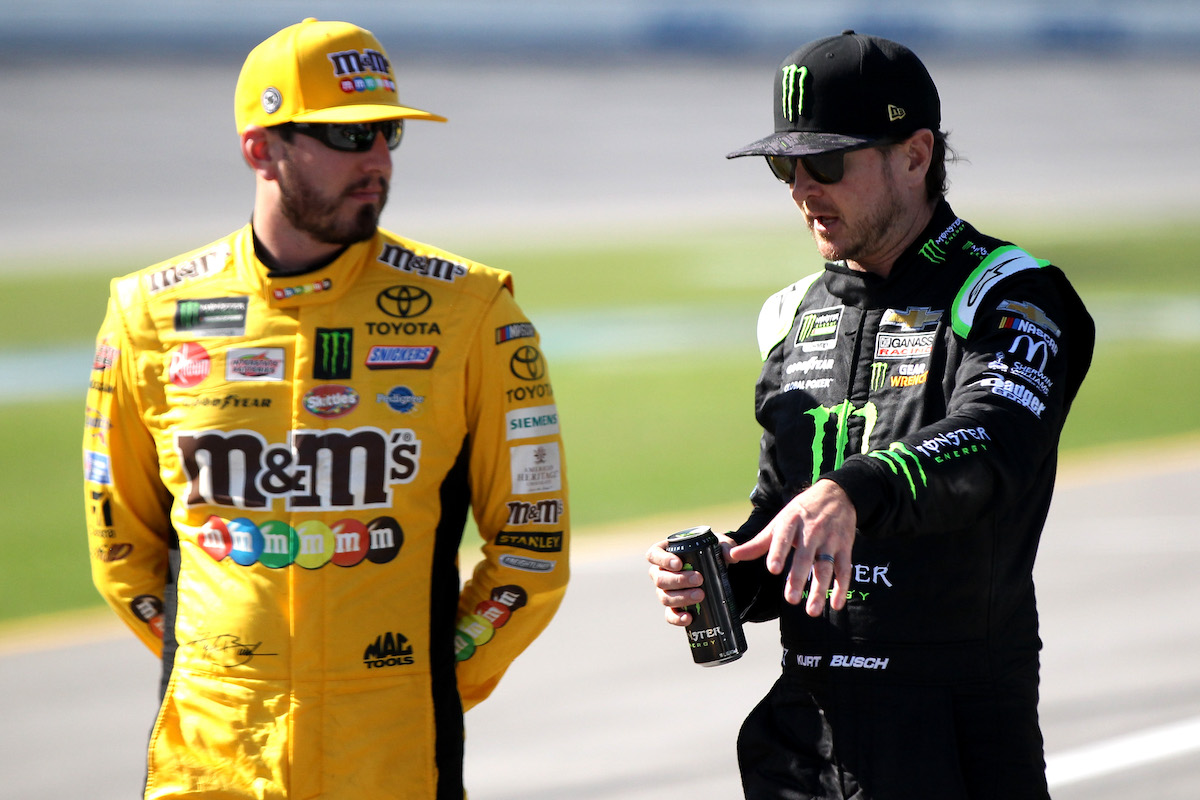 Kurt and Kyle Busch have enjoyed successful careers, and they've faced each other on the track multiple times.
Kurt is in his 20th full season with the NASCAR Cup Series and shows no signs of slowing. He's a five-time winner in the Xfinity Series and a four-time winner in the Camping World Truck Series. According to NASCAR, he also boasts 33 wins in the premier division, with victories in the Daytona 500 and Coca-Cola 600. And in 2004, Kurt was the Cup Series champion.
Younger brother Kyle also races in the Cup Series, with championship wins in 2015 and 2019. He also holds records for the most all-time wins (102) in NASCAR's Xfinity Series and the most wins (61) in the Camping World Truck Series. With his 59 Cup Series victories, Kyle has earned 222 wins among all three series.
Is Kyle Busch or Kurt Busch the better driver? Dale Earnhardt Jr. weighs in
Dale Earnhardt Jr. is a third-generation driver in a family that will forever be synonymous with stock car racing. He earned 26 career victories, including wins at the Daytona 500 in 2004 and 2014. He qualified for the NASCAR playoffs eight times and is the only third-generation NASCAR champion in the sport's history.
In 2017, Earnhardt retired from competition. He joined NBC Sports Group's NASCAR coverage, securing multiple opportunities within NBCUniversal's media business. One of these opportunities led to his podcast, The Dale Jr. Download.
In a recept episode, Earnhardt explained why he goes back and forth on the debate regarding which Busch brother is the so-called better driver.
"The thing about it is it's hard to tell because they've never really both been in equal equipment at the same time, right?" Earnhardt said. "Honestly, my opinion of that changes from time to time. My opinion about the better Busch brother changes, depending on the race, depending on how they win or where they win."
The brothers' competitive nature invites comparisons
Their competitive nature has pushed both drivers to rank among the best in the sport. And their success stems from more than sibling rivalry. The Busch brothers' drive to win is so strong it has created friction between them. One such time was in 2007 when Kyle and Kurt wound up not speaking to each other for a year after a collision in the Nextel All-Star Challenge race cost both a shot at a $1 million prize. 
NASCAR fans have given seemingly countless opinions on which Busch is better. The brothers' stats have been pored over and discussed repeatedly, and there has been more than one debate about which sibling is the superior driver. However, most fans believe Kyle is better based on the numbers alone.
But one could also speculate that Kurt is the better driver because, at 43 years old, he has more experience than 36-year-old Kyle. Still, on paper, Kyle appears to have the advantage. There's a vast gap between their number of championships and overall wins, with Kyle far ahead of his brother.
But from Earnhardt's professional perspective, the verdict is not as cut and dried as one might think.
RELATED: Angry Kyle Busch Goes Ballistic and Screams and Cusses at Bubba Wallace During Cup Series Race at Kansas