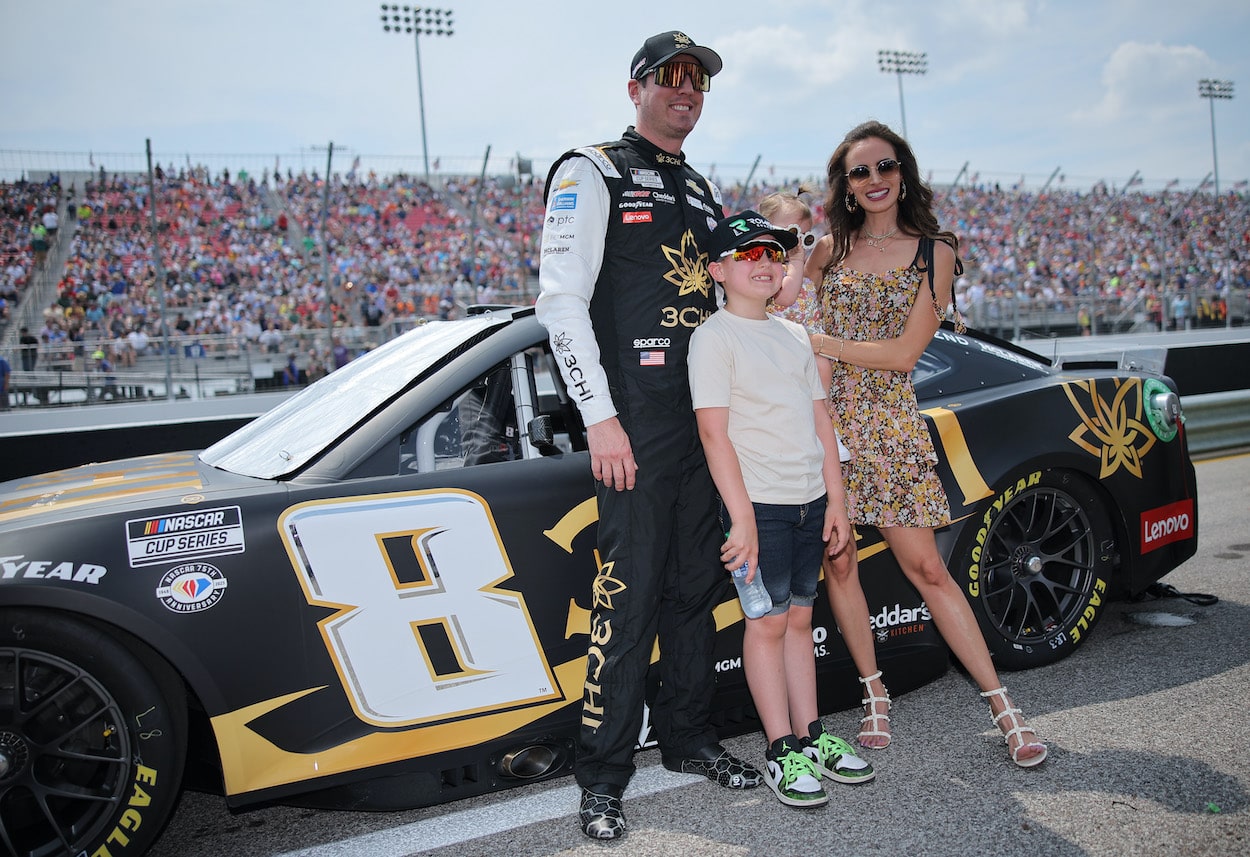 Kyle Busch Puts Mansion on Market for Staggering Price and Using Realtor With Familiar Name That's Connected to His Not-So-Distant Past 
Kyle Busch and wife Samantha have listed their 15,000-square-foot home on the market for a staggering price, using a realtor with a familiar name that is connected to his not-so-distant past.
Kyle Busch is back.
After years of struggling at Joe Gibbs Racing, including just four wins over the last three seasons, the two-time Cup Series champion has had a resurgence in his first year with Richard Childress Racing, earning his third win in the season's 15th race on Sunday at World Wide Technology Raceway. 
His move to a new organization was part of a big change he predicted last summer. He also said there would be an alteration of his family's lifestyle. What that looks like hasn't been quite clear — until now. 
This past week the 38-year-old's multi-million-dollar mansion went on the market. That's interesting enough. But what makes it even more intriguing is the realtor is someone with a familiar name and connected to the driver's not-so-distant past.
Kyle Busch predicts big changes, including in his lifestyle
Last summer, before almost every race, Kyle Busch met with the media and was routinely asked about his future with Joe Gibbs Racing. The driver didn't have many answers. However, during a visit with reporters before Watkins Glen in August, he showed a side not often seen in public.
"It's been hard as hell," Busch said when asked the toll it's taken on him and his family. "It's been a lot of sleepless nights figuring out what your future is and all that sort of stuff."
He explained how he went through a similar situation, leaving Hendrick Motorsports to join JGR, but it was different because he didn't have a wife, kids, and a Truck Series race team to consider when deciding on his future. 
"And the first time I went through this was 15 years ago and it was a learning experience. It was hard then too, but it was nothing like now. Then it was just me, myself and I. I didn't have (wife) Samantha, I didn't have a son. I didn't have a daughter. All I had was an agent that was helping me.
"It's way, way harder because now you have Kyle Busch Motorsports that you've got to think about, you've got a building that you've got to pay on, you know, you've got a building note and all that sort of stuff. So, there's a lot of pieces and that's why it's not so simple."
"I don't feel like it's fair to me or my family or anything else if we're going to have to spend less time together moving forward because we are going to have to change our lifestyle, no questions," he said. "There's a big change coming."
Busch puts house on market for nearly $13 million
That big change was departing JGR after 15 years and joining RCR. And just beyond the midway point of the 2023 regular season, it's been a smashing success. On Sunday at WWT Raceway, the driver made his third trip to Victory Lane and further confirmed that he's still undeniably one of the best in the Cup Series. 
While the team change is obvious and has proven very successful in the early going, that lifestyle change hasn't been as evident. However, that changed recently when the home for the 38-year-old and his family went on the market. 
Busch is asking $12,995,000 for the 15,003-square-foot home he bought back in 2012 for a then-Charlotte area record $7.5 million, according to the Charlotte Observer. According to property tax records, the owner is listed as the "East Denver Revocable Trust," which the Observer confirmed was the driver in 2012.
The home, which is located on a 1.3-acre property and was built in 2008, includes seven bedrooms and 10 bathrooms — eight full and two half baths — and includes 180-degree panoramic views of Lake Norman, with a boat dock, covered slip, a fully equipped outdoor kitchen, and a heated swimming pool with a swim-up bar. 
Has connection to realtor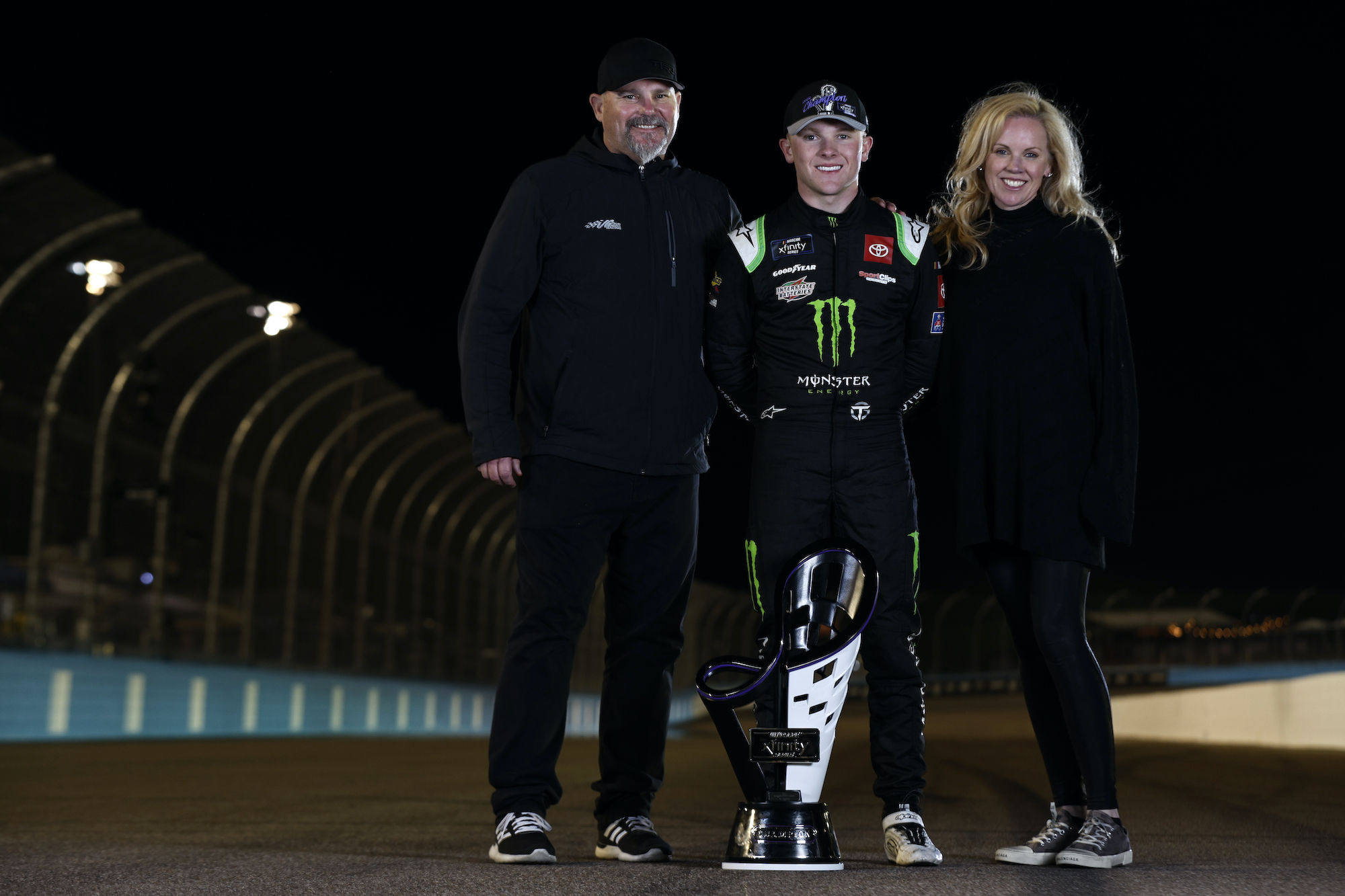 Adding intrigue to the story is the person listed as the representative of the trust. Heather Gibbs, also known as Ty's mom and Coy's widow, works with Corcoran HM Properties. She told the Observer that the owners are just ready to move elsewhere after living in the home for so long and there's no personal reason behind the decision to sell. She also declined to name the owners behind the trust. 
However, she didn't have to name Busch to confirm it was his home. Several photos inside the mansion reveal prized trophies familiar to race fans, including one of his Martinsville clocks and a jukebox he won at Kentucky. 
Interestingly, one specific photo confirms Busch and wife Samantha are the owners because it includes two photos from the couple's wedding ceremony. 
To stay up to date on the latest happenings in NASCAR, including breaking stories you can't find anywhere else, follow Kyle on YouTube and Twitter.