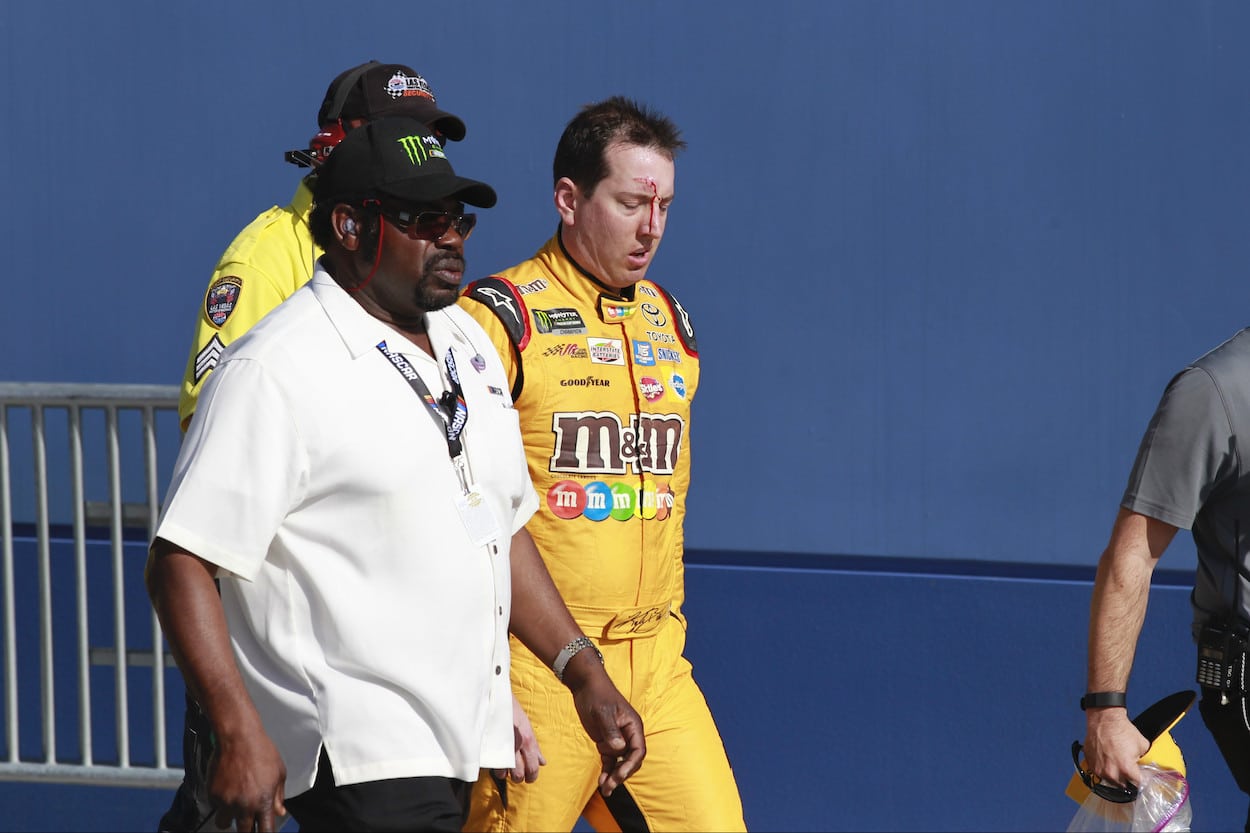 Kyle Busch Urges NASCAR to Adopt His Proposed Rules for Fighting and Television Ratings Will 'Go Off the Charts'
Kyle Busch recently talked about the Ross Chastain one-punch fight with Noah Gragson, proposed a fight format, and urged NASCAR to adopt it because it would dramatically improve TV ratings.
Kyle Busch has shown he's not afraid to brawl. See Joey Logano at Las Vegas in 2017. 
This past weekend at Darlington, the Richard Childress Racing driver offered his thoughts on the post-race conflict between Ross Chastain and Noah Gragson the week before at Kansas. In those remarks, the future Hall of Famer provided specific guidelines of what he'd like to see in future brawls and urged NASCAR to consider his suggested format because it would dramatically improve television ratings.  
Kyle Busch had multiple incidents with Ross Chastain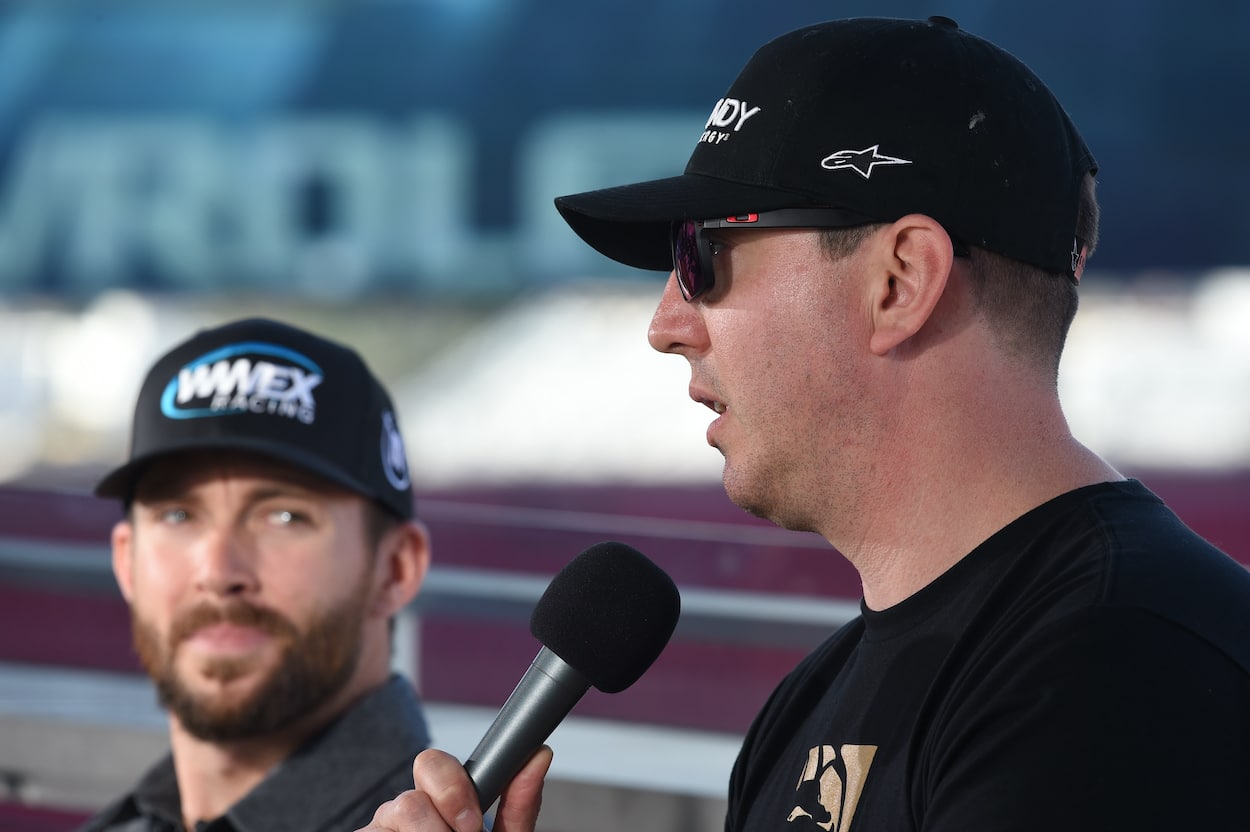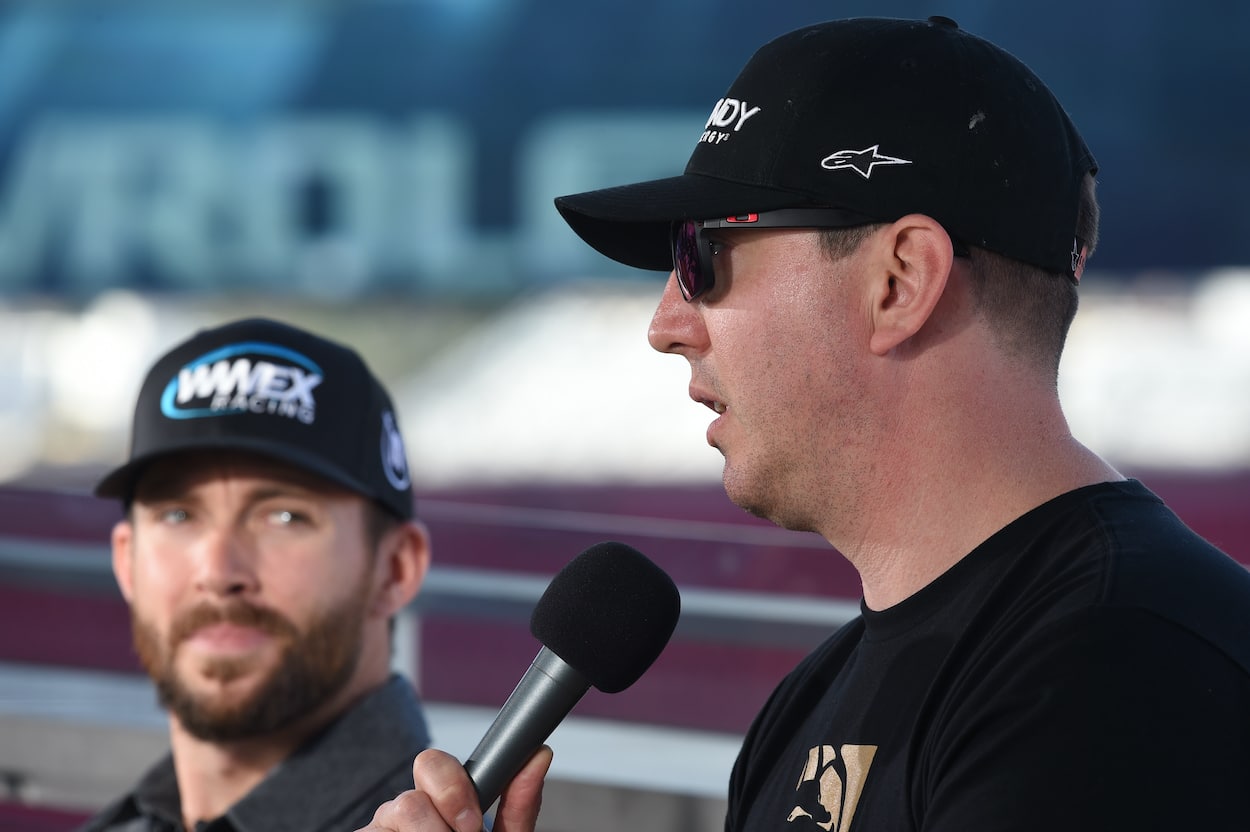 Kyle Busch has had a few run-ins with Ross Chastain, starting last year at Richmond. The term "Chastained" was born. 
Two weeks ago at Kansas, before the watermelon farmer landed a stiff right hook to the face of Noah Gragson, the two-time Cup Series champion was once again agitated with the Trackhouse Racing driver and showed his displeasure on the track, sharing the details of what happened on the team radio moments later.
"Is it just me?" the driver asked. 
"Uh no, I don't think so," his crew chief Randall Burnett answered.
"What's [Chastain] pissed about? He wrecks everyone every week," spotter Derek Kneeland asked.
"He's pissed because I'm f****** pissed because he races like a f****** ass****, and so I doored him twice down the backstretch like, 'This is your f****** warning boy.'"
"Love it," the spotter responded.
"Seems to me like he's all out of f****** warnings these days," Burnett finished.
Busch addresses fighting and offers format he thinks would improve television ratings
On Saturday at Darlington, Busch met with the media and was asked what he thought about Chastain vs. Gragson and how it was all handled. Unsurprisingly, the 38-year-old driver had an opinion and a well-thought-out one at that.
"I don't know if Noah's the right guy," Busch began. "I think Denny (Hamlin) has more reasons to do that but Noah obviously wanted to show his frustration and I think that Noah had a somewhat similar philosophy as I did, where it's like the same guy all the time, I'm not going to take that crap and go up to him and confront him. 
"I feel like security stepped in about 10 seconds too quick. You let one guy get a hell of a hit in and then you block the other guy from getting a hit back. You got to at least let the guy try and then maybe get in. 
"I would seriously urge NASCAR to go with some hockey rules. Once you get to the ground we're going to break it up. Or once one of you guys looks gassed, we're going to break it up. Let them get a good 30 seconds in. It's going to be way better TV and ratings are going to go off the charts." 
Knows about fighting
Busch is of course speaking from experience. All you have to do is search on YouTube for "Kyle Busch Joey Logano" and the first thing that pops up is video footage of the RCR and Team Penske driver brawling back in 2017. Those two drivers are forever linked due to that confrontation at Las Vegas.   
Chastain is now forever linked to Gragson after what happened at Kansas, and it resulted in him receiving national attention from the likes of the Pat McAfee Show. In other words, sports fans outside of NASCAR are taking notice.
If NASCAR adopts Busch's fight format, chances are they might notice even more simply because there will be more to watch.
To stay up to date on the latest happenings in NASCAR, including breaking stories you can't find anywhere else, follow Kyle on YouTube and Twitter.