Kyle Busch Will Gladly Skip a Race to Be There for the Birth of His Daughter: 'You'll Never Live Down Not Being There'
Kyle Busch would gladly leave work to be there for the birth of his daughter, even if it meant missing a few days of the racing season. As a NASCAR racer, Busch is currently the highest-paid and most well-known driver in the sport.
The illustrious NASCAR Busch family has grown by one. Busch, the younger brother of fellow Cup Series driver Kurt Busch, announced the birth of his daughter on May 11 on a Twitter post. Both fans and the media applauded him for his earlier resolve to skip a race to be there for the birth of his daughter. The announcement also generated disdain from some of the fans.
Kyle Busch's career highlights and notable moments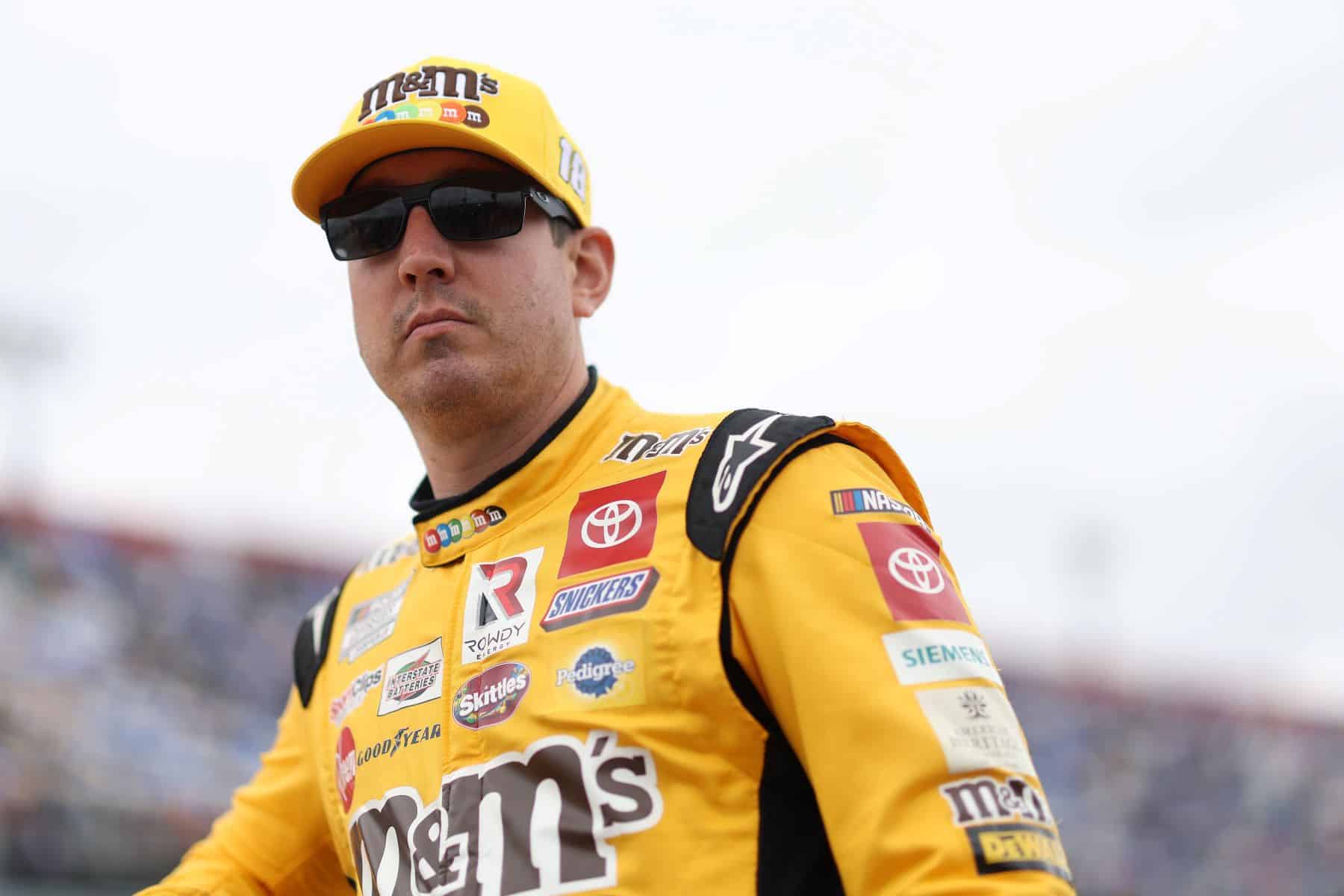 Since 2004, when he was only 19 years old, Kyle Busch was a full-time contender in one of NASCAR's top two series. Busch presently sits among the best drivers in NASCAR history, given his tremendous record of achievements. Two-time NASCAR Cup Series champion Busch, 37, has won 60 races in his career. He also holds the record for most career Xfinity Series with 102 wins. At this point, he has 223 career victories in the various NASCAR divisions.
"Candy Man" Kyle is known for his long-term relationship with Mars Wrigley, and he drives a vehicle with M&M stickers on the side.
Busch holds the NASCAR record for the most victories in a season and competes in the Sprint Cup Series with the No. 18 Toyota Camry and the Nationwide Series with the No. 54 Toyota Camry. Kyle Busch Motorsports, which he founded, competes in the Camping World Truck Series.
For 2020, Forbes estimates that he made $16.1 million in prizes, plus an additional $1.7 million in licensing and sponsorships. Rowdy Energy was launched by Jeff Church and Busch last year, and Busch invested $1 million in the product. His estimated net worth is $80 million.
In addition to his multiple businesses, he runs the Samantha and Kyle Bush Bundle of Joy Fund, a non-profit organization dedicated to raising awareness about infertility awareness and support. Before the new daughter's arrival, the couple had only had one child, Brexton Locke.
Busch's comments on skipping a race
In a #GirlDad tweet, it was reported on social media Tuesday night that the NASCAR Cup Series driver and his wife had given birth to a baby girl, according to NESN. Lennix Key Busch weighed 6.1 ounces and measured 20 inches when she arrived on Tuesday.
Kyle Busch explained that the choice to leave the race is always a difficult one. He noted that if you miss a race, you can get over it, but you'll never be able to get over not being present for your child's birth.
Kyle and Samantha Busch's desire to be there for their kid's birth hasn't altered despite using a surrogate. Additionally, it seems that the two-time Cup Series winner has his priorities straight. In a Twitter post, he argued there are many races, but the birth of a child is one of the few things that remain rare. Remember, the couple had struggled with infertility issues for a long.
As Kyle Busch prepared for the arrival of his daughter, he may have been anxious about a variety of other things, including NASCAR. A baby girl was on the way for him and his wife, thanks to the help of a surrogate mother. They've been anticipating this day since Kyle and Samantha announced it last fall.
Joe Gibbs Racing relied on Trevor Bayne as a backup driver if Busch would be away from the track caring for a newborn. Everyone engaged was ready to go into action if the phone rang.
Busch's praise and criticism for his absence from the race
In response to the news that Kyle Busch will likely miss Kansas, one enraged fan tweeted that Busch would be losing points and victories for a baby that wasn't born to his wife. He even urged that the season be ended instead. He finished by adding that the decision was silly because it was not his wife who was pregnant.
Samantha Busch, Kyle Busch's wife, responded with a humorous tweet thanking him for understanding how infertility works. She concludes by acknowledging that she has suffered several losses due to miscarriages. Samantha Busch's response caused the Twitter user to leave the social media site. However, Kyle Busch remained a title candidate at Kansas Speedway, where he finished the third.
Samantha and Kyle are the proud parents of the child. After many years of unsuccessful attempts, they finally succeeded in the end. The only thing that counts is that this baby will be cherished. It's also fantastic that the Buschs have utilized their NASCAR platform to raise awareness about infertility. From this view, Busch's decision to skip a race for the birth of his daughter makes perfect sense.
RELATED: Kyle Busch Joking About 2023 Plans Matches Up With Reports That Moves Are Happening Behind the Scenes