Kyle Kuzma Thought He Was Going to Go From Playing With LeBron James and the Lakers to Another California Team Until the Lake Show Proved to Have Other Plans: 'I Was Kind of Shocked'
Kyle Kuzma won an NBA championship with LeBron James and the Los Angeles Lakers, but he didn't have the same value to that title run as James and Anthony Davis did, so he essentially proved to be expendable. The Lakers seemingly knew that, too, as they involved him in a deal to acquire Russell Westbrook this offseason.
However, the four-year player, who is now on the Washington Wizards, didn't think he was going to D.C. originally. He thought he was going to another California team, and he had plans of going "crazy," as he thought he was joining the Sacramento Kings.
The Lakers were connected to Buddy Hield in trade rumors
With less than a day left until the 2021 NBA Draft, rumors suggested that the Lakers were trying to make a deal for Buddy Hield of the Sacramento Kings to team him up with LeBron James and Anthony Davis. Kevin O'Connor of The Ringer reported that it would have likely included the team's first-round pick, Montrezl Harrell, and either Kentavious Caldwell-Pope or Kyle Kuzma.
However, on the day of the draft, LA went in another direction. The franchise was a part of a five-team trade that landed it Washington Wizards superstar Russell Westbrook. It sent Kuzma, Harrell, and Caldwell-Pope all to D.C.
The deal was, obviously, a better one for the Lakers. Hield is a good player, but he only averaged 16.6 points and 3.6 assists last season. Westbrook, on the other hand, averaged a triple-double for the fourth time in five years in 2020-21 and is a former league MVP.
The move, though, altered Kuzma's plans and mindset completely. He went from thinking he was going to the Kings to getting dealt to the Wizards.
Kyle Kuzma thought he was going to the Kings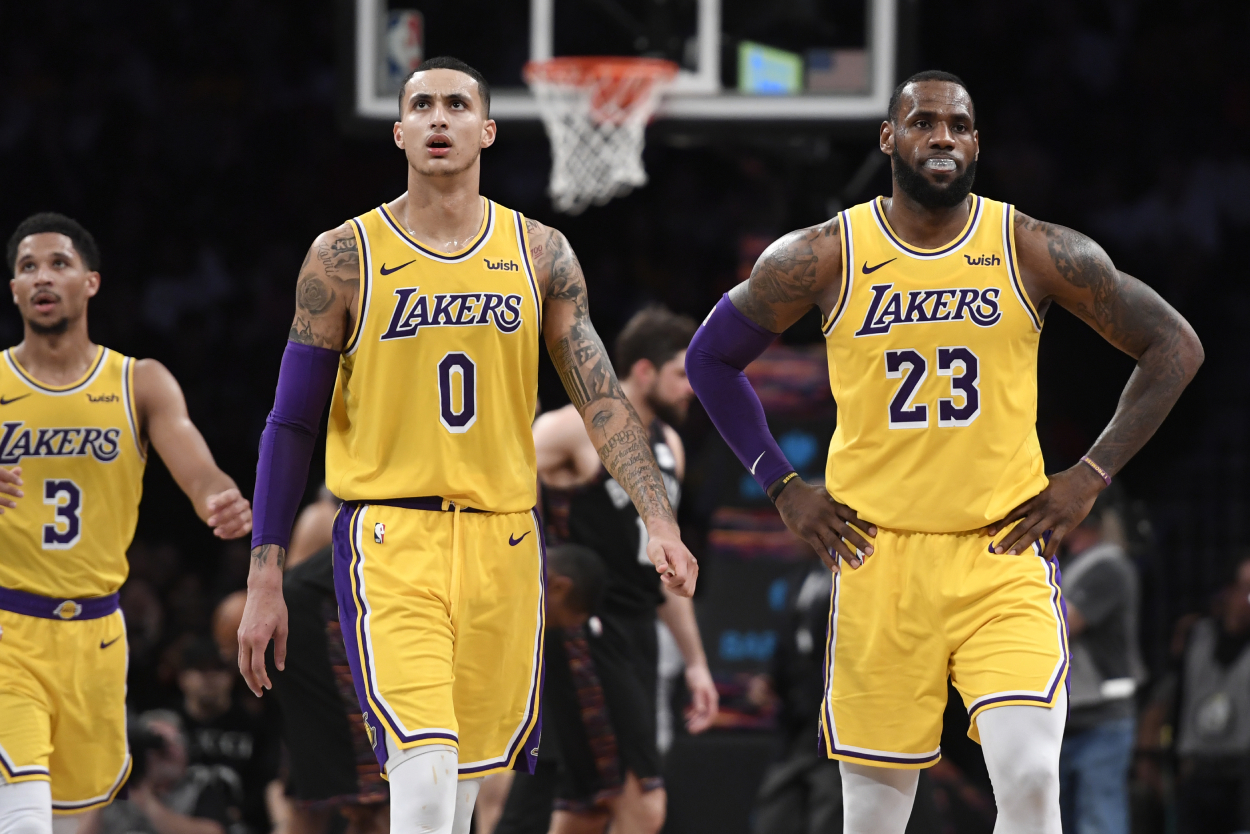 No one really knew how close the Lakers were to teaming Buddy Hield up with LeBron James, but, according to Kuzma, it was essentially a done deal.
"I was kind of shocked because I thought I was going to Sac, like the Sacramento deal with Buddy Hield," Kuzma said on FuboSports' No Chill With Gilbert Arenas podcast, per Bleacher Report. "That s— was done. So, I'm thinking in my head, like, 'OK, well I'm in Sac. Forty-five-minute flight. That's not bad. Go to Napa.' But then out of nowhere, it goes, 'You're going to Washington.'"
Kuzma then added that while things changed quickly, he immediately became excited about going to a better situation.
"Going to Sac would've been fun. I would've went crazy for sure; that's how I think," Kuzma said.
Without Hield on the team, Kuzma would have likely become the Kings' second or third scorer behind De'Aaron Fox, who averaged 25.2 points last season. But now, he's going to play with one of the best players in the NBA in Bradley Beal.
Kyle Kuzma is excited to play with Bradley Beal
Kyle Kuzma knows a thing or two about working with elite players, given that he played with LeBron James on the Lakers each of the past three seasons. Now, though, he will get an opportunity to learn from one of the league's most lethal scorers, Bradley Beal.
"To have an opportunity to play with Brad Beal, someone that is trying to really be a winner in this league because he's a killer, man," he said to Arenas. "…It's just a perfect opportunity. It's a lot of guys that have chips on their shoulders, everyone's ready to prove something. That's when something can be special."
Beal will certainly miss Westbrook, as they led the Wizards to the playoffs for the first time since 2017-18 last year, and Beal averaged a career-high 31.3 points per game. But Kuzma, Harrell, Caldwell-Pope, and the recently-acquired Spencer Dinwiddie can still help him get back there again.
And if they do, Kuzma has a chance to prove for a talented team that he's, in fact, not expendable.
Stats courtesy of Basketball Reference