Kyle Kuzma's Playmaking Fueling the Washington Wizards' Red-Hot Start, but Wise Old Spencer Dinwiddie Has Some Lessons to Offer
The Washington Wizards have the best record in the Eastern Conference. They have the second-best record in the NBA. Let's let those two statements sink in for a moment. The Wizards have posted four winning records over the last 13 seasons, haven't won 50 games since 1978–79, and their only NBA championship came in 1978. They traded superstar Russell Westbrook in the offseason. And they're the best team in the East? How did that happen? Well, Kyle Kuzma's play has helped significantly.
Washington general manager Tommy Sheppard opted for volume over star status last summer when he traded Westbrook to the Los Angeles Lakers, picking up Montrezl Harrell, Kentavious Caldwell-Pope, and Kuzma. The result has been a tremendous improvement at the defensive end and an offense that hunts for mismatches. They win with balance. And it's happening despite the chilly start of Bradley Beal. It may not all start with Kuzma, but he's a big piece of what's happening in D.C.
Kyle Kuzma thriving in a new role for the Washington Wizards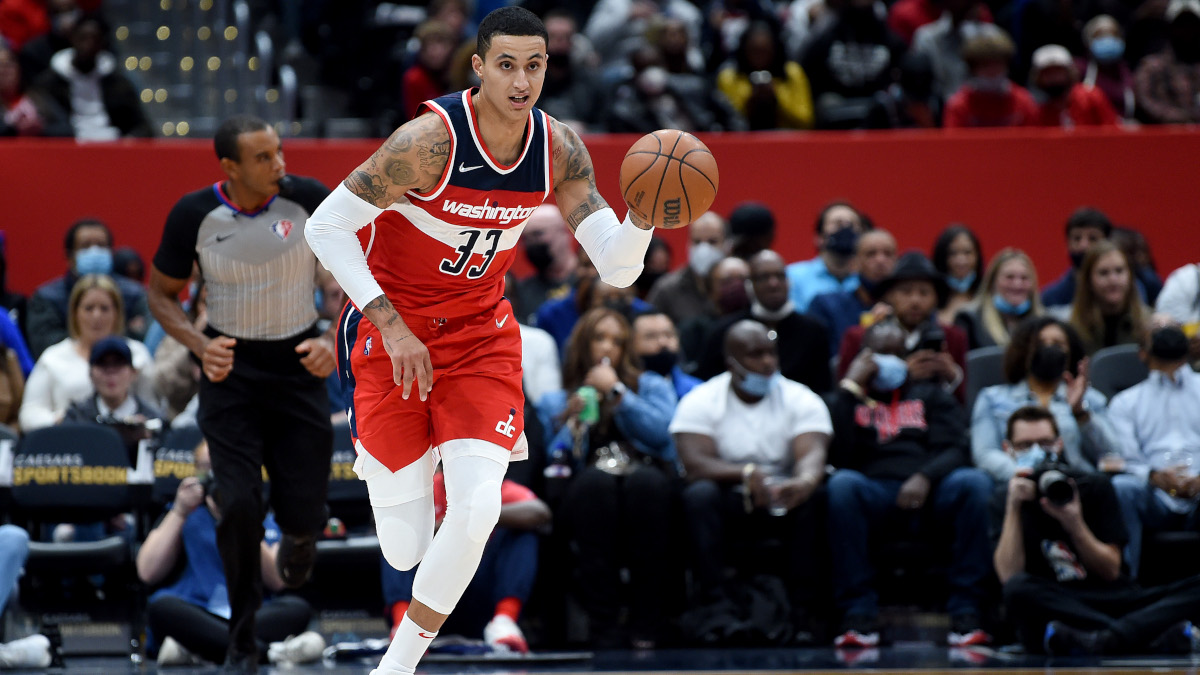 It was never fair of Lakers fans to expect Kyle Kuzma to turn into a foundation piece in LA. He was an excellent find late in the first round; a 27th overall pick made good. When the Lakers were struggling, he provided some offense and hope. When they got better, his role changed. He mostly came off the bench for LA's championship run in 2020. His scoring took a dip after Anthony Davis arrived.
Since going to the Washington Wizards, Kuzma reaps the benefits of both a defined role and the trust of coach Wes Unseld Jr. Cast as a stretch-4 by Unseld, Kuzma is hitting 37.8% on 6.8 3-point attempts per game, both career highs. He's also grabbing 9.2 rebounds a game, the best of his career.
Although 1.9 assists per game won't remind anyone of John Stockton, he's even added some playmaking ability. But he's looking for teammates, staying within the confines of the system, and the much-improved Wizards are making some early season noise in a turbulent Eastern Conference.
Still, as teammate Spencer Dinwiddie took great care to point out, Kuzma's passing is an evolving skill.
Kyle Kuzma hasn't quite gotten the art of the no-look pass down yet
Kyle Kuzma posted 13 double-doubles last season for the Lakers. Through his first 12 games with the Washington Wizards, he already has five. That includes 17 points and a career-high 17 rebounds in a win over the Boston Celtics on Oct. 30. When the Wizards topped the defending champion Milwaukee Bucks on Nov. 7, the former University of Utah standout handed out a season-best five assists.
Kuzma was 6-of-9 from 3-point range in a three-point victory over the Cleveland Cavaliers on Nov. 10 and posted his fifth double-double of the campaign with 17 points and 10 boards in a road win over the Orlando Magic on Nov. 13.
But Dinwiddie pointed out after the win over the Magic that Kuzma still has some work to do as a passing magician:
"Sometimes Kuz is throwing, not no-look passes, but look passes. He throws, the dude catches it, then he looks this way. It's like, 'That's not how a no-look pass works, bro.' But you know, he's still learning the nuances of that side of things."

Spencer Dinwiddie
It's the sounds of a player and a team that are enjoying themselves. They're winning, they're feeling good, and they are already comfortable enough as a group that a little light-hearted busting of chops won't do any damage.
The Washington Wizards have made a remarkable defensive turnaround
Last season, the Washington Wizards went through the play-in tournament to capture the No. 8 seed in the Eastern Conference playoffs. From there, the Philadelphia 76ers dispatched them in five quick games.
They were the definition of a middle-of-the-pack team. Washington finished 34–38, ranked 17th in offensive rating and 19th at the defensive end.
Outside of Caldwell-Pope, the new additions in Washington weren't noted for their defensive work. But Kyle Kuzma is handling his business in Unseld's updated system. Even much-maligned defender Harrell is getting 1.1 blocks per game off the bench, teaming with starter Daniel Gafford to give the Wizards rim protection they haven't seen of late.
Washington is 9–3, and Beal is shooting a frigid 25.0% from 3-point range. Still the topic of ongoing trade rumors, he missed the win at Orlando, but reserve Aaron Holiday stepped in with 11 points and four assists in 34 minutes. Dinwiddie led the way with 23 points, 11 rebounds, and six dimes.
It was a solid team effort from what looks to be a solid team in the East. The longer the Washington Wizards remain among the top of the pack in the East, the more difficult it becomes to dismiss them. In subtracting a superstar, they added depth in players like Kyle Kuzma, Harrell, Dinwiddie, and Caldwell-Pope. It could be the start of something not seen in Washington in almost a half-century.
Statistics courtesy of Basketball Reference and Stathead.