Kyle Kuzma Is Proof the Los Angeles Lakers Need to Think Twice Before Trading Talen Horton-Tucker for Another Star
Few teams have had as much draft success in recent years as the Los Angeles Lakers. But only the Purple and Gold have routinely cast aside their promising prospects in pursuit of win-now help.
Last summer, LA acquired Russell Westbrook in a blockbuster deal that saw 2017 first-round pick Kyle Kuzma head to the Washington Wizards. The 33-year-old Westbrook has tanked in his new home, while Kuzma has been a big addition to the revamped Wizards.
Trading Kuzma and more for Westbrook is the perfect embodiment of how the Lakers have done business over the last several years. Countless other youngsters have fallen by the wayside as LA pursued big-name veterans. And now, with the trade deadline just days away, the Lakers are charting the same course by shopping Talen Horton-Tucker, a third-year guard just 21 years of age.
Former Laker Kyle Kuzma is thriving with his new team
It wasn't a major surprise when the Lakers parted with Kuzma after four productive seasons. But they should have known he was going to flourish in his new home.
After primarily serving as LA's top scoring option on the second unit, the 26-year-old has become a well-rounded starter. Playing in 49 of 52 games, the 6-foot-9 forward is averaging 16.2 points and tying a career-best 45.6 field-goal percentage. He is Washington's second-highest scorer behind All-Star Bradley Beal, as well as the team's leading rebounder with 8.8 boards per game.
From Dec. 28 through Jan. 11, Kuz strung together eight consecutive 20-point games. Additionally, Saturday's slumper against the Phoenix Suns snapped a double-digit point streak of 19 games.
Kuz's 20 double-doubles rank 21st in the NBA, ahead of fellow Eastern Conference forwards Jayson Tatum, Pascal Siakam, and John Collins. He has just two fewer double-doubles than Westbrook, even though the struggling Laker has appeared in five more games and seen over 250 more minutes of playing time.
The Lakers need to think about Kuzma before parting with Talen Horton-Tucker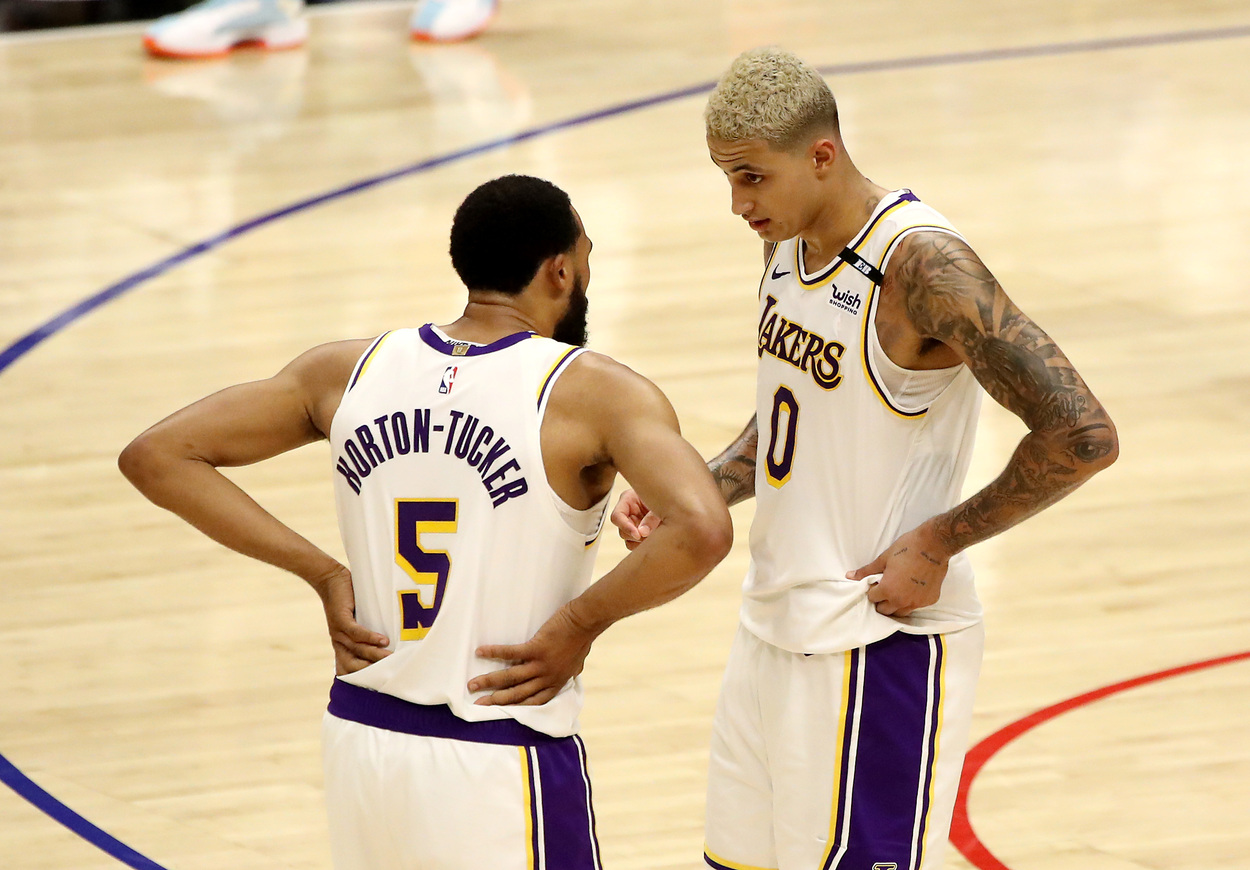 Given the way Westbrook is performing, the Lakers wouldn't mind having a productive scorer like Kuzma back on the team. Especially considering how the former Utah Ute is only in the first year of a wildly affordable three-year, $39 million extension.
The Lakers should consider that before trading Horton-Tucker.
THT's third pro season has been a mixed bag. The 6-foot-4 guard is averaging a career-high 9.5 points and 25.7 minutes a night. But he has struggled to find consistent shooting, setting career-lows in field-goal (40.6%) and three-point percentage (25.0%).
However, even as Horton-Tucker is on a nine-game streak of single-digit points, it's important to remember a couple of things. After starting a total of five games in his first two seasons, this is the first year head coach Frank Vogel truly gave THT a shot in the starting five. Also, while it feels the 2019 second-round pick should be entering his prime, he's still only 21.
For perspective, Kuzma was 22 when he made his NBA debut over four years ago.
It's tempting for the Lakers to salvage this disappointing season by adding an impact player. But any trade will almost certainly include Horton-Tucker, whose three-year, $30.8 million contract must be shed for LA to add anyone making decent money. Is this season, one where LA is only 26-28, really worth saving?
Rather than making a desperate trade now, the Lakers can make some adjustments next offseason. Along with creating a brand new bench, LA will also look to move on from Westbrook and the $47 million he'd be paid otherwise. From there, it can continue to grow and develop Horton-Tucker, who has still shown immense potential on numerous occasions.
For a team as old and past-their-prime as the Lakers, Horton-Tucker is one of the few breaths of fresh air. Unless they're being blown away in any trade offer, the Purple and Gold should exercise patience with the talented youngster.
The Lakers have given up many young players too early
If THT becomes a trade deadline casualty in the next few days, there's a good chance he'll join Kuzma and countless others as players the Lakers drafted, developed, and dumped before their prime.
Starting in 2014, here are some of the players who began their careers in LA, only to be cast off just a few years later:
2014: Julius Randle and Jordan Clarkson
2015: D'Angelo Russell and Larry Nance
2016: Brandon Ingram and Ivica Zubac
2017: Lonzo Ball, Kyle Kuzma, Josh Hart, and Thomas Bryant
2018: Moritz Wagner
Every single one of those players has gone on to find some level of sustained NBA success. And three of them (Randle, Russell, Ingram) have earned at least one All-Star appearance.
Of course, the reason most of those players were dumped was to accommodate LeBron James and eventually Anthony Davis. And there's no arguing LA's plan worked after the franchise earned title number 17 in 2020.
Still, the Lakers certainly must regret giving up on a few of those players, just like they're regretting swapping Kuzma for Westbrook. As history shows, they must think carefully before making the same mistake with Horton-Tucker.
All statistics courtesy of Basketball Reference and contract figures courtesy of Spotrac.
RELATED: Carmelo Anthony's Untimely Injury Forces the Lakers to Reconsider Their Trade Deadline Approach