Kyle Kuzma Puts His Former Lakers Team on Blast Before Hitting the 'Delete' Button
Kyle Kuzma will play his first game for his new team, the Washington Wizards, when they open the season on Oct. 20 at Toronto. The new-look Wizards also added Kentavious Caldwell-Pope and Montrezl Harrell in the trade that sent Kuzma from the Los Angeles Lakers for Russell Westbrook. While Washington endured an 0–4 preseason, it seemed for a while that Kuzma's gaze was still firmly on the West Coast.
The Lakers stumbled through an 0–6 record in their warm-up tilts before opening the regular campaign on Oct. 19 with a 121–114 loss at home to the Golden State Warriors. Kuzma took to social media to note LA's loss before thinking better of it and deleting the post. But this is 2021, and someone on the Internet always keeps the receipts.
The Wizards and their perfectly imperfect preseason
Washington is operating with a myriad of new parts this season. Besides the trio acquired from the Lakers, the Wizards also acquired point guard Spencer Dinwiddle and young Aaron Holiday in the Westbrook deal, which mutated into a five-team extravaganza that included nine players, six second-round draft picks, and two second-round swaps.
The team is also integrating a new coach in Wes Unseld Jr., son of the Hall of Famer who worked for the Wizards franchise as a player, coach, and executive for nearly 30 years. Washington lost twice to the New York Knicks during the preseason and once each to the Houston Rockets and Toronto Raptors. Not precisely spectacular work.
Kyle Kuzma struggled in his new surroundings. He averaged 12.3 points, 5.5 rebounds, 2.3 assists, and 1.0 steal in 26.0 minutes a game, shooting 40.5% overall and hitting 40.7% (11-of-27) from deep.
Preseason games don't have a reputation for being particularly meaningful in the overall scheme of a long NBA season. So the Wizards likely aren't too concerned yet about their ability to mesh.
But at the same time, Kuzma was an interested observer of what's gone on with the Lakers.
Kyle Kuzma speaks facts about the Lakers, but without much context
In a since-deleted tweet, Kyle Kuzma shared a factoid about his former team, per Wizards insider Quinton Mayo.
"Lakers 0–7 without Kyle Kuzma."

Kyle Kuzma, via a since-deleted tweet
The thinking-face emoji followed that. Kuzma's not wrong; factually, he's 100% correct. But six of those games were of the preseason variety, which, as previously mentioned, have nearly the same importance as a bucket of warm spit.
That's not to say there weren't some warning signs, particularly regarding their prize new acquisition from D.C. Westbrook shot only 35.0% in the preseason and averaged more turnovers (5.8) than assists (5.0) in the four games he appeared. It's not an optimal assist-to-turnover ratio for a former NBA MVP point guard.
But against the Warriors, in a game that counts in the standings, Westbrook wasn't much better. He scored eight points on 4-of-13 shooting, missed all four of his 3-point attempts, and had four turnovers to go with four assists. That is alarmingly like his dismal preseason performance.
But the fact is that Westbrook wasn't the only new face to struggle in his LA debut. Carmelo Anthony was 3-of-9 in 26 minutes, the Lakers turned the ball over 18 times, and outside of superstars Anthony Davis and LeBron James not much went right.
Davis and James combined for 67 points on 28-of-49 shooting. The Lakers not named "Anthony Davis" or "LeBron James" accounted for 47 points and made a whopping 17-of-46 from the floor. It wasn't lovely.
But the Lakers have remained in Kuzma's head for more than two months since his official departure from LA.
Kyle Kuzma seems to have the Lakers living rent-free in his head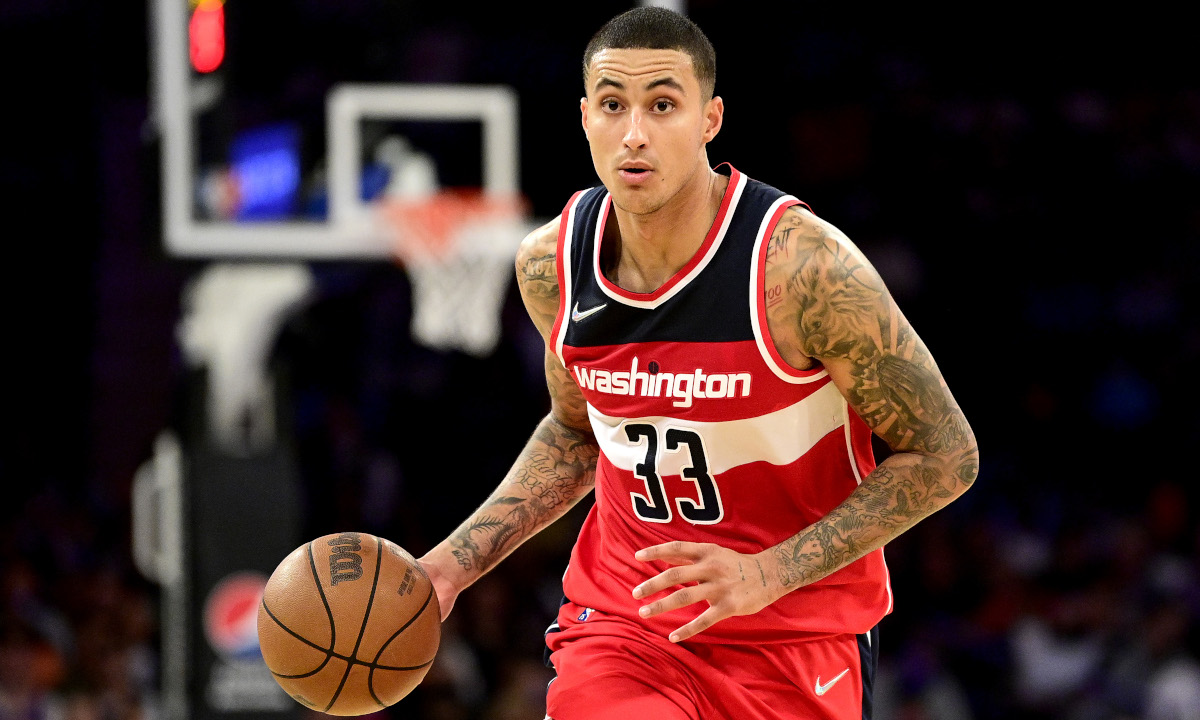 On his way out of LA, Kyle Kuzma reversed his earlier position on social media. After claiming James was the GOAT, the 2017 first-round pick stated the late Kobe Bryant had that title.
Later, Kuzma talked about his great relationship with James and had no bitterness about the trade.
Pointing out your old team hasn't won a game since you left runs counter to that whole "no-bitterness" claim, mainly since your new team didn't exactly set the NBA ablaze since your arrival, either.
Kuzma has done well for a late first-round pick (he went 27th overall), averaging 15.2 points and 5.6 boards a game over four years in LA. But he frustrated teammates and fans with his inconsistency. Even with his 2020 championship ring, he was expendable when the Lakers saw an opportunity to bring in another superstar talent in Westbrook.
Perhaps the takeaway for Kyle Kuzma is simply this: How can Lakers fans miss you if you won't stop talking about them?
Statistics courtesy of Basketball Reference and NBA.com.
RELATED: Charles Barkley Shockingly Claims He'd Make Russell Westbrook a $44 Million Bench Player: 'I Would Play Russ With the 2nd Unit'