Kyle Larson and Chase Elliott to Compete at 2022 Chili Bowl, the Midget Car Super Bowl
Just when it appeared the fast-paced lifestyle of a first-time NASCAR Cup Series champion was beginning to slow down, Kyle Larson is poised to rev things back up again. 
Larson and Hendrick Motorsports teammate and 2020 Cup champ Chase Elliott confirmed they would compete at the 2022 Lucas Oil Chili Bowl Nationals, a series of indoor midget car races on Jan. 10-15 at Tulsa Expo Raceway. 
After that, the duo will likely focus on their day jobs. They will soon return to testing Next Gen cars, but for now, Larson and Elliott want to play in the dirt.
Packed 2022 Chili Bowl attracting top-level drivers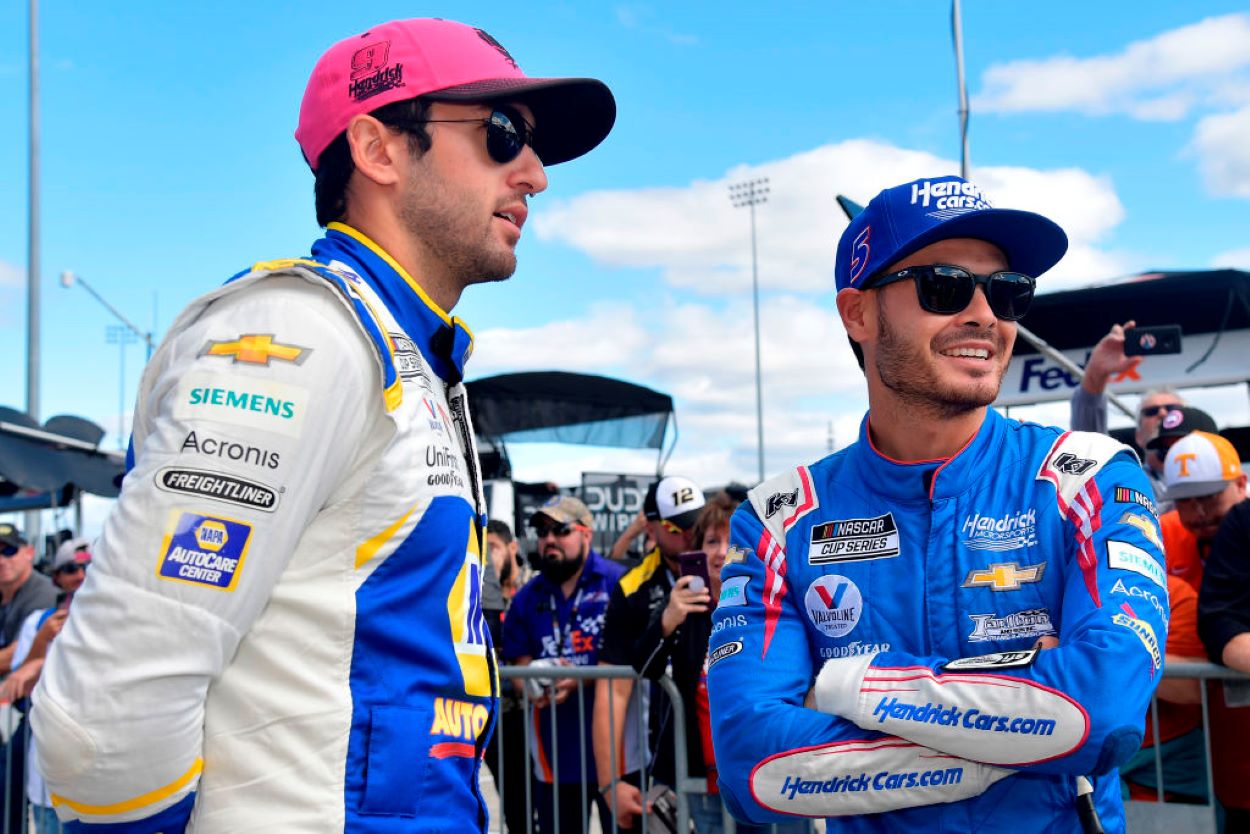 The 36th annual event in Tulsa, Oklahoma, is coined the "Super Bowl of midget racing." It will be staged at the quarter-mile clay oval at the SageNet Center at Tulsa's Expo Square.
The '22 version includes more than 360 participants. It will feature at least a dozen drivers with top-tier ties to NASCAR and IndyCar. 
The past seven events were captured by NASCAR national series drivers. Larson has claimed back-to-back Golden Driller awards. He likely will be challenged by past event champs Christopher Bell and Rico Abreu. 
Bell, 26, enjoyed a breakthrough Cup Series campaign last season, winning his first race and posting seven top-five finishes and 16 top 10s. Abreu competed full-time on the Camping World Truck Series from 2015-17. 
Last year at the Chili Bowl, Bell placed 14th and Abreu 16th in the A-Main event.
NASCAR veterans Alex Bowman, Chase Briscoe, Kasey Kahne, and JJ Yeley will attempt to climb through the preliminary races to compete in the A-Main feature event. Xfinity Series driver Jesse Little was added to the lineup on Dec. 16.
 Here is a look at the past seven Chili Bowl champions:  
2021, Kyle Larson
2020, Kyle Larson
2019, Christopher Bell
2018, Christopher Bell
2017, Christopher Bell
2016, Rico Abreu
2015, Rico Abreu
All Larson did last year was win … win … win …
Larson's dominating 2021 Cup Series season started at last year's Chili Bowl. Following the defense of his midget nationals title last January, Larson returned to the public eye victoriously after a year under suspension for uttering a racial slur at a streamed iRacing event in early 2020.
In his first season with Hendrick Motorsports, Larson claimed 10 wins, plus the $1 million all-star gala, and his first drivers' championship with a come-from-behind victory in the Championship 4 race at Phoenix Raceway on Nov. 7.
Out of the NASCAR spotlight, Larson's comeback tour included maiden wins at the Knoxville Nationals and the Brian Clauson Memorial 39. He also claimed his second Kings Royal victory and other triumphs at All-Star Circuit of Champions, Speedweeks in Ohio and Pennsylvania, IRA Sprint cars, and USAC Midgets, according to NBC Sports.
It has been a busy comeback tour for Larson, who led all 55 laps in the '21 Chili Bowl final.
After the holidays, it'll be time for the defending Cup champ to pick things back up.
Chase Elliott using offseason to expand his driving experiences
During an offseason of experimenting with different forms of racing, Elliott joins a crowded Chili Bowl lineup. Elliott, the son of NASAR Winston Cup legend "Awesome" Bill Elliott, raced mostly on concrete tracks growing up. That's changing.
Earlier this offseason, Elliott joined Larson at his hometown dirt track in California. The Cup Series' most popular driver the past four years also competed in a Nitro Rallycross event. While he didn't fare well in California, he pulled off a shocking late move to win the hybrid race of dirt and asphalt before he was issued a penalty. 
Regardless, Elliott is using the offseason to gain greater driving skills he can carry into the 2022 Cup season.