Kyle Larson Claims Chili Bowl Win by Watching Television, Competitors Call it a 'S***show'
In dominating fashion, Kyle Larson claimed 10 NASCAR Cup Series points races and the $1 million All-Star affair last season. The reigning Cup drivers' champion, throughout his career, has won on superspeedways, intermediate, and short tracks.
He learned to race on dirt at his "home" track in California.
Larson has claimed checkered flags in all sorts of scenarios.
He's even won by watching television.
Kyle Larson earned the '21 Chili Bowl title with the aid of a big-screen TV
During the Chili Bowl Midget Nationals last season, Larson paced a hard-charging Justin Grant in the late stages of the A-Main race. Larson effectively blocked Grant. He earned his second Golden Driller award with a bit of technological assistance.
While gliding around the short dirt track, Larson looked up at the complex's big-screen television for clues to what his race rival was attempting to do to pass him.
Arena video screens intend to bring the action closer to the spectators. But its position at the Tulsa Expo Raceway enabled Larson to watch Grant move up and down the track. Grand failed to overcome technology.
Some drivers disagreed with Larson's tactic.
Tanner Thorson, a vocal midget driver, called it a "S***show."
Even Larson agreed.
Larson: 'Is anybody in this building watching the big screen during the green flag runs besides us? No'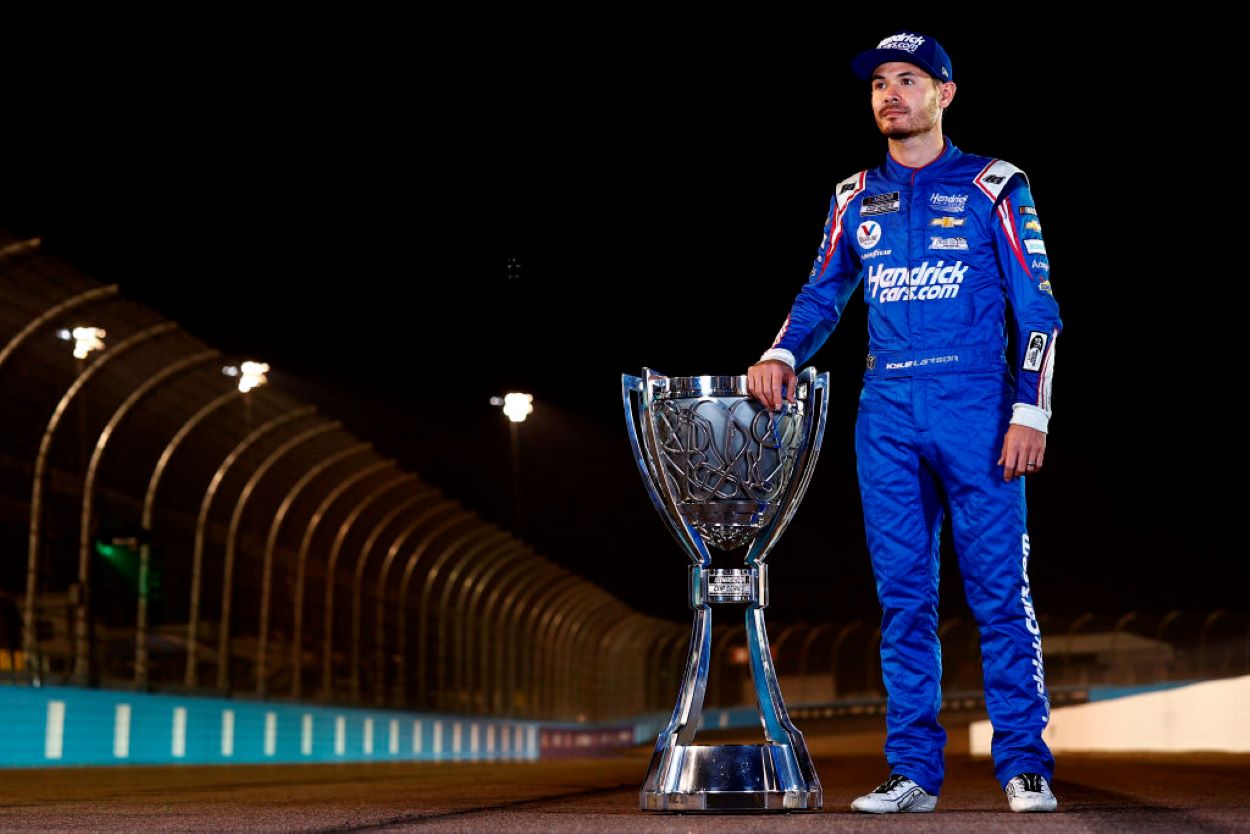 Drivers ethically shouldn't utilize large video screens to gain an on-track advantage. But, in the heat of competition, what driver wouldn't sneak a peek if it meant improving track position – or deflecting a foe's passing attempt.  
"I think everybody knows my views on big screens and like, what's the point, right?" Larson said on Day 2 of the six-day championship series, reported by racingamerica.com. "Like, is anybody in this building watching the big screen during the green flag runs besides us? No.  
"So why are we showing racing? I mean, during the intermissions and breaks? Yeah. Throw your sponsors up there; throw your cool videos up. And once it goes green, just leave the Chill Bowl logo on there. Again, what's the point? It doesn't help the racing, that's for sure."  
Some suggest the video screen creates defensive-minded races. Fewer drivers can execute racing maneuvers when their every move is dictated for the entire field to witness. 
Let's start a movement: During green-flag racing, pull the plug.
Larson racing for third consecutive midget title; Bell fourth overall  
The Chili Bowl A-Main final will be staged on Jan. 15. Larson will be gunning for this third consecutive title.  
NASCAR rival Christopher Bell, who claimed three straight Chili Bowl crowns from 2017-19, earned a preliminary-round win on Jan. 11. Smirking, he listened to Thorson rant about the in-race broadcasts and how the video screen turned the event into a defensive match.  
Leary said it's like setting up a personal video spotter. 
"Yeah, that's what it is," Bell said. 
Tuning in the "s***show." 
Like Sportscasting on Facebook. Follow us on Twitter @sportscasting19.