Kyle Larson, Joey Logano, Ryan Blaney: Drivers to Watch During the Daytona 500
The number of storylines entering the Daytona 500 swell daily. Interest in the sold-out event increases by the hour. Another minute, another angle develops.
Sorting through all the NASCAR streams and blog posts and Tweets, three drivers are emerging as drivers to focus on when the green flag flies.
Kyle Larson: How will he open the defense of his series title?
Joey Logano: How will his Clash at the Coliseum success on an experimental quarter-mile track translate to superspeedway racing?
Ryan Blaney: Will he run with the leaders again – or crash out?
You'll have to watch on Feb. 20 to find out.
Kyle Larson
Larson took an honorary spin to kick off Speedweeks on Feb. 15. The defending Cup champion's new Next Gen car was the first to take the historic 2.5-mile Daytona International Speedway.
He is coming off a season in which he started with a tarnished reputation and ended it as the industry's golden boy, claiming 10 points races and the $1 million all-star affair. He spent the offseason racing in various events, mostly on short dirt tracks.
Larson skipped most of the Next Gen car tests over the winter but appeared in the final sessions at Phoenix Raceway on Jan. 25-26. He returned in typical Larson fashion, placing first during the opening day of testing with a speed of 131.728 mph.
"As far as me driving the car, I was surprised it didn't seem that much different here than the previous car," Larson said after his practice run, reported by motorsport.com.
Larson started his championship run with a 10th-place finish during the 2021 Daytona 500, benefitting from the last-lap crash that took out several front-runners. The Cup series has not seen a driver claim back-to-back titles since Jimmie Johnson captured five in a row (2006-10).
Will Larson end that streak?
Joey Logano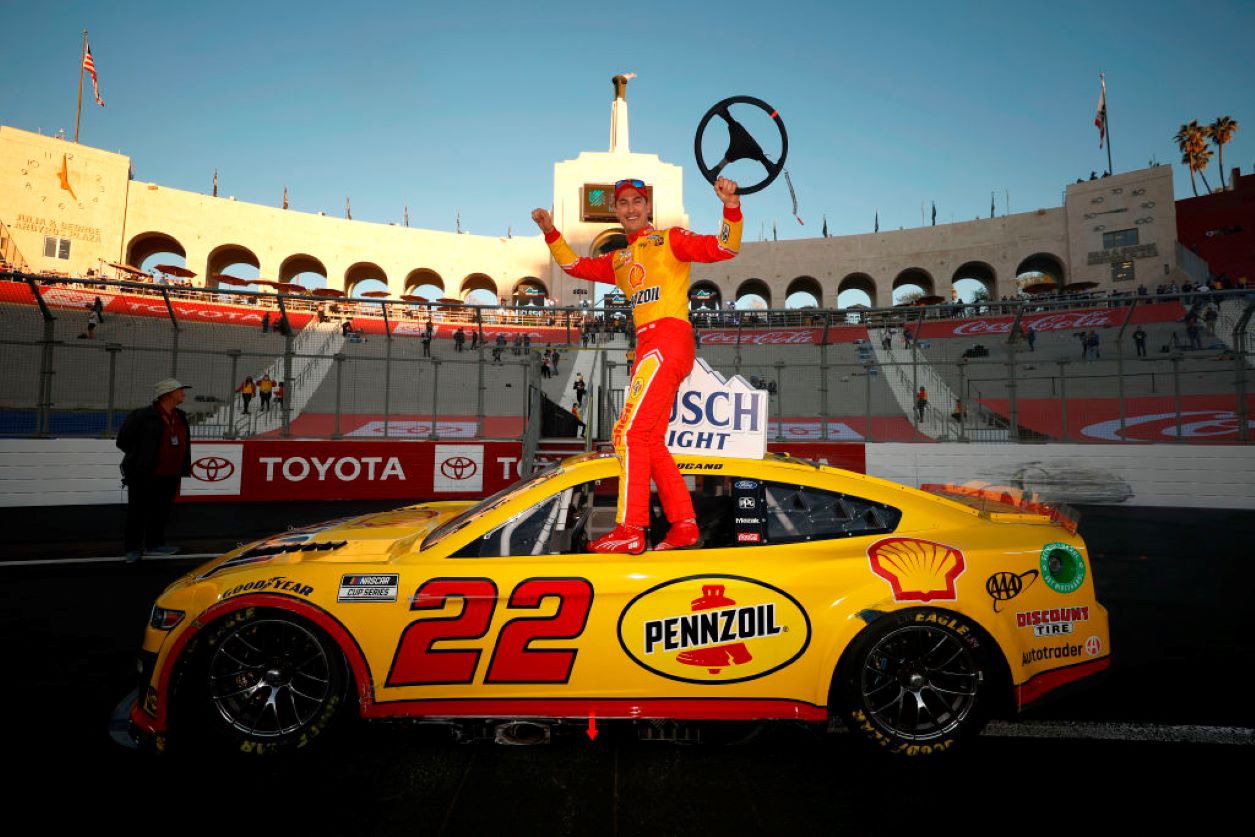 Logano is ready to go. He didn't like the way his No. 22 Ford felt during practice laps the day before the Clash at the Coliseum. The next afternoon, though, he won the highly-rated experimental exhibition.
When he climbed out of his Team Penske Ford to celebrate the Clash win on Feb. 6, it was a stark contrast to his feelings on the Next Gen cars' performance the previous evening. But, as championship teams do, Logano's crew went to work.
They rolled out an improved version of the new "stock car" model the following day.
"This is special to get the first Next Gen win," Logano told Fox Sports in a televised interview moments after taking the checkered flag in front of Kyle Busch.
Logano was leading on the last lap of the 2021 Daytona 500 when teammate Brad Keselowski ignited a fiery, multi-car crash last year. Logano ended up in 12th place after leading for 26 laps.
The winner of the 2015 Daytona 500, Logano has nine top-10 finishes in 26 career starts at the track. But, with an average finish of 18.1, he's either racing with the lead pack or over the wall.
He crashed out five times in his past nine appearances on the beach.
The 2018 premier series champion was eliminated from last season's playoffs following the final Round of 8 race at Martinsville Speedway. This year, Logano appears poised to challenge for his fifth appearance in the Championship 4 race.
Ryan Blaney
Blaney could be considered one of the favorites. Denny Hamlin has claimed three Harley J. Earl Trophies over the past six years, but Blaney is compiling a noteworthy superspeedway record of his own.
Twice a Daytona 500 runner-up (2017 and '20), Blaney won the summer race at Daytona, beating Bubba Wallace to the checkered flag.
In 13 career starts, he has collected three top-five finishes but six DNFs, including five crashes.
Entering last season, Blaney gained a reputation for being good enough to win one race per season, which he did from 2017-20, and challenge for the final four, but fell short.
He proved he can be a consistent contender with three wins last season but remains 0-for-4 in qualifying for the Championship 4.
He starts his quest to end that skid at Daytona.
Like Sportscasting on Facebook. Follow us on Twitter @sportscasting19.
RELATED: Determined Ty Dillon Driving Like He Doesn't Need Friends to Succeed in NASCAR, Struggles in Opening 2 Daytona 500 Practice Sessions