Kyle Larson Reveals What Makes Jimmie Johnson a 'True Champion'
In the months following Kyle Larson's abrupt dismissal from Chip Ganassi Racing and NASCAR issuing an indefinite suspension, the racist comment he uttered during a 2020 iRacing streaming event threatened to define his future and end his promising career. 
It didn't and Larson rallied personally and professionally during 2021. 
The reigning Cup champion remembered his past by donating $100,000 to the Urban Youth Racing School in Philadelphia. The organization introduces minority children to motorsports. 
As NASCAR's lone Asian American driver, Larson often looked to Jimmie Johnson for inspiration.
"So just doing good things in the community, good things off the race track," Larson told CBS News. "I think that's what makes a true champion." 
Jimmie Johnson on his foundation: 'We knew in the beginning that children would be our focus'
Before beginning his NASCAR premier series hiatus following the 2020 season, Johnson agreed to an interview with The Associated Press. Here is how the respected motorsports journalist Jenna Fryer started the story: "NASCAR's nicest guy will run his final race this weekend and close a remarkable career that ranks among the best in history."
NASCAR's nicest guy? It's accurate.
When drivers look up to peers like Johnson, they are not just attempting to duplicate his co-record seven drivers' championships and 83 points victories, although that would be nice.
The reason Fryer led off her sports column with such a strong opinion was … why not?
At the time the article was released, the Jimmie Johnson Foundation was credited with donating more than $12 million via grants and programs. Public education has been a favorite target.
"We knew in the beginning that children would be our focus, but we wanted to keep it broad enough to help communities in need, as well," Johnson told the AP.
Johnson's on-track success helped 'NASCAR's nicest guy' reach out to the community through his foundation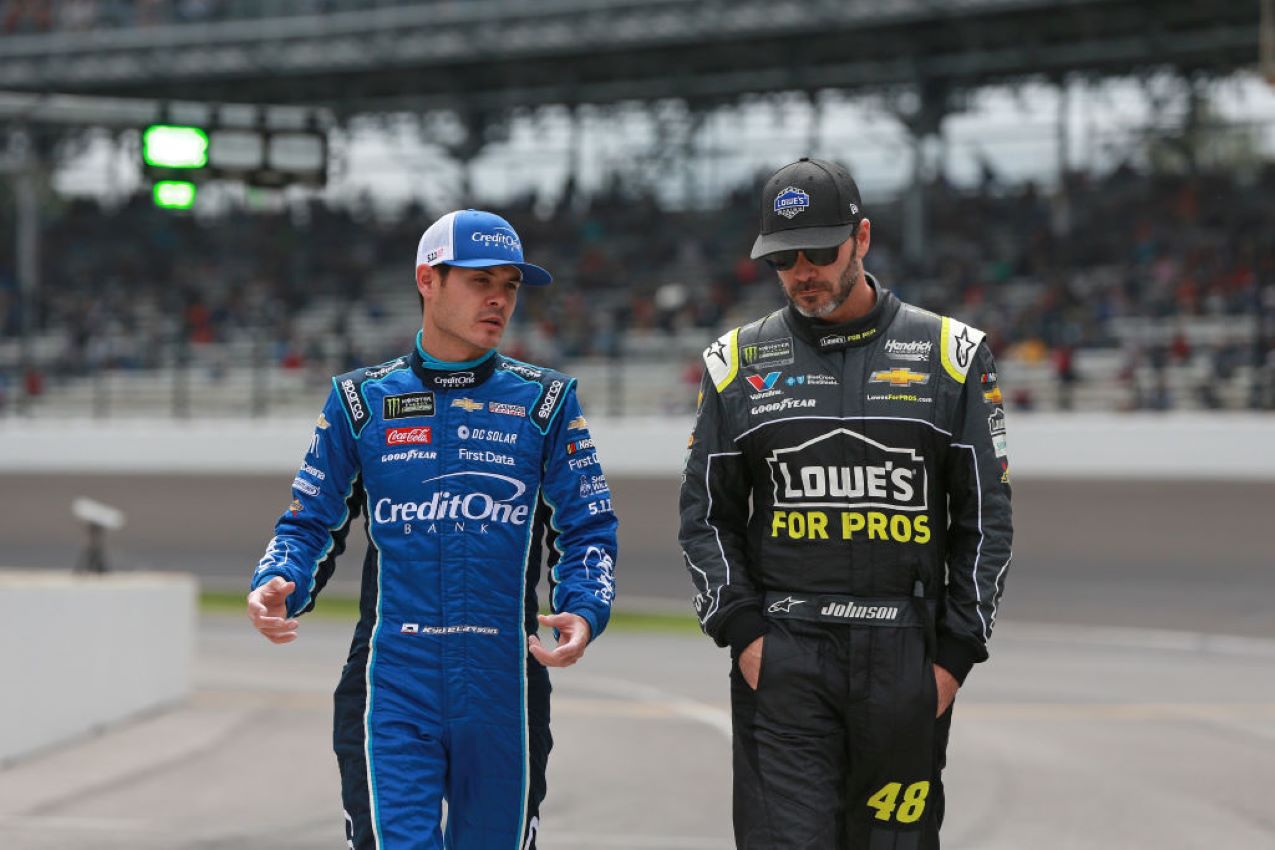 Johnson's community reach has been extended through partnerships with Habitat for Humanity and the Make-A-Wish Foundation. He helped create a fun atmosphere for children to experience mountain biking and trail runs through the Jimmie Johnson Foundation Fit Fest.
Aided by his wife, Chandra, the Johnsons' generosity helped the public good by helping construct community playgrounds and establishing wellness programs. The foundation donated $52,000 to Jay M. Robinson High School in Concord, North Carolina, in 2017, according to the AP. The students gave back during the first year of the coronavirus (COVID-19) pandemic two years later.
The school utilized a portion of the grant to acquire 3D printers. With the state of Michigan's front-line responders running out of PPEs, the students went to work. They created 400 face shields for healthcare workers and received additional orders.
Johnson is a tough act to follow, but Larson is trying.
Kyle Larson learned lessons of helping out during his down time
Larson's 10 points victories last season marked the first time a premier series driver notched a double-digit win season since Johnson in 2007.
Johnson never ventured down the dark path Larson once did after his racist comment. But, thanks, in part, to Johnson's inspiration, few have learned as much from their hard lessons as Larson did.
As he said in an October 2020 interview with CBS Mornings, Larson declared to host James Brown: "I know deep down I'm not a racist."
With his recent actions, Larson is beginning to prove he indeed learned from his mistakes.
He had a good role model in Johnson.
Like Sportscasting on Facebook. Follow us on Twitter @sportscasting19.