Kyle Larson, Ryan Blaney, Bubba Wallace Recall First-Time Daytona 500 Experiences
Not everyone enjoys their first-time NASCAR experiences. 
Just ask Kyle Larson and Ryan Blaney about their Daytona 500 debuts. The good thoughts generally pause after the drivers' introductions. 
Then there are those like Bubba Wallace, who loved it.
Here is a look at the unique opening rides for Larson, Blaney, and Wallace during "The Great American Race:" 
Kyle Larson
For everything Larson achieved last season, the reigning Cup champion has yet to record a top-five finish at NASCAR's king-sized tracks, Daytona or Talladega.
Last year entering the Daytona 500, Larson was one of the series' most significant question marks? How will he respond to the pressure of driving for Hendrick Motorsports? Will fans forgive him for uttering the racial slur in 2020?  
Well, he responded quite well. Ten points wins, and he mostly acted as a champion. To Larson's credit, his hometown named a day in honor.  
Starting from the pole for the first time on Feb. 20, Larson continues to evolve from a short-track specialist. He's extending his repertoire to include superspeedways.  
But it's been a process. Larson's first Daytona 500 in 2014 "went terrible for me," he told NBC Sports, recalling his rookie mistake and prolonged suffering. "I hit the wall like Lap 2 and then had a rain delay and had to stay overnight and finish the race the next day."  
And he ended up crashing, finishing 38th.
But at least he remembers appreciating the pre-race festivities.
"My first Daytona 500, I remember walking down the catwalk thingie for driver intros, which was really neat, and the crowd was huge," Larson said. "… It was not a very good first Daytona 500 for me, but just getting to experience the driver intros and stuff for the first time was really cool."
Ryan Blaney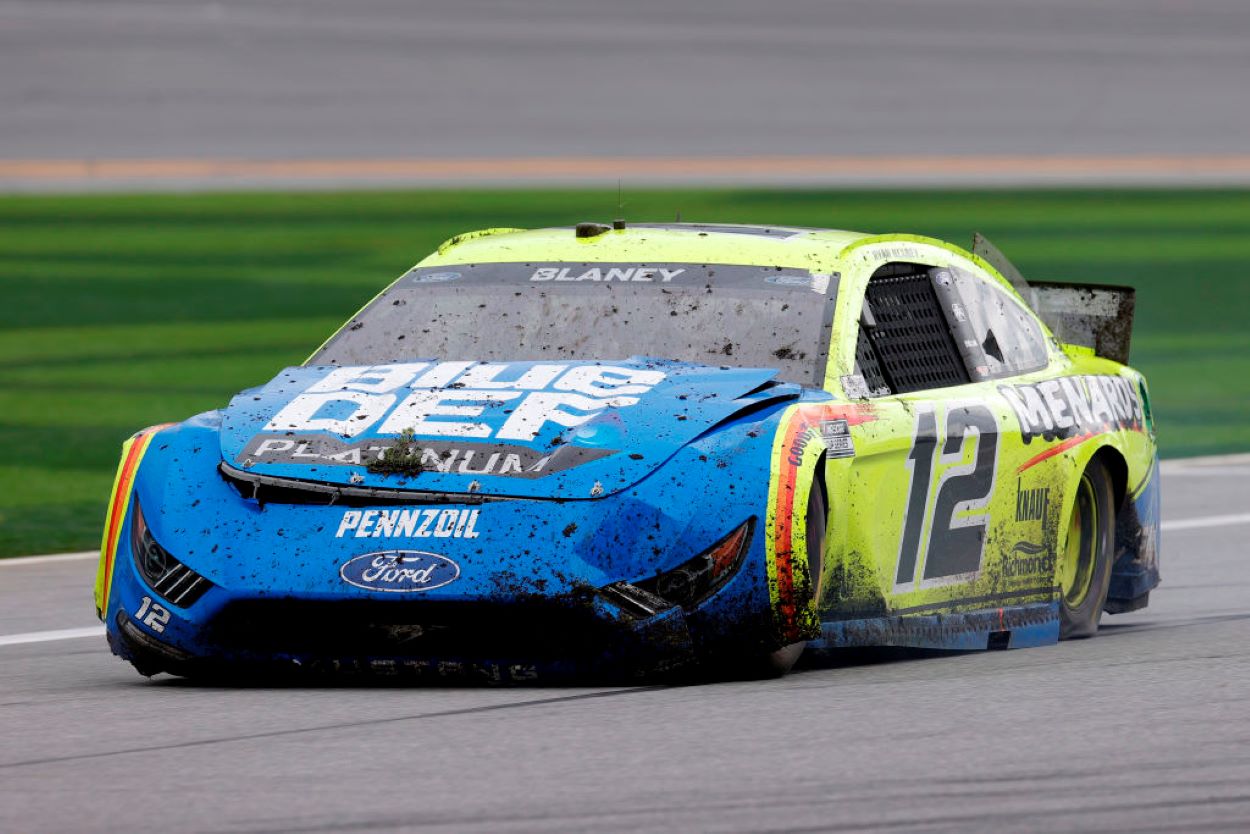 Coming off a win during the summer race at Daytona last season, Blaney is earning a reputation for his superspeedway specialties. Car owner Roger Penske probably had early doubts after hiring Blaney away from Wood Brothers Racing in 2018.   
In his first four starts for Team Penske at the 2.5-mile tri-oval, he ended up crashing out, finishing 40th, 31st, and 36th. Since placing second during the 2020 season opener, however, he has three top-six finishes over his past four appearances.
Some insiders believe Blaney should be favored to win on Feb. 20.
The legacy driver's first Daytona 500 didn't turn into a dream ride.
"We ended up blowing up toward the end of that race, which was unfortunate, so it was a little short of the end, but I had a blast just that whole week. I remember thinking, 'Man, it's cool that I'm able to do what dad did.' 
"Dad experienced the 500 many times. That whole week is insane, and that race day morning leading up to the event is just nuts, and to get to experience that first hand was pretty special."
Ryan's dad, Dave, finished 27th in his first Daytona 500 appearance in 2000.
Bubba Wallace
Unlike Larson and Blaney's Daytona debuts, Wallace experienced a memorable ride.
"My first Daytona 500 experience was one that I'll never forget, finishing second in my first attempt," Wallace said.
His game plan was to keep it basic. It worked. He maintained his composure and was "doing my best not to make a mistake, speeding on pit road and losing the draft," he said. "Just a whirlwind of a day."
Now entering his fifth Daytona 500, Wallace is looking to rebound from his past three season-opening finishes, 38th, 15th, and 17th. He crashed twice.  
A runner-up finish to Blaney last season during the Daytona summer race last season should bolster his confidence in following up his initial Daytona start.
"It's a really tall task going back because to beat that day, you've got to win the Daytona 500," Wallace said, "and we know how hard it is."
The first time. Any time.
Like Sportscasting on Facebook. Follow us on Twitter @sportscasting19.
RELATED: Bubba Wallace Docuseries: NASCAR Driver's Dad Says Carry a 'Gun'