Kyle Lowry Curiously Needed the Blessing of the Man He Replaced in Miami Before Wearing His Patented No. 7 Jersey for the Heat
Kyle Lowry is one of the more renowned and decorated point guards of this generation. Yet, he needed permission before officially getting the No. 7 jersey from the Miami Heat.
Typically, jersey "blessings" come from franchise staples or icons in some capacity. Apparently, Goran Dragic established enough of a legacy in South Beach that Lowry felt obligated to seek out his approval.
Kyle Lowry headlined the Miami Heat's offseason
The Miami Heat took a step back during the 2020-21 season after making a surprising run to the NBA Finals in the Orlando bubble. They're likely hoping Kyle Lowry is the guy who can help bring them back to championship contention.
Miami orchestrated a sign-and-trade to bring Lowry to South Beach, giving the Heat a bona fide playmaker and two-way grinder at the point guard position.
The Toronto Raptors might have struggled last season, but Lowry still thrived. He averaged 17.2 points, 7.3 assists, and 5.4 rebounds while shooting nearly 40% from beyond the arc on 7.2 attempts per contest. His ability to space the floor and make plays in the painted area is vital for a Heat team that had mostly been lacking in terms of inside-out threats at the guard spot.
Lowry also brings the intangibles: leadership, hustle, and intensity. He fits perfectly with Heat culture and as a fellow star alongside a fiercely competitive Jimmy Butler.
The pedigree is there as well. Lowry is an NBA champion and six-time All-Star. He is highly decorated and could go down as the best player in Raptors history.
Still, Lowry did not simply come in and demand the No. 7 jersey despite an incredibly established and brilliant career. He wanted the OK from the man he replaced.
Lowry received the blessing to wear the No. 7 jersey from Goran Dragic
By all accounts, Goran Dragic is a very productive NBA point guard. But is he the kind of player who's run with the Heat demanded he gives Lowry his "blessing"? Well, that's up for debate.
On the one hand, Dragic spent a good chunk of time in Miami. He was with the Heat over six seasons, helping to transition the franchise into a new era with Dwyane Wade's storied career coming to a close. Additionally, there's an argument to be made that Miami might have been more competitive with the Los Angeles Lakers in the 2020 NBA Finals had Dragic been healthy.
Still, Dragic is hardly the same kind of Heat staple as Wade or even Udonis Haslem. He might have connected with the fan base, but it's curious that his Heat tenure demanded he signs off on someone better than him wearing his old threads.
Nevertheless, that's precisely what happened. According to Tim Reynolds of the Associated Press, Lowry asked Dragic if he could wear No. 7 for the Heat. The Slovenian native has reportedly approved.
Perhaps whether Dragic is the kind of player who merits giving blessings is irrelevant. If anything, it suggests he and Lowry have a good deal of respect for one another. One thing is clear, though. The two point guards are seemingly headed in very different directions.
Lowry is hoping to contend for another championship, while Dragic's future is in a state of flux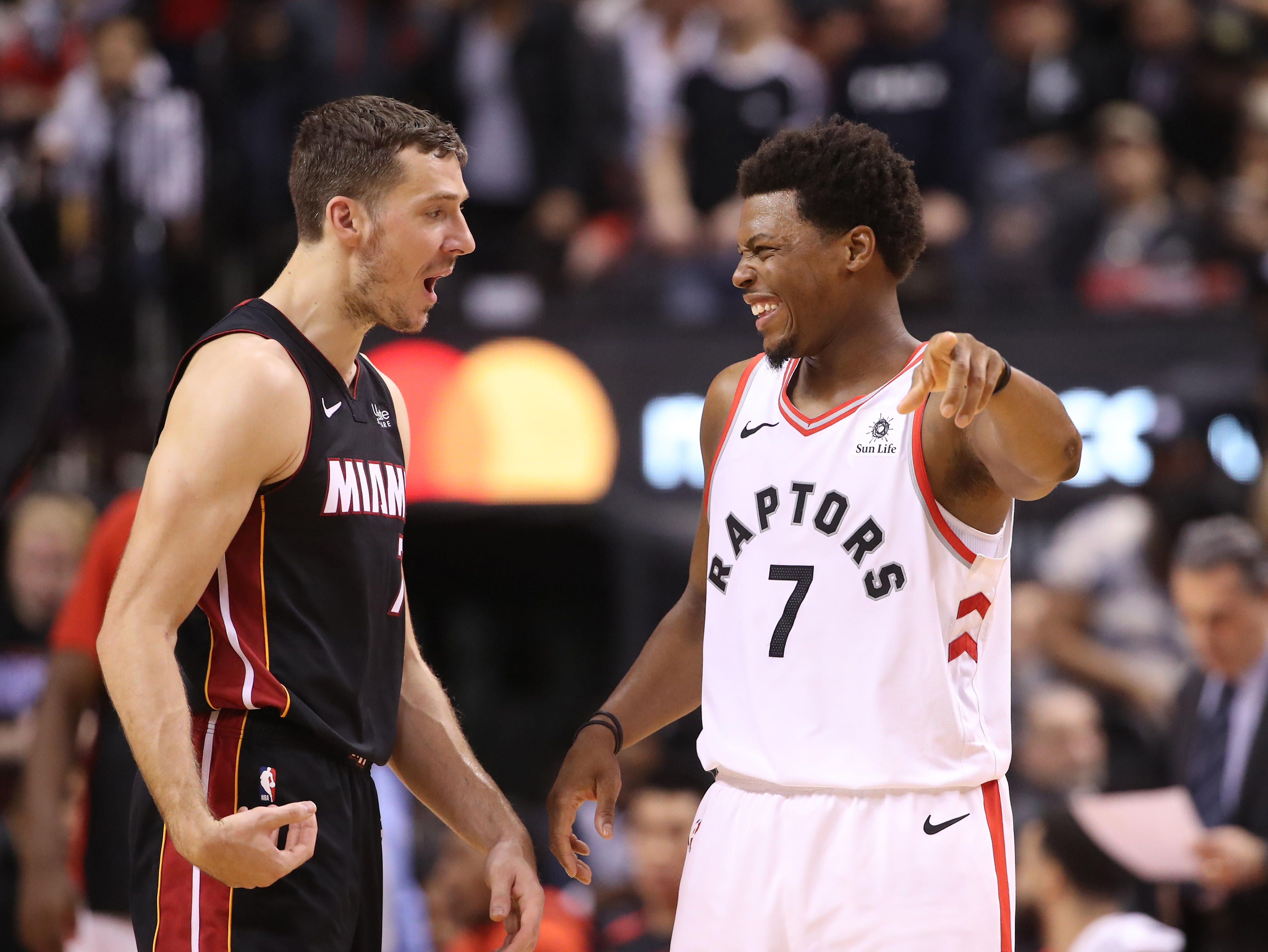 Kyle Lowry's future is crystallized. He will try to help steer the Heat back to the top of a reloaded Eastern Conference. Things are far less certain on Dragic's end.
The 35-year-old was included as one piece going back to the Raptors in the Lowry sign-and-trade. But there's been a general feeling that Dragic might not be long for Toronto. It's still possible he could end up with Luka Doncic and the Dallas Mavericks, though the Mavs would have some maneuvering to do.
In any case, the two veterans are hoping to add to their respective resumes. Dragic is still trying to win his first championship ring. Lowry will go for his second title, and he'll do so wearing Dragic's old number in Miami.
Stats courtesy of Basketball Reference.