Kyle Lowry Makes a Surprising Choice for the NBA's Most Underrated Star, But He's 100% Right in His Selection
Miami Heat guard Kyle Lowry gave something of a tell-all in a recent interview with CJ McCollum, including his choice for the most underrated NBA player. Conventional wisdom might suggest Lowry would have given the label to new teammate Jimmy Butler or joined a decent contingent who feel that Devin Booker is the most underrated player in the game. Instead, Lowry went with a different name: Chicago Bulls star Zach LaVine.
On the one hand, LaVine made his first All-Star team this past season and is becoming a cornerstone player for the Bulls. However, Lowry suggested that LaVine deserves far more recognition as one of the truly elite players in basketball.
Kyle Lowry and CJ McCollum heaped praise on Zach LaVine in a recent podcast
Kyle Lowry talked all things basketball as the most recent guest on CJ McCollum's "Pull Up Podcast," including the man he feels holds the title of most underrated player in the NBA.
Lowry almost immediately responded to McCollum's "most underrated" inquisition by calling Zach LaVine's name. The Heat point guard said, "People don't understand just how good he really, really is," also calling the Bulls guard "one of them players" in the NBA.
McCollum never explicitly stated whether he agreed with Lowry, but did say he was a fan of LaVine and offered his own personal excitement regarding the potential of a new-look Bulls team in Chicago.
Both guys, as part of the NBA fraternity, have an elevated appreciation for the things LaVine can do on the floor. But Chicago's lack of success in recent seasons hasn't exactly helped the two-time Slam Dunk champion build more of a national profile. His "most underrated" credentials also take a bit of a hit when a high-profile guy such as LeBron James endorses Devin Booker for that spot.
However, despite the absence of national fanfare, there's no denying that LaVine has rapidly become one of the best scorers and most talented players in the NBA.
LaVine can do everything offensively
Zach LaVine's stats are spectacular enough. He averaged 27.4 points this past season on over 50% shooting from the field and a career-high 41.9% from beyond the arc on 8.2 attempts per game.
Still, looking at the numbers alone does not do LaVine's offensive brilliance justice.
LaVine can score in just about any fashion imaginable. He routinely fired three-pointers off the dribble and could create space with a wicked-fast first step and lethal step-back jumper. The 26-year-old showed a more advanced handle and ability to create both for himself and his teammates. He could get to the basket and finish through contact or spot cutters baseline.
A deeper dive shows just how proficient LaVine was in putting the ball in the cylinder. He made nearly 45% of his pull-up triples and drilled over 45% of his step-back threes. He didn't have a large sample of fadeaway jumpers (31 attempts) but still made 54.8% of those tries.
The most impressive aspect of LaVine's brilliance is that he routinely put up efficient scoring numbers on a Bulls team that was sorely lacking in playmaking and shot-creator types. Thaddeus Young was arguably the next-best option as a guy who created scoring opportunities, at least until Nikola Vucevic arrived.
LaVine has growing to do on the defensive end of the floor, but the same can be said for a host of top NBA stars, including guys like Luka Doncic and Bradley Beal.
Lack of team success might be the biggest reason some fans have slept on LaVine in the past. However, that could change this upcoming season after the Bulls reloaded in the summer.
Lowry and LaVine will likely jostle for playoff position all season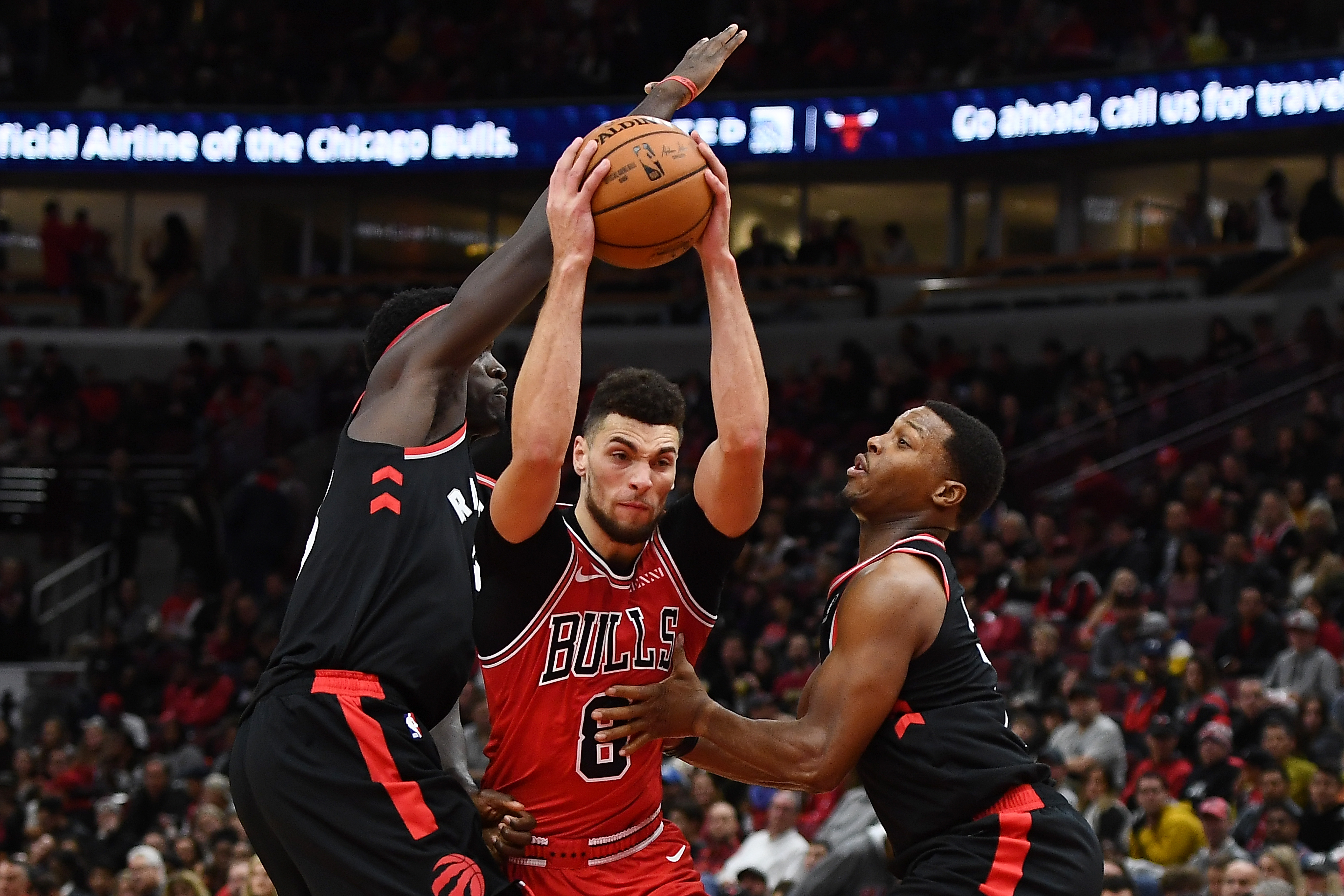 Zach LaVine's Bulls should be a riser in the Eastern Conference.
Chicago added Lonzo Ball and DeMar DeRozan in free agency after trading for Nikola Vucevic before last season's deadline. The Bulls also signed Alex Caruso for added depth at the guard spot.
LaVine is suddenly surrounded by guys who can play on the ball and get to the rim, whether in the half court or in transition. That bodes well for Chicago's playoff hopes, even if the Bulls could have some growing pains on the defensive end of the floor.
Basketball is definitely back in the Windy City. But the Bulls will still have to fight for playoff position with Kyle Lowry and a Miami Heat team likely hoping to rebound after a disappointing 2020-21 season.
Lowry signed with the Heat in free agency, filling out Miami's new trio of stars alongside Butler and Bam Adebayo. The Heat also added toughness and defense in PJ Tucker. They should make a run at the top half of the Eastern Conference standings.
Maybe Lowry and LaVine will eventually meet in the playoffs. For now, the veteran guard will keep singing LaVine's praises and likely turn some heads in his direction.
Stats courtesy of Basketball Reference or NBA.com.