Kyle Lowry Will Soon Surpass an NBA Legend in the Record Books
Kyle Lowry has become an excellent point guard for the Toronto Raptors. He went from struggling in the playoffs with the Raptors to becoming an NBA champion last season. All of his success has ultimately helped him rack up a ton of accolades, and now he has a chance to surpass an NBA legend in the record books.
Kyle Lowry started his career with the Grizzlies and Rockets
RELATED: Kyle Lowry Has a More Compelling Hall of Fame Case Than You Might Think
The Memphis Grizzlies selected Lowry with the 24th overall pick in the 2006 NBA draft out of Villanova, but Lowry ultimately had a pretty slow start to his career. He only played in 10 games in his rookie season, and then in 2007-08, Lowry scored just 9.6 points per game.
During the next season, though, the Grizzlies traded Lowry to the Houston Rockets, and he just averaged 7.6 points per game in that season.
It wasn't until the 2010-11 season, his fifth in the league, that Lowry started to really show how good he can be. He averaged 13.5 points per game and 6.7 assists. Lowry then played one more season with the Rockets and averaged 14.3 points and 6.6 assists, before joining the Raptors in 2012-13.
Kyle Lowry has become a star for the Toronto Raptors
RELATED: The Toronto Raptors Don't Need Kawhi Leonard to Repeat as NBA Champions
In his first season in Toronto, Lowry had a decent year. However, he became an absolute star in 2013-14. Lowry averaged 17.9 points per game and 7.4 assists for the Raptors that season. The Raptors then started to have a lot of success as a team that year too, led by Lowry and DeMar DeRozan. They ultimately made their first of what will soon be seven consecutive playoff appearances.
Lowry then played well again in 2014-15, and the Raptors made the playoffs before losing in the first round again. However, he took another step production-wise in 2015-16, and the Raptors were really good. He averaged 21.2 points per game that year and 6.4 assists, and the Raptors ultimately went to the Eastern Conference Finals before losing to the Cleveland Cavaliers.
In 2016-17, Lowry averaged a career-high 22.4 points per game, and the Raptors lost in the Eastern Conference Semifinals. They then lost in the Eastern Conference Semifinals again in 2017-18.
However, in the summer of 2018, the Raptors traded DeRozan to the San Antonio Spurs for Kawhi Leonard. Together, Lowry, Leonard, and other excellent players like Pascal Siakam led the Raptors to the NBA Finals in 2018-19 before winning the NBA championship.
Leonard has since left the Raptors for the LA Clippers, but Lowry and the Raptors are still excellent. Lowry is averaging 19.7 points per game and 7.6 assists this season, while Siakam is averaging 23.3 points per game and 7.5 rebounds, and the Raptors are the No. 2 seed in the Eastern Conference.
He has a chance to surpass Chris Bosh in the record books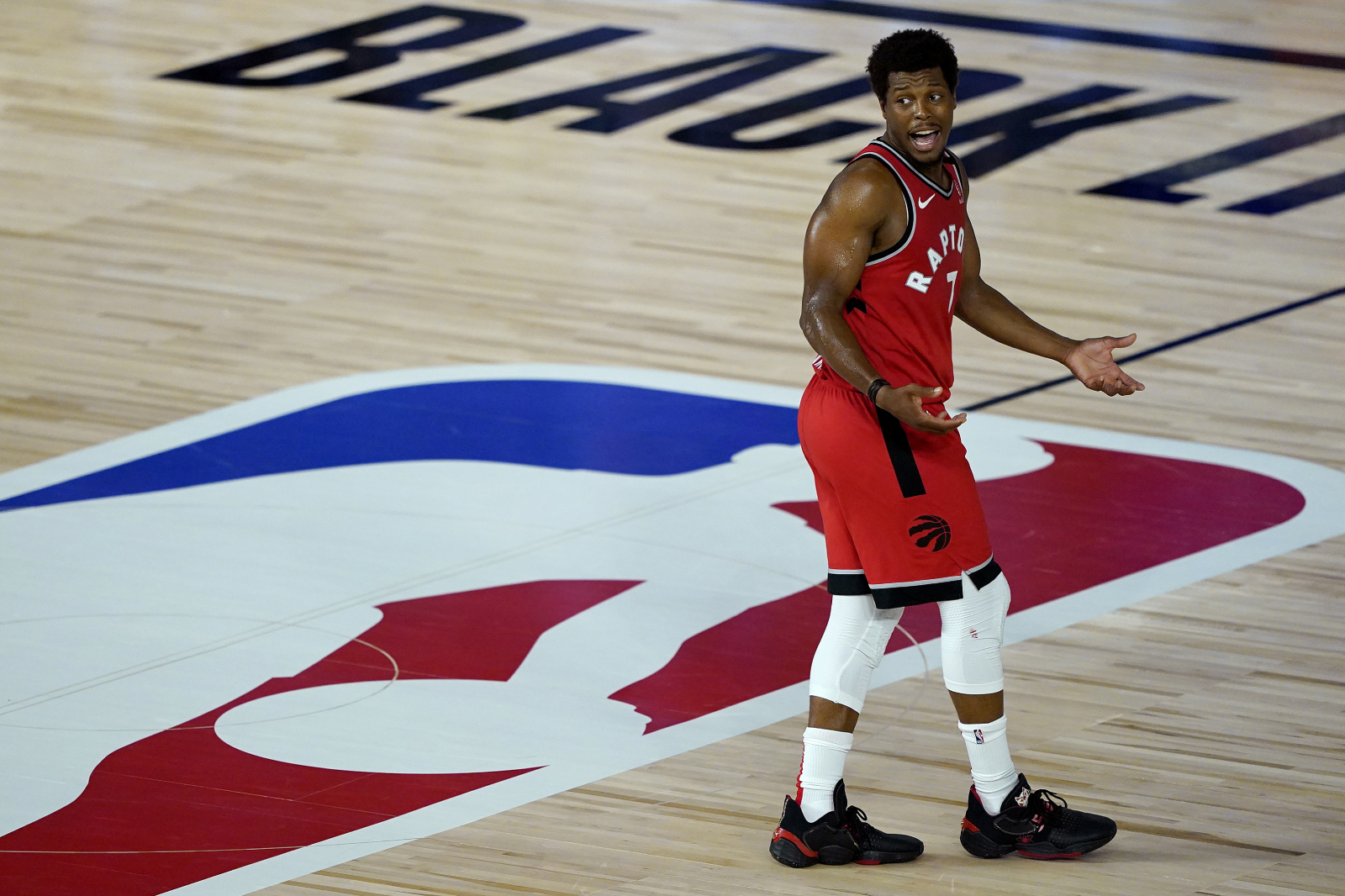 RELATED: The Toronto Raptors Just Made NBA History by Doing Nothing
Despite playing for two other teams prior to joining the Raptors, Lowry has a chance to become the franchise's all-time scoring leader within the next few seasons, and he will certainly be No. 2 on the list pretty soon.
In his career with the Raptors, Lowry has scored 9,704 points as of Aug. 6, 2020. That is third in Raptors history, just behind Chris Bosh and DeRozan. Bosh scored 10,275 points while with the Raptors, so Lowry will be just about 500 points behind him at the end of the 2019-20 season. Lowry has scored over 920 points each season since 2013-14, so he will easily surpass Bosh for No. 2 pretty soon. 
In comparison to DeRozan, though, Lowry still has a ways to go. He will be around 3,500 points behind him after this season, as DeRozan scored 13,296 with the Raptors, so he could maybe catch up to him in three to four seasons.
Whether Lowry becomes the Raptors' all-time leading scorer or not, though, he has already had a stellar career in Toronto. In addition to the NBA championship, Lowry is already the franchise leader in 3-point field goals, assists, steals, and triple-doubles. Kyle Lowry is without a doubt a Toronto Raptors legend.
Stats courtesy of Basketball Reference