Kyle Schwarber: Pro and Cons to the Phillies Officially Signing the Lefty Slugger
Coming off their tenth consecutive playoff-less season, the Philadelphia Phillies were expected to be significant players in the free agency market this MLB offseason. Current President of Baseball Operations Dave Dombrowski is known for being aggressive, and the Phillies are in danger of wasting Bryce Harper's prime if additions aren't made soon.
Dombrowski snagged a few relievers before and after the lockout. However, he finally pulled the trigger on a big move Wednesday morning.
He signed lefty power bat Kyle Schwarber to a four-year, $79 million deal. Here's a look at two pros and one con of the signing.
Pro: The Phillies just found their leadoff hitter
The Phillies' historically bad bullpen of 2020 has caused many to blame pitching for their lack of success over the past few seasons. While the bullpen has undoubtedly been an issue, the offense wasn't that much better in 2021. Outside of Harper, Philadelphia had few impact bats they could rely on this past season.
Specifically, the Phillies' leadoff position has been a severe weakness over the past few years. The team rotated between Odubel Herrera and Jean Segura in 2021 — neither were able to generate much success. Instead of coming up to the plate with runners on base and in scoring position, Bryce Harper was frequently faced with two-out, nobody on-base situations.
Schwarber is most well known for his Titanic-sized home runs. However, his ability to work counts, draw walks, and get on base is just as strong. He hit .297 with a .385 on-base percentage last year when in the leadoff spot.
Leadoff position officially solved in Philly.
Con: Kyle Schwarber is a defensive nightmare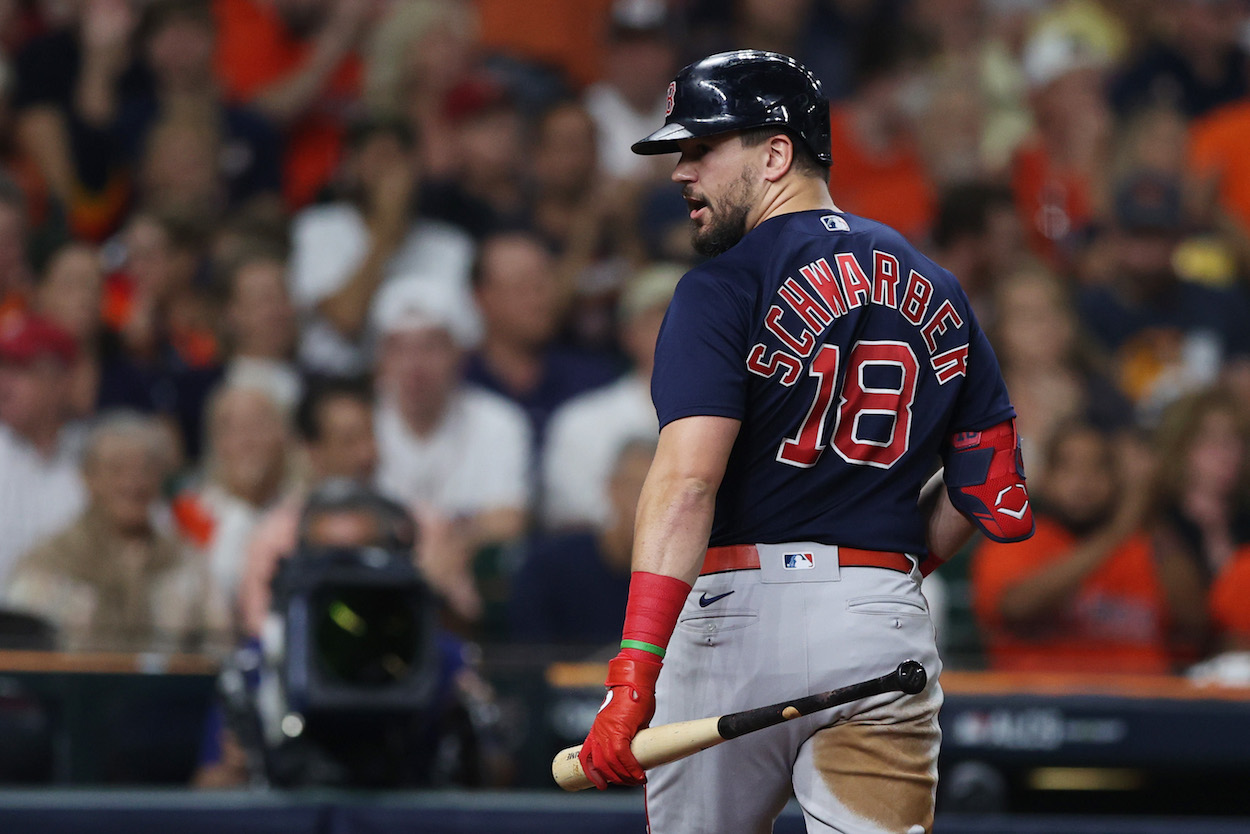 The Phillies had one of the worst defenses in baseball last season. Between Alec Bohm, Rhys Hoskins, Andrew McCutchen, and Didi Gregorius, the team really struggled fielding routine ground balls and catching routine fly balls. It made life that much more challenging for an already depleted pitching staff.
Unfortunately for Philadelphia, Schwarber is arguably a worse defender than all the before-mentioned names.
For as great as his bat is, Schwarber is not exactly known for his lateral quickness. He sported a -0.5 defensive WAR in 2021 and has a -4.6 career dWAR.
Now that the designated hitter (DH) is in the NL, Schwarber should be allowed to stay out of the field on occasion. However, his primary position is still left field. It's a weakness the Phillies are simply going to have to live with.
Pro: Kyle Schwarber brings a winning mindset to the Phillies
Statistical production aside for the moment, arguably the most crucial aspect Schwarber brings to Philadelphia is winning experience. He's a former world champion who's played in 35 career postseason games.
The Phillies' central core of players — as great as they may be — have minimal postseason experience. Most of them have never even logged a playoff appearance during their career.
Schwarber's bat is a much-needed boost to the Phillies' lineup. However, his ability to rebuild the Phillies clubhouse into a winning one is just as vital. It's a transformation that needs to take place if Philadelphia is to make the postseason in 2022.
All stats courtesy of Baseball Reference.
RELATED: Eagles Fans Should Be Thrilled With Shrewd Hasson Reddick Addition