Kyle Shanahan and Andy Reid Have More in Common Than You Think
Kyle Shanahan and Andy Reid don't seem to have much in common. Shanahan is one of the youngest head coaches in the NFL; Reid is one of the longest-tenured NFL coaches. But as they prepare to lead their teams to battle in Super Bowl LIV, there's one thing they have in common.
Both coaches have lost to Bill Belichick and Tom Brady's Patriots in a Super Bowl. And one of them is guaranteed to get redemption on Sunday.
Kyle Shanahan and Andy Reid's Super Bowl losses to the Patriots
Reid has a long, storied coaching career in the NFL. Despite his success in his 21 seasons as a head coach, the 61-year-old has only made it to the Super Bowl once. In Super Bowl XXXIX, Reid's Eagles lost a close one to the Patriots, dropping the game by a score of 24-21.
Shanahan is just in his third season as a head coach, so he hasn't been in a Super Bowl as the head of a team. However, he was the Falcons' offensive coordinator when they lost to the Patriots in Super Bowl LI. In that big game, the Falcons jumped out to a 28-3 lead in the third quarter but ended up losing in overtime, 34-28.
Questionable Super Bowl decisions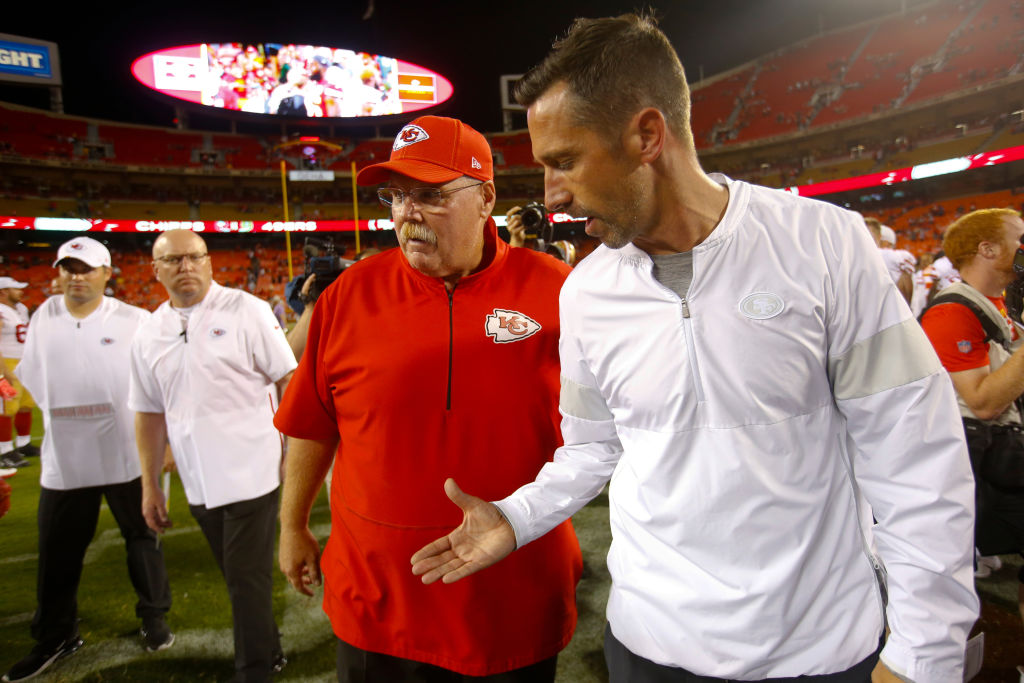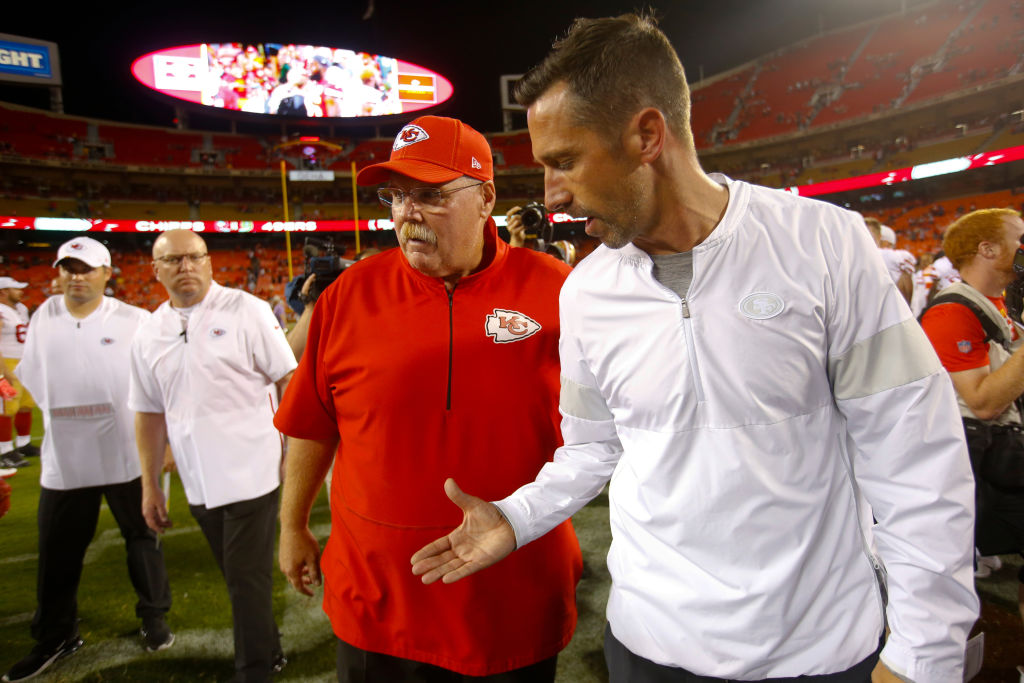 NFL fans and media criticized both Reid and Shanahan for decisions they made in their respective Super Bowls. For Reid, the criticism came with his clock management. When the Eagles got the ball with 1:10 left in the first half, he only called one timeout, allowing time to tick. This resulted in the Eagles being unable to make a field-goal attempt before halftime.
Then, down 10 with under six minutes to go in the game, he didn't have the Eagles go into a hurry-up offense. The Eagles ultimately scored a touchdown on the drive, but the 13-play drive took almost four minutes off the clock.
The criticism lobbed at Shanahan had to do with what many felt was overly aggressive playcalling as the Patriots clawed their way back into the game. QB Matt Ryan also commented that Shanahan took too long to call the plays, which hurt Atlanta's offense in the late stages of the game.
What a Super Bowl would mean to Reid and Shanahan
Winning a Super Bowl is all that is missing from Reid's impressive resume. He is almost 80 games over .500 in the regular season, but he has a reputation for not coaching as well in big games. Reid has a 14-14 postseason record, including losing his only Super Bowl to date.
If Reid goes 0-2 when the Lombardi is on the line, he'll retain the reputation of not being able to win the big game. If the Chiefs do win, it will cement his status as one of the NFL's best coach ever — and likely guarantee him a spot in the Hall of Fame.
Shanahan is still a young coach at 40 years old, but winning Super Bowl LIV would mean a lot to him, too. Most importantly, it would erase some of the negativity people have about the Patriots coming back from the 28-3 deficit three years ago.
A Super Bowl victory would prove to doubters that Shanahan may be the best young head coach in the NFL today.  It would also bring him within one title of catching up to his father Mike in Super Bowl wins.
Follow more updates from Sportscasting on our Facebook page.