Kyle Shanahan Just Delivered a Baffling Trey Lance Update That Could Send the 49ers Down a Disaster-Filled Path
Slowly but surely, the San Francisco 49ers are starting to pick up momentum. They're winners in three of their last four games, including an impressive home victory over the star-studded Los Angeles Rams. Kyle Shanahan is finding his rhythm as a play-caller again, and quarterback Jimmy Garoppolo is playing some of the best football of his career.
However, a looming question still hangs over the Niners franchise. Where's Trey Lance?
The 49ers are leaving Trey Lance on the bench…for now
The 49ers traded their heart and soul to acquire Lance with the No. 3 overall pick this past offseason. When the deal was all said and done, they shipped away their 2021, 2022, and 2023 first-round picks to the Miami Dolphins in exchange for the top-three draft pick.
However, despite the immense price paid to land Lance, Shanahan and the 49ers have expressed an overall reluctance to turn the starting job over to the North Dakota State product. Outside of a Week 5 game where Garoppolo was injured, Lance has spent most of his rookie season on the bench.
Lance has been dealing with his own respective injury issues this season, for what it's worth. However, Shanahan has remained consistent with his stance of Garoppolo being the starter even when Lance is 100% healthy.
Garoppolo is winning games now, so all is seemingly well in San Francisco for the time being. However, the 49ers' future looks incredibly murky, and Shanahan's comments on the matter only make it more confusing.
Kyle Shanahan isn't committing to Trey Lance in 2022 yet
As things currently stand, Garoppolo is under contract with the 49ers through 2022. However, upon being asked about the future state of the 49ers' QB room, Shanahan offered a confusing update.
"There's a chance for anything, but I think we've made it pretty clear that Trey is our guy of the future, whenever that will happen," Shanahan said. "But it's also nothing against Jimmy that we took him, but we do think Trey is our guy of the future. Like I've said, I think it'll be really hard, if Jimmy is on it, for him to beat him out right away. So it's kind of going like that right now, and we're not thinking much past that."
Shanahan claims Lance is their "guy of the future." However, he also claims Garoppolo could return in 2022. Both can't happen at the same time.
Are the 49ers going to waste Lance's rookie contract?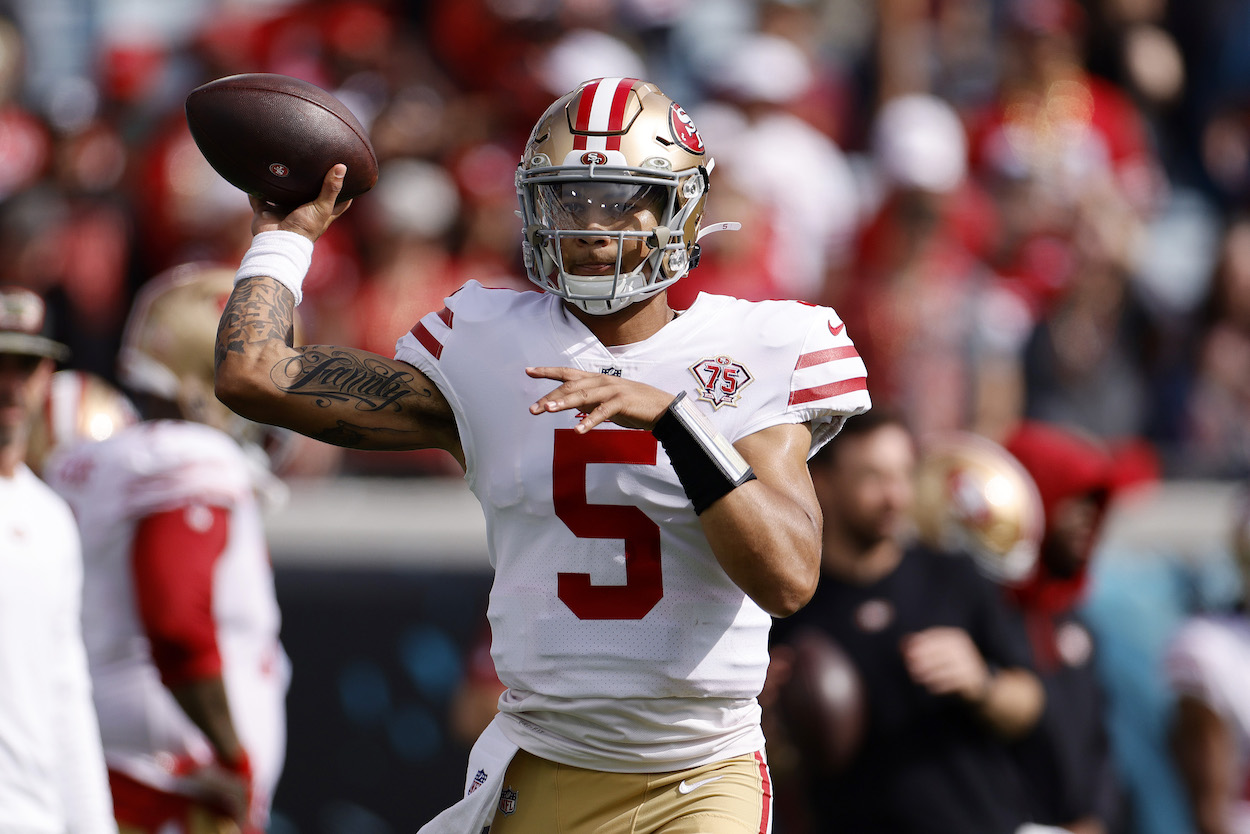 More and more NFL teams are attempting to ease rookie quarterbacks into NFL life. However, it's also crucial for teams to maximize their roster-building when starting a QB on a rookie contract.
The Green Bay Packers, for example, seemingly messed this process up. They jumped the gun trying to replace Aaron Rodgers and have already wasted 1.5 years of Jordan Love's rookie salary.
If the 49ers do get cold feet on turning things over to Lance in 2022 and opt toward bringing Garoppolo back for one more season, they'd be wasting a full two years of Lance's rookie deal. Considering how much draft capital San Francisco paid to initially acquire Lance, this would be a disastrous outcome.
The 49ers' future QB position likely hinges on how the team finishes out this season. However, the fact that Garoppolo is already being considered an option for 2022 is concerning.
Like Sportscasting on Facebook. Follow us on Twitter @sportscasting19.