Kyle Shanahan Is Wasting Everyone's Time by Taking Needless Shots at Mike Florio
The latest sports media feud may involve San Francisco 49ers head coach Kyle Shanahan and NBC Sports writer Mike Florio.
At first glance, the pairing makes sense. Both are outspoken football figures on opposite sides of the coverage coin. But the timing of this battle, if it can be called that, is a bad look for the fifth-year head coach.
Kyle Shanahan appears upset with Mike Florio
If Kyle Shanahan is upset with Mike Florio, he certainly isn't keeping his opinions private.
The fifth-year head coach recently appeared on The Michael Irvin Podcast and discussed rookie quarterback Trey Lance, the third overall pick in this year's NFL draft. When speaking about Lance's chances of winning the starting job, Shanahan took an odd swipe at Florio, the founder of ProFootballTalk and an on-air presence for NBC Sports.
"There's a chance for that at every single position… so there definitely is [for] Trey. I'm not trying to give Florio some headline that he makes an annoying statement out of, but hell yeah, there is."

Kyle Shanahan
Florio, who tweets from the ProFootballTalk house account, responded to those comments.
"First, Trey Lance has to make it to Sunday," Florio wrote, referencing controversial comments that the 49ers' head coach made before the draft began in April.
Shanahan apologized for those 'Sunday' comments
Before the 2021 NFL draft opened on April 29, rumors flooded the internet about what the 49ers would do with Jimmy Garoppolo, the incumbent starting quarterback. 
A popular theory emerged that the 49ers would select a quarterback in the first round, which occurred on a Thursday night, and cut or trade Garoppolo before the draft ended two days later. Asked about Garoppolo's future on April 26, Shanahan provided an interesting response. 
"I can't guarantee that anybody on the world will be alive Sunday, so I can't guarantee who will be on the roster on Sunday. So that goes for all of us."

Kyle Shanahan
Numerous media outlets, including ProFootballTalk, covered those comments. That same day, PFT writer Josh Alper published a story titled: 'Kyle Shanahan: No guarantee Jimmy Garoppolo will be alive or on roster Sunday.'
The head coach later expressed regret for his original comments.
"I totally bombed that on Monday," Shanahan told reporters a few days later, according to NBC Sports. "I hated how that came off. I talked to Jimmy about it right away. I didn't realize when I did it."
Shanahan is wasting everyone's time by taking shots at Florio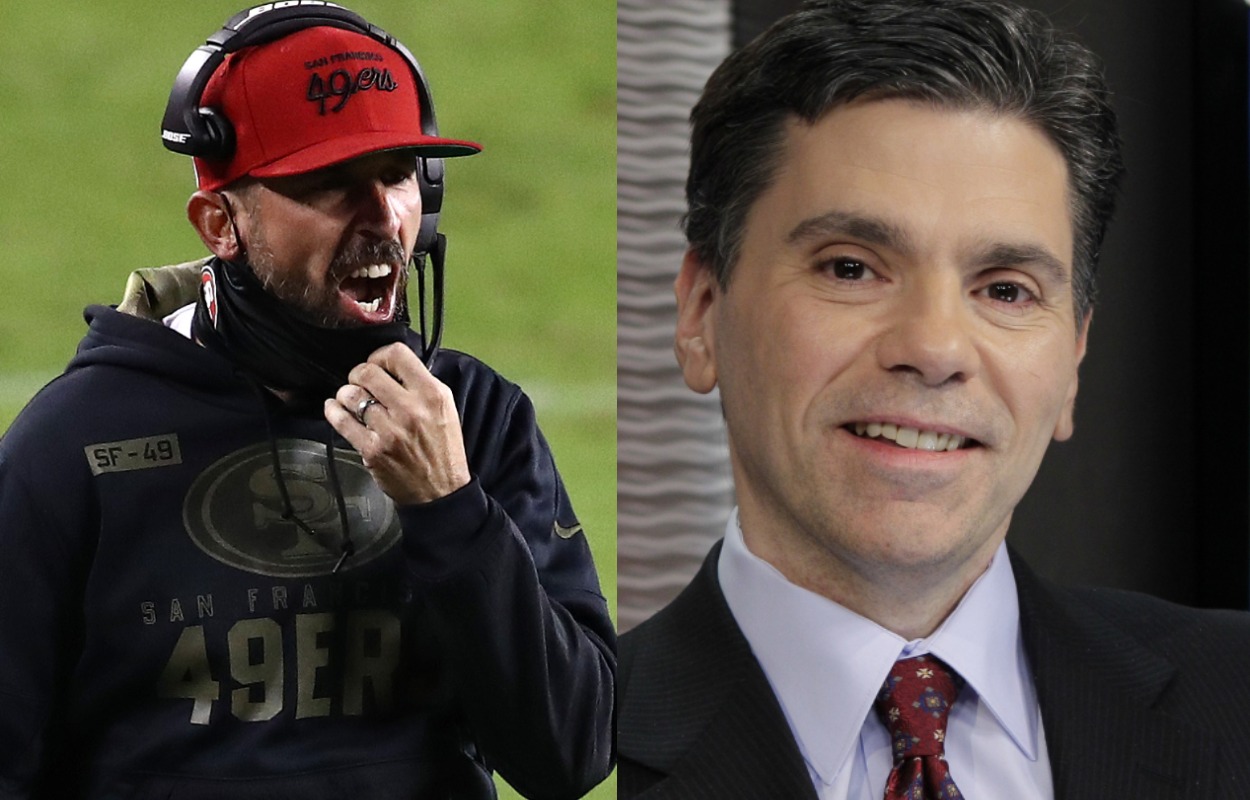 Shanahan is either poking fun at Florio and the ProFootballTalk staff, or he was genuinely frustrated with their coverage of his comments. Either way, the head coach is completely off-base in what he said to Irvin.
It is unknown why Shanahan saw value in his remarks to Irvin when he'd already apologized. Also, although he operates the website's Twitter account, Florio did not write the story covering Shanahan's original comments.
Although Shanahan is close with Chris Simms, an NBC Sports colleague of Florio's and co-host on PFT Live, it appears unlikely he made the comments to Irvin in jest. The 49ers' head coach previously butted heads with Florio in the summer of 2020 after the latter accused Shanahan of setting "unrealistic expectations" and discussing a possible return to the Super Bowl.
With enough problems to worry about, Shanahan may want to stick to football and the season ahead. Besides, both sides should be happy that they even made it to the Sunday after the draft.
Like Sportscasting on Facebook. Follow us on Twitter @sportscasting19.