Is Top 2021 NFL Draft Prospect Kyle Trask Related to Former Raiders Executive Amy Trask?
Florida Gators star quarterback Kyle Trask is hoping to hear his name called early in the 2021 NFL draft.
Trask doesn't have the hype that Trevor Lawrence and Zach Wilson do, and he's not even a guaranteed first-round selection. Still, Trask brings enough positives, including his arm strength and accuracy, to potentially succeed in the NFL.
Football fans may feel a familiar sensation when they see Trask's name. Is Kyle related to Amy Trask, the longtime Raiders executive who now works in sports media?
Kyle Trask is among the 2021 NFL draft's top quarterbacks
RELATED: Who Are the Top Quarterbacks in the 2021 NFL Draft After Trevor Lawrence?
When Kyle Trask started for Florida in September 2019, it marked the first time he began a game under center since his freshman year of high school.
Trask nonetheless completed 67.9% of his passes in college for 7,386 yards, 69 touchdowns, and 12 interceptions in 27 games and 22 starts. He became the Gators' full-time starter early in the 2019 campaign after Feleipe Franks suffered a broken ankle.
Trask torched SEC defenses for 4,283 yards and 43 touchdowns last year. No quarterback at the FBS level threw more touchdowns in 2020 than Trask, who ended his college career with a 17-5 record as the starter.
Although Trask scored eight rushing touchdowns in college, he only averaged 0.4 yards per carry — in fairness, sacks count against a quarterback's rushing yards in college — with the Gators.
NFL Media's Lance Zierlein compared Trask's skill set to that of Brad Johnson, who once led the Tampa Bay Buccaneers to a Super Bowl victory. Although Zierlein likes Trask's arm strength, he is concerned with the quarterback's release and mobility. 
"Trask is clearly a skilled passer, but it's hard to find evidence of him being able to play chess at this point against what NFL defenses are likely to show him," Zierlein wrote.
Amy Trask was a trendsetting executive with the Raiders
RELATED: Will Kim Ng's Breakthrough Help Becky Hammon's Career?
Amy Trask approached the NFL's glass ceiling and, along with the late Al Davis, smashed it the way that a true Raider would. 
Davis, the Raiders' longtime owner, gave Trask a position with the team's legal department in 1987. Trask later became the Raiders' Chief Executive in 1997, and she is still the only woman to serve as a team CEO. 
Trask resigned from the Raiders in May 2013, nearly two years after Davis died of heart failure. She currently works for CBS Sports as a studio analyst for That Other Pregame Show, which airs on CBS Sports Network.
Trask also contributes to The Athletic, where she'll weigh in on trending topics from the perspective of someone who spent many years in the front office.
Are Kyle Trask and Amy Trask related?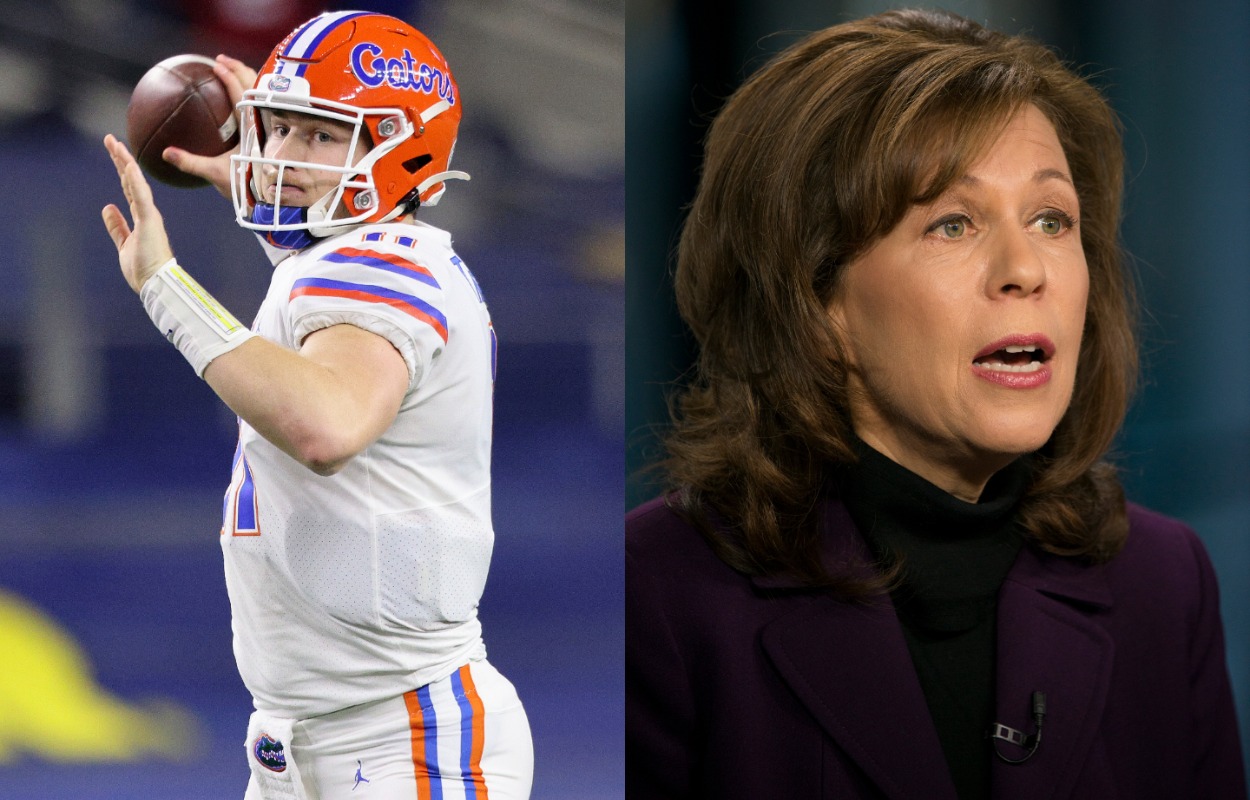 RELATED: Is Jalen Suggs Related to Future Pro Football Hall of Famer Terrell Suggs?
Because Kyle and Amy Trask share the same last name and each pursued football careers, there are naturally questions about if the two are related.
There is a simple answer: no, they are not — and that comes directly from the source. Amy tweeted in September 2020 that she and Kyle are not related, as far as she is aware.
In other words, if Kyle Trask ever throws five touchdown passes against the Las Vegas Raiders, fans of the silver and black shouldn't direct their anger towards their former executive.
Like Sportscasting on Facebook. Follow us on Twitter @sportscasting19.