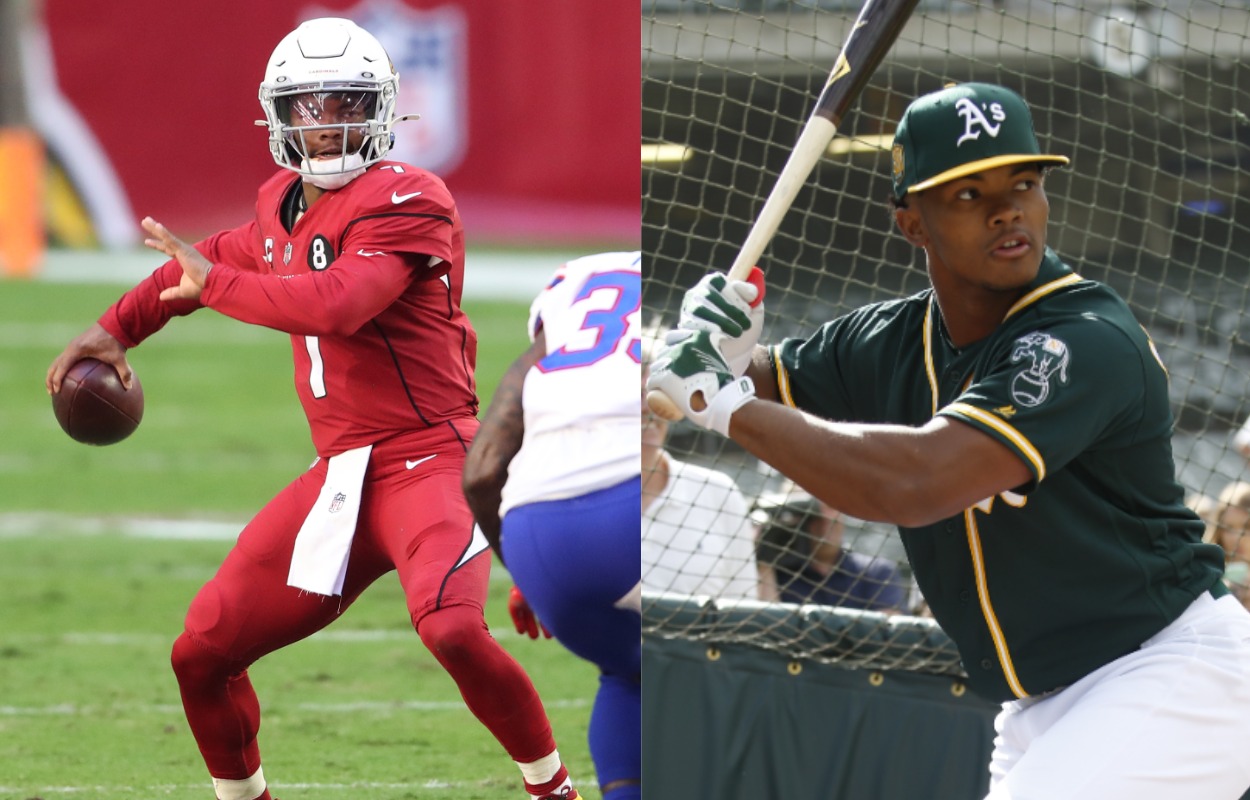 Kyler Murray Keeps Playing Footsie With a Professional Baseball Career, for Some Reason
Arizona Cardinals quarterback Kyler Murray needs to focus on football and officially close the door on any hopes of playing professional baseball
For all intents and purposes, Kyler Murray closed the door on his baseball career when he signed his rookie contract with the Arizona Cardinals.
Don't forget that in 2018, the Oakland Athletics used a first-round pick on Murray, then a two-sport star at the University of Oklahoma. Yet, even with his future clearly invested in professional football, the Pro Bowl quarterback still sounds interested on returning to the diamond.
Kyler Murray is leaving the door open on a return to baseball
Technically speaking, Kyler Murray is already a two-sport athlete, and he has his eyes set on potentially adding a third to the mix.
In addition to playing quarterback for the Arizona Cardinals, the former No. 1 overall pick joined FaZe Clan, an esports group, in the offseason. But the former Heisman Trophy winner still has baseball on his mind, and we don't mean MLB The Show.
According to the Cardinals' official website, Murray told reporters he is keeping the door open on potentially playing professional baseball. The Oakland Athletics used the ninth overall selection in the 2018 MLB draft on Murray, then still at the University of Oklahoma.
Although Murray made it clear he wasn't "trying to start anything" by mentioning baseball, his comments are nonetheless fascinating.
"I know everybody around [the organization] probably feels different about it. But me personally, I played [baseball] my whole life. If I ever had the opportunity, for sure, I would definitely go for it. What are we talking about? I'm sure anyone asking me about it would [take that opportunity] too."

Kyler Murray
Murray will have to wait for that opportunity, and not just because the 2021 NFL season is rapidly approaching. His current contract prevents him from playing professional baseball.
Murray needs to focus on football and put his baseball dreams behind him
If Murray ever steps to the plate in a baseball stadium, Cardinals fans should hope he's doing so in some type of charitable event.
Murray's contract prevents him from pursuing a professional baseball career. Although the Athletics still own his rights, there is no reason they should expect to start paying and playing him anytime soon.
Murray returning to baseball would represent the worst-case scenario for him and the Cardinals. To do so, he'd either have to flame out of the NFL and switch careers entirely, much like Tim Tebow did, or he'd need to take the Michael Jordan route and retire in the prime of his career to chase another dream. As noble as that may sound, he is best off forgetting about baseball.
The NFL remains king, and Murray is one of the league's top young stars. He scored 61 touchdowns from scrimmage in his first 32 starts. There is far more money to be made as a starting quarterback, especially one who can receive a new contract in 2022, than as a minor leaguer who will likely have to wait multiple years before having a realistic opportunity to make and stay in the major leagues.
We don't mean to rain on Murray's parade, and in a way, it's sweet that he still wants to play baseball. But the time needs to come where he accepts that he stands to benefit far more by sticking with football.
The two-sport professional athlete is officially dead
When the FaZe Clan drafted Murray in the spring of 2021, they made the Pro Bowl quarterback a two-sport athlete—technically speaking, of course.
Still, the days of the true two-sport professional athlete are likely gone forever. Current contract clauses, such as the one Murray has in his rookie deal, make it all but impossible for a player to do what Bo Jackson and Deion Sanders did and try playing two sports in the same year.
At this point, teams want their players to focus solely on football-related activities at approved sites. Otherwise, the players risk winding up like Aaron Boone. While still on the New York Yankees' active roster in January 2004, Boone tore his left ACL in a pickup basketball game despite his contract prohibiting him from playing the sport. The Yankees acquired Alex Rodriguez in a trade and cut the injured Boone, who would have received $5.75 million in salary that season, within a month.
If you're hoping to see Murray hit home runs for the Athletics in June and throw touchdowns in a Cardinals uniform in September, we suggest you turn on your PlayStation 5. Otherwise, you and Murray will each have to put those dreams aside.