Kyler Murray Looks Like an MVP, but Cardinals Offense Overburdening Its Young QB
Through the first two weeks of the 2021 NFL season, the Arizona Cardinals own an unblemished record and have positioned themselves well in the highly competitive NFC West division. Kyler Murray, the quarterback Arizona selected with the No. 1 overall pick in 2019, has looked phenomenal throughout, delivering highlight-reel plays and points in equal measure.
Though it's early in the year, the Cardinals look more dangerous than they have at any time since Kurt Warner and Larry Fitzgerald lifted the team to a Super Bowl appearance more than a decade ago.
Murray's ascent gives the Cardinals legitimate hope for Super Bowl contention, both now and in the future. Few signal-callers in the NFL possess comparable arm talent and unscripted play-making ability.
Still, even the best quarterbacks in the league operate within offenses that regularly buoy them with "layup" completions that reduce their burden. The Cardinals, however, seem content to run a streetball-esque system under head coach and offensive play-caller Kliff Kingsbury. That approach tasks Murray with playing Superman more often than his peers.
The Kyler Murray-Kliff Kingsbury union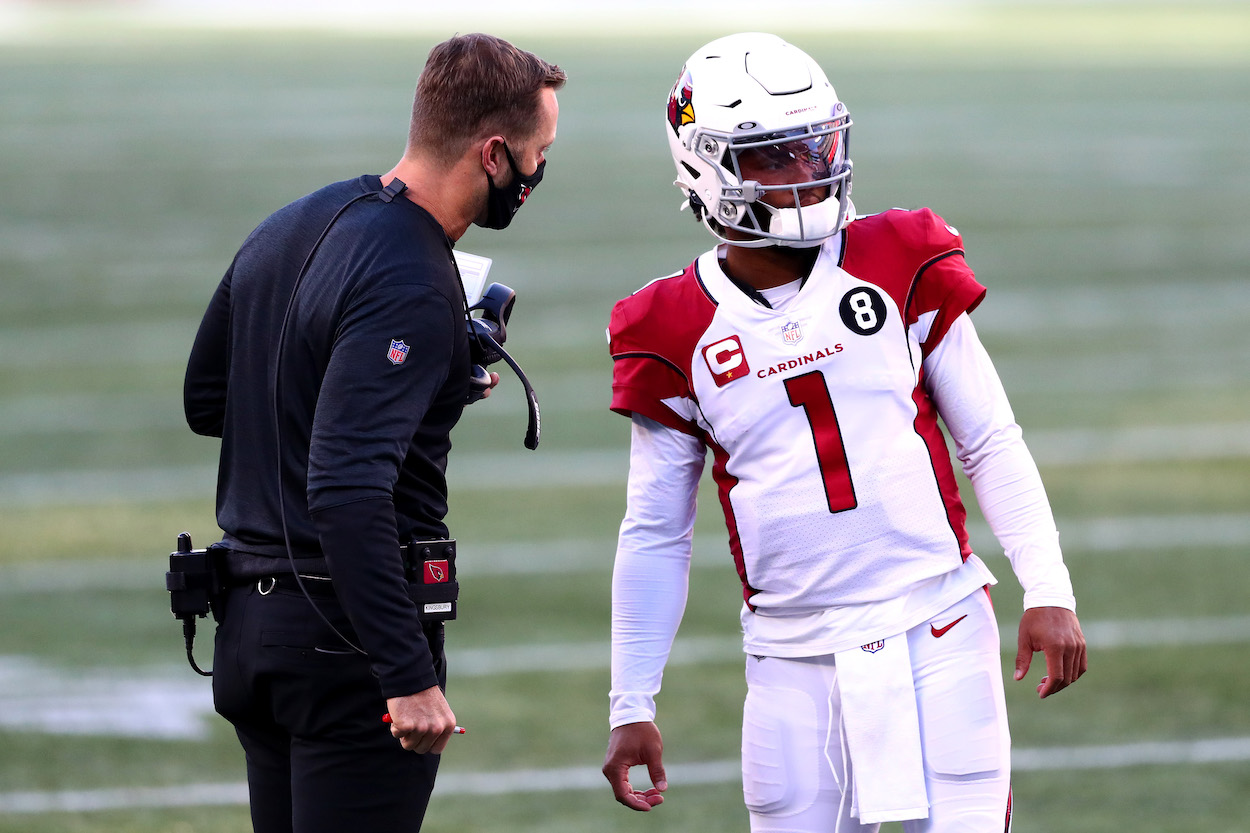 In recent years, NFL offenses have largely evolved their use of play-action, pre-snap motion, and misdirection to create easier throws for their quarterbacks and turbocharge efficiency. Coaches like Kyle Shanahan, Sean McVay, and Sean Payton have all increased their usage of these concepts, and as a result, their teams have made deep playoff runs.
The Cardinals believed Kingsbury would bring similar benefits when they hired him as head coach in 2019. Kingsbury ran a variation of the air-raid offense in his previous stops at Texas Tech, Texas A&M, and Houston, a system which seemed well suited to a quarterback with Murray's skill set.
Though Arizona spent a top-10 pick on a different quarterback the previous year, the front office pivoted from Josh Rosen to Murray mere months after Kingsbury's arrival.
Breaking structure
While the marriage between Murray and Kingsbury made sense on paper, the results have cast doubt on their long-term compatibility. The Cardinals expected Murray to lean on his mobility and freelance skill in the NFL; those traits made him a Heisman Trophy winner and a bona fide NFL prospect. However, they still expected the young quarterback to work within the structure of the play calls more frequently than he has.
In many instances, playing out of structure indicates inexperience on the part of the quarterback. But Murray has done so largely out of necessity, as opposing defenses have shaded coverage to All-Pro wide receiver DeAndre Hopkins, and the Cardinals' other pass-catchers have not consistently separated from defenders on schedule.
This past weekend saw Murray forced to improvise even more than usual. The signal-caller threw three touchdowns during a back-and-forth tilt with the Minnesota Vikings. Of those passes, only one had a launch point from within the pocket, a quick toss on a run-pass option to the line of scrimmage.
Long-term outlook
While Murray can improvise when a play breaks, the Cardinals shouldn't ask him to do so this frequently. Should an injury or something else compromise his play-making ability, the entire offense could crater, a scenario the team has encountered before.
In 2020, the Cardinals had one of the league's more efficient offenses through 10 weeks, according to Football Outsiders' DVOA metric. That changed overnight when Murray sprained his throwing shoulder during a Week 11 loss to the Seattle Seahawks. The final stretch of the season saw the operation fall apart, with the unit finishing 23rd in weighted DVOA.
Certainly, the Cardinals hope to avoid such a calamity in 2021. The time for a system overhaul has passed, but Kingsbury can still tweak his play-calling to better help his quarterback. If he doesn't and Murray runs out of steam, the outcome will look similarly dim for the franchise.
RELATED: Kliff Kingsbury Reveals Getting Fired by His Alma Mater Helps Him Deal With the Heat in Arizona