Kyler Murray Went Below the Belt in a Profanity-Laden Explanation About Not Growing up a Dallas Cowboys Fan
Before he scored touchdowns at ease for the Arizona Cardinals, Kyler Murray lived in Dallas Cowboys country.
The former No. 1 overall pick grew up in Bedford, Texas, less than 10 miles from AT&T Stadium. It makes sense to think Murray would have enjoyed Tony Romo and the Cowboys during his childhood and teenage years. But, as he explained in a recent interview, that theory couldn't be further from the truth.
Kyler Murray said the Cowboys were 'always ass' in his childhood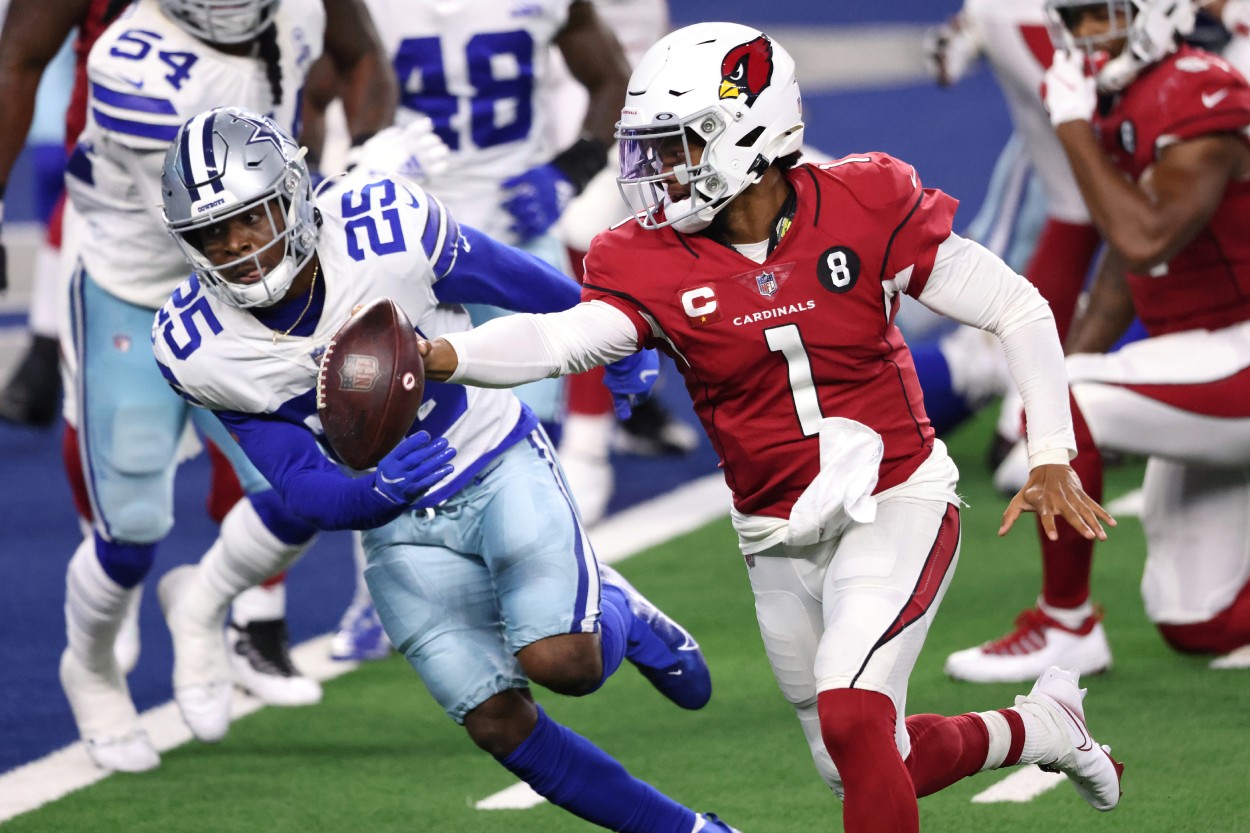 Kyler Murray wanted nothing to do with the Dallas Cowboys as a child growing up in Texas.
How could that be when the Cowboys are America's Team? Why wouldn't Murray, who was born in 1997, have spent his childhood enjoying Terrell Owens snag touchdowns and DeMarcus Ware smash the quarterback?
Well, that isn't what happened. According to Deadspin, a reporter recently asked Murray if he was a Cowboys fan in his younger years. The third-year quarterback didn't hold back in his response.
"F–k no, they were always ass."

Kyler Murray
Murray decided to tell people how he really felt, and the answer quickly went viral. But as humorous as that response might be, it's also not exactly true.
The Cowboys were better than Murray might remember
From a certain point of view, Murray's reason for not growing up a Cowboys may have some merit. The team has never reached even an NFC championship game in his lifetime, and there were several years the team collapsed down the stretch en route to missing the postseason.
But when people think of perennially terrible teams throughout the 2000s and 2010s, it's usually the Bills, Browns, Lions, and Jaguars who come to mind. Even the New York Jets, the laughing stock of the NFL, regularly contended for playoff berths during that time.
Murray was born in 1997 when the Cowboys were still in the Troy Aikman and Emmitt Smith era. He graduated high school during the 2014-15 academic year, meaning he would have started kindergarten in the fall of 2002.
From 2002 through 2014, the Cowboys only had three losing seasons and endured three 8-8 campaigns. They reached the playoffs five times in that span and had a cumulative record of 114-94. Need we compare that to the Lions, who had two winning seasons in that same period?
Were the Cowboys a disappointment during that time? Sure, and even some of their most loyal fans would likely agree with that sentiment. But to infer they were constantly a terrible team is simply incorrect.
The Cowboys can get revenge on Murray in January 2022
The Dallas Cowboys now have another reason to target Murray after his recent comments.
Remember, Murray shredded the Cowboys' defense for 262 total yards and three touchdowns in a 38-10 rout on Monday Night Football last season. That alone should have had the Cowboys hoping for revenge whenever the teams met next.
Despite playing in separate divisions, that rematch is actually scheduled to occur twice in the 2021 league year. The Cardinals host the Cowboys on Friday, August 13, in a preseason matchup at State Farm Stadium.
Several months later, the Cowboys will host the Cardinals at AT&T Stadium on Sunday, January 2, in Week 17. Perhaps the Cowboys, who are looking to rebound from a 6-10 season, will extract some payback on Murray to begin the new year.
Like Sportscasting on Facebook. Follow us on Twitter @sportscasting19.
RELATED: Kyler Murray's Latest Comments Should Give Cardinals Fans Serious Concerns About His NFL Future