Kyler Murray Was Just Dealt a Curious Backhanded Compliment From the Cardinals
The ongoing Kyler Murray saga with the Arizona Cardinals has been an extremely intriguing one to follow over the past several weeks. Reports are flying all over the place, with most of them detailing a sense of frustration from Murray regarding how the Cardinals have been run.
Murray was reportedly "embarrassed" after the team's ugly Wild Card Round loss at the hands of the Los Angeles Rams. Another report saw him labeled as "self-centered" and "immature." This controversy has led many to believe Murray and Arizona could be headed toward a divorce sooner than later.
Despite the Cardinals coming out and shutting down these rumors, a recent comment from the team's owner suggests otherwise.
Cardinals owner Michael Bidwill just handed Kyler Murray a backhanded compliment
Speaking with Arizona Sports 98.7-FM Friday morning, Cardinals owner Michael Bidwill was asked about his current relationship with Murray. Bidwill responded with a sense of assurance Murray was still the guy in Arizona.
"Put me in the corner of I love him," Bidwill said. "And I know he's going to get better."
At first glance, this looks like a vote of confidence from the Cardinals organization. However, upon a second look, the inclusion of the latter half of this statement is quite interesting.
Bidwill didn't say Murray is already elite or one of the better quarterbacks in football. Instead, he cited his belief in Murray's ability to "get better."
This reads as a backhanded compliment from the Cardinals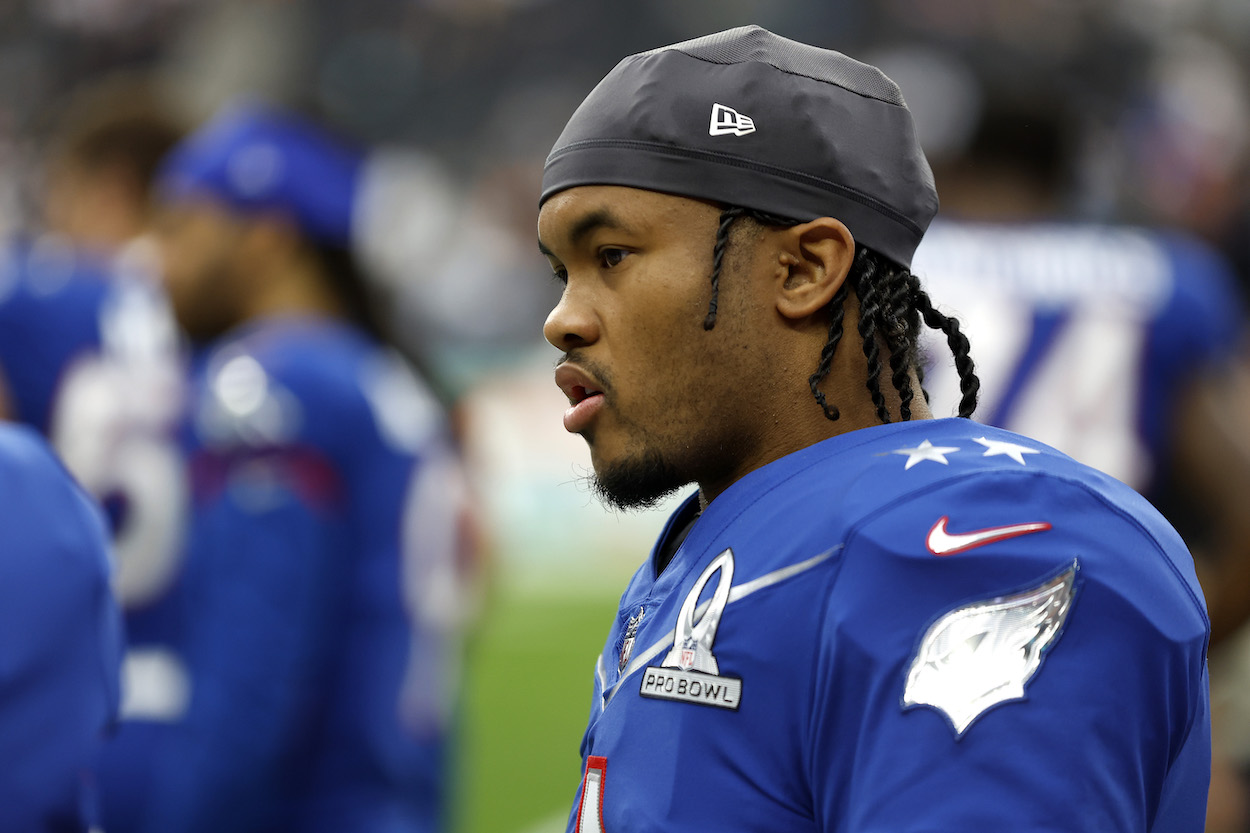 Considering how much controversy is currently swirling around the Murray-Arizona relationship, it's impossible not to read this statement from Bidwill as a backhanded compliment. Clearly, Cardinals ownership believes Murray plays a role in the team's struggles.
Murray had a fantastic regular season in 2021. He racked up 4,000-plus yards of total offense and 29 touchdowns. However, his playoff debut was one to forget. He only mustered 137 total passing yards and threw two interceptions.
People were quick to blame the Cardinals front office and coaching staff for their embarrassing playoff performance. However, it appears the team's owner is leaning in a different direction altogether. He wouldn't have publicly called for Murray to get better if he wasn't internally blaming him for the postseason loss.
What next for Kyler Murray?
Moving forward into the 2022 offseason, Murray will be wearing Cardinals red. Just three years into his NFL career, a trade would be premature for both sides.
However, it's essential to note that Murray is eligible for a contract extension this year. An extension for young franchise quarterbacks these days will cost $30-40 million per season. It's not exactly a tiny decision the Cardinals front office needs to make here.
In addition, Murray might not be jumping at the idea of signing away his next several years to Arizona. He could just as easily push to hit free agency in two years or at least push for a trade once it becomes more feasible for the Cardinals to do so.
Regardless, Murray's situation in Arizona is an interesting one to watch in 2022. There appears to be a ton of back-channel communication and leaks to the media. It's not a good way to get business done.
All stats courtesy of Pro Football Reference.
RELATED: Shocking New Report Labels Cardinals QB Kyler Murray as 'Self-Centered, Immature, and a Finger Pointer'