Kyler Murray's Agent Just Sent an Ominous Message to the Cardinals
Since the moment he cleared his personal Instagram of all Arizona Cardinals-related content, all eyes have been on Kyler Murray and how he plans on approaching this upcoming offseason. Several reports have pinned Murray as a victim of poor circumstances who is frustrated by his team's lack of progress. Other reports have pinned him as the problem in Arizona, labeling him a self-centered individual.
Regardless of which side you gravitate toward, Murray and the Cardinals are both treading on thin ice. One false move and everything could come crashing down for the franchise and its 2019 No. 1 overall pick.
Kyler Murray and the Cardinals are bickering behind the scenes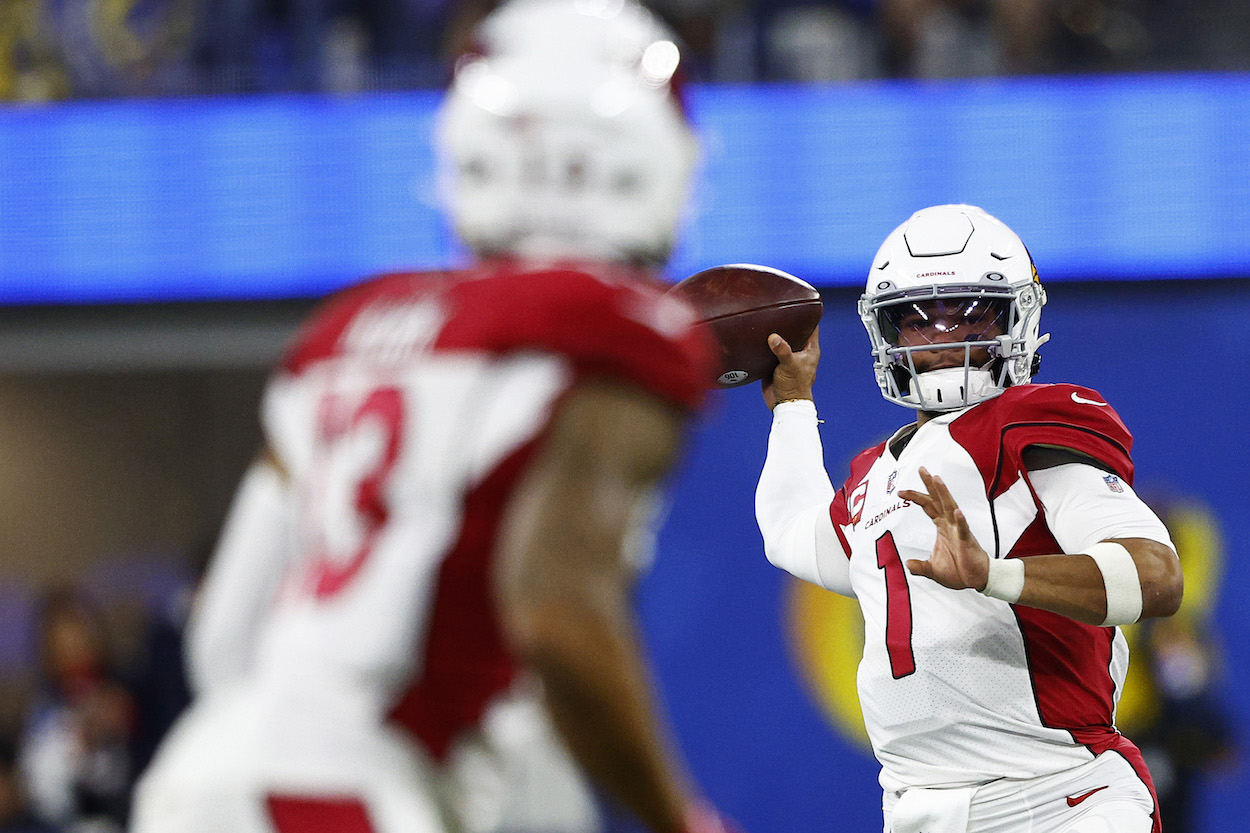 Murray nor the Cardinals' front office have come out with explicit statements condemning each other. In fact, public communication between the two sides has been cordial. Arizona is posturing like it fully believes in Murray as its franchise quarterback, while Murray is yet to suggest he wants to leave the desert for a new team.
However, the back-channel communication between the two parties hasn't been as polite. Most of the leaks and reports are obviously being put out there to blame the other side for the current friction.
Murray and his team are frustrated with the organization's lack of success over the past three seasons. They're also starting to plant the seeds for Murray to ink a massive, franchise-altering contract extension in 2022. Murray wants to be paid like one of the best quarterbacks in football.
On the other hand, the Cardinals seemingly blame Murray for the team's struggles in 2021. Owner Michael Bidwill even went as far as talking about Murray needing to improve as a player.
Both sides are seemingly frustrated with each other. However, neither wants to take this battle into the public's eye, hence all the strange leaks and insider reports.
Kyler Murray's agent took an indirect jab at Arizona
Up to this point, it doesn't look like a trade is imminent for Murray. Sure, he's frustrated with the state of the Cardinals, and the team's front office isn't any happier themselves. However, good quarterback play is hard to come by these days, and Murray is still one of the better young passers in the league.
With that said, Murray's agent recently jumping into the fray has made things extremely interesting.
Commenting on Aaron Rodgers and his respective contract battles with the Green Bay Packers, Erik Burkhardt argues Rodgers is worth more than $50 million. Burkhardt claims the Packers would be nothing more than a five-to-six-win team without Rodgers under center.
Maybe Burkhardt is incredibly passionate about making sure Rodgers gets his money this offseason. However, it feels far more likely this is a way of him taking a shot at Arizona for having second thoughts about extending his client, Kyler Murray.
What next for the Cardinals?
The Cardinals have yet to win a playoff game with Murray under center. However, it's impossible to ignore the success he's brought to the franchise.
Arizona was one of the worst teams in the league for several seasons before Murray came to town. He's at least made the franchise somewhat relevant again.
At some point this season, the Cardinals need to decide Murray's long-term future. A multi-year contract extension would be costly. However, letting him walk (or trading him) would set the Cardinals right back at square one without a starting quarterback on the roster.
The clock is ticking, and Murray and his agent know this. They're going to start applying more and more pressure.
Like Sportscasting on Facebook. Follow us on Twitter @sportscasting19.
RELATED: Kyler Murray Was Just Dealt a Curious Backhanded Compliment From the Cardinals