Kyrie Irving and the Brooklyn Nets Preach Optimism Before Make-or-Break Home Stretch
Brooklyn Nets general manager Sean Marks won a ring. So did point guard Kyrie Irving. Both overflowed with optimism about the post-All-Star break stretch for the struggling club. However, the Nets are in eighth place and have lost 13 of their last 17. It's going to take more than talk.
On Feb. 22, Marks spoke with season-ticket holders. A night earlier, Irving aired his thoughts via Twitch. There was considerable overlap, but the consensus was that the ring is the thing. Anything less is a failed season.
Bold talk from an organization with a 31–28 record.
Marks is excited to get Ben Simmons on the court for the Brooklyn Nets
As the Brooklyn Nets staggered to the All-Star break, Marks pulled the ripcord on the Big Three of Kevin Durant, Kyrie Irving, and James Harden. Just 13 months after mortgaging every first-round pick through 2027 to get Harden from the Rockets, the GM sent The Beard to the Philadelphia 76ers to get Ben Simmons, Seth Curry, Andre Drummond, and a pair of first-round selections.
Marks told the group that Simmons changed a lot for the Nets.
"Just to have that versatility — and I'm going to keep harping on the versatility that he brings offensively and defensively — it's going to be a matchup nightmare for other teams. There's no question he's already proved he can (guard all over the floor), and it takes a bit of a load off of (Kevin Durant).
"Maybe it puts Kevin in a different light. Maybe it puts Kyrie in a different set of circumstances where they don't have to handle the ball all the time."
The 46-year-old native of New Zealand believes Simmons helps Brooklyn get back to playing faster.
The Nets added veteran Goran Dragić for the unofficial second half, parlaying his relationship with coach Steve Nash into outmaneuvering several other contenders. Brooklyn practiced before Marks' event, and the front-office boss liked what he saw.
"You could feel an exuberance; you could feel a different vibe," Marks said. "Guys are hungry to get back after it. It's tough when you've had four or five days off, and there's some new siblings in town, and guys want to rekindle relationships. It was exciting to see a lot of the conversations that were going on today for sure."
It's championship or bust for the Brooklyn Nets
Last summer, oddsmakers installed the Brooklyn Nets as favorites to win the NBA title. But life came at them fast. Kyrie Irving's vaccination decision, Harden's growing disenchantment, and Durant's knee injury played roles in a hugely disappointing first four months.
Marks said the goal is the same as it ever was.
"Championship," Marks said. "That's it. I'd be doing 17 players and another 60 staff members over there a massive disservice if I said anything other than that because that's what we're all here for."
But it's not going to be easy. Kyrie Irving can play in only eight of the remaining 23 games. Brooklyn is seven games behind Miami and Chicago in the East and 2.5 back of the Celtics for sixth place and a guaranteed playoff berth.
Irving sounded similarly upbeat during his Twitch stream, per Brian Lewis of the New York Post.
"This is great downtime right now before things start getting going again," Irving said. "I think there's like 20-some-odd games left. I'm telling y'all, watch. Just watch. God willing, we're healthy, and everything works out."
Much of how the season works out depends on Durant's sprained knee. Brooklyn is 24–12 with their top gun on the court and 7–16 when he's not. Having 13 of their remaining games at home isn't as much of an advantage as it should be, either. Irving can't play at Barclays Center.
According to Tankathon, the Nets have the 13th-toughest remaining schedule. They have two dates remaining with the Heat and Bucks and play Memphis, Utah, Philadelphia, and Cleveland.
Kyrie Irving is still holding out hope his status changes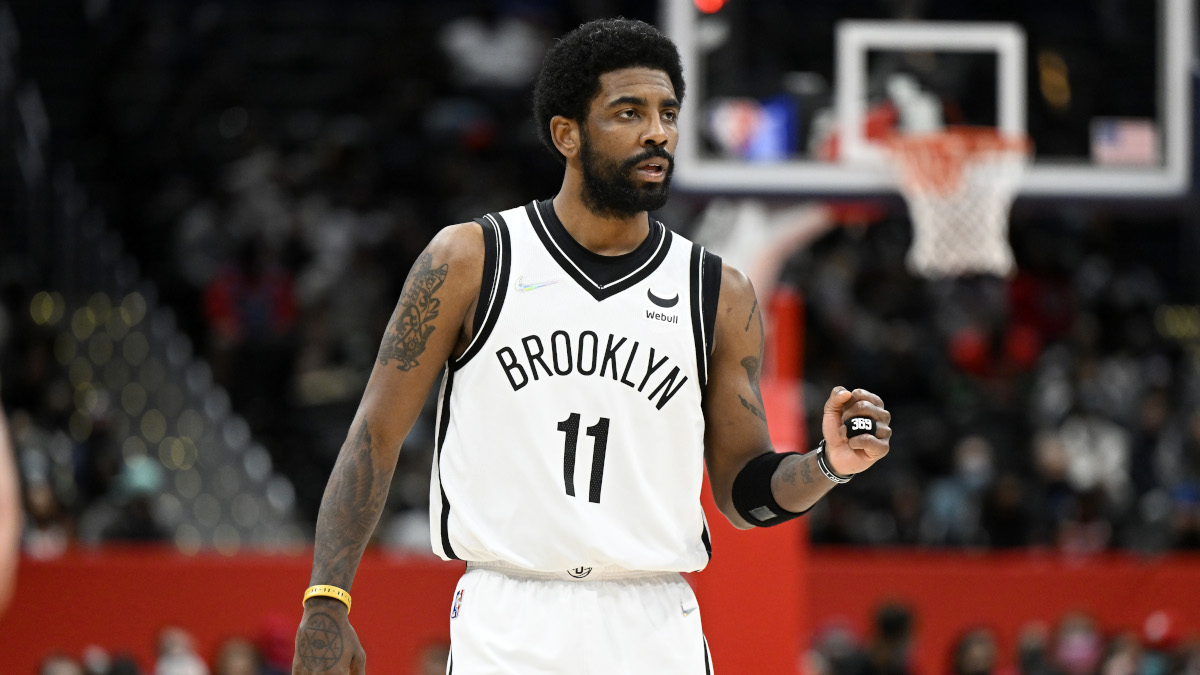 Health and safety protocols around the country are changing, giving Brooklyn Nets star Kyrie Irving reason to hope. He hasn't played at home this season because of New York's vaccine mandate.
Chicago is lifting its mask mandate at the end of February. Marks said he's hopeful the Nets can get Irving back to full-time duty soon.
"Yeah, I have to be optimistic, like everybody here," the GM said. "We all know what's at stake here. If you turn on CNN or BBC or Fox or whatever your flavor is, you see how everything's changing, right? We're starting to see a sense of normality getting back to life. Vaccine rates are obviously high. So I am optimistic. I have to be optimistic. I think that's the only way to look at this."
In Kyrie's 14 appearances, Brooklyn is just 4–10. He's struggled to find consistency with his shooting, and he rarely drives anymore. But the seven-time All-Star averaged 24.1 points and 5.4 assists. Not having to gameplan for separate home and away rotations would be significant for the team, which has struggled to find continuity all season long.
Kyrie Irving and the Brooklyn Nets can talk the talk. But for the last two months, that hasn't translated into walking the walk. Championship-or-bust is an extraordinarily lofty goal for a team on pace to enter the play-in tournament.
Statistics courtesy of Basketball Reference.
RELATED: A 3-Step Plan for the Brooklyn Nets to Live Up to Their Potential in the Second Half of the Season