Kyrie Irving's Annoying Ways May Force Brooklyn Nets to Break up Their Big 3
By acquiring James Harden from the Houston Rockets in January, the Brooklyn Nets finished the assembly of the franchise's first Big Three. Kevin Durant and Kyrie Irving arrived in July 2019, and Harden was the missing piece to bringing the franchise its first NBA title. That was the plan for general manager Sean Marks, at least.
The reality was the Big Three was hardly ever that. It was a Big Two at times, a Lonely One at others. The good news? The trio won 79% of its games together across the regular season and playoffs. The bad news is that sample size is only 14 of the 84 games Brooklyn played this season.
And just like in Cleveland and Boston, there are reports Kyrie Irving has in two seasons created enough drama for Marks to at least entertain the idea of trading him.
Kyrie Irving wore out his welcome in two cities
Despite hitting a huge shot to bring the Cleveland Cavaliers their first championship in 2016, the team was looking to move on from star point guard Kyrie Irving a year later. The story that leaked from the Cavs' front office was Irving demanding to be traded. He was dealt to the Boston Celtics in August 2017. But there were reports the Cavaliers explored the idea of moving on from Irving two months prior, according to Jackie MacMullen of ESPN.
An anonymous source told Jeff Goodman of Stadium that Irving's personality was as much of a minus as his talent was a plus.
"Doesn't want to listen to anybody. I've been around more selfish guys, but when you add up those three — moody, immature, and tough to coach — he doesn't have a leg to stand on."

Cleveland Cavaliers source in 2017
When he got to Boston, Irving famously said he wanted to see his jersey in the rafters someday. After two seasons, he was a former Celtic and few in the organization were sad to see Irving go.
By his second campaign in Boston, smoldering bridges were all over the locker room. A Celtics player told Goodman as much.
"Everyone respects his talent, but he's hard to play with. It's all about him."

Boston Celtics player in 2019
Is Kyrie Irving about to hit the toxic trifecta with the Brooklyn Nets?
The Brooklyn Nets don't leak anything, but whispers of an Irving trade are out there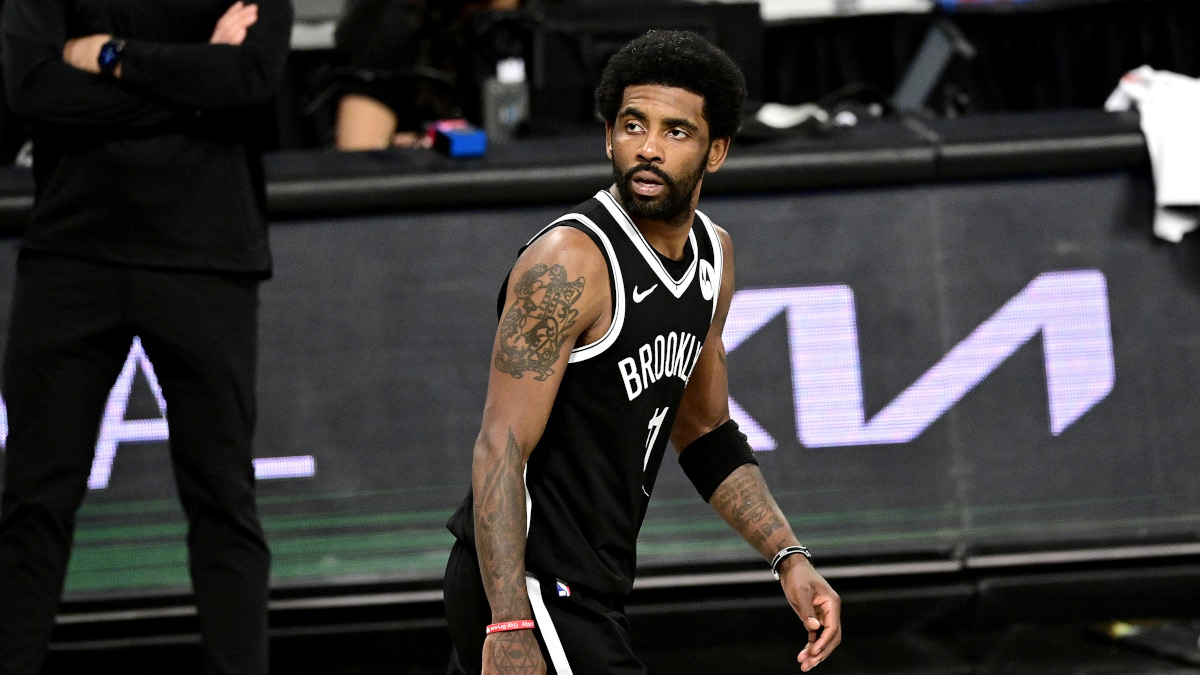 Under Marks' leadership, the Brooklyn Nets run a nearly air-tight operation. News gets out when Marks wants it out and not a second sooner. But author Matt Sullivan told the Celtics Lab podcast there is talk Marks would listen to offers for Kyrie Irving.
"I've heard that Nets ownership was quite upset with Kyrie's pause, especially that maskless party that turned his pseudo-paternity leave into more like a COVID suspension. And in the last week, I've heard rumblings — whispers, really, because cracking the Nets is kind of like breaking into the Kremlin — that (Marks) would maybe, possibly, apparently be willing to at least listen to a trade offer for Kyrie this offseason.

"Now, I'm not sure what the market for Kyrie is at this point. It's not like Ben Simmons giving you the headache on the court. It's that complex personality that comes from off the court. I think it's been annoying some people in the franchise."

Matt Sullivan
Off-the-court behavior is easier to dismiss when there is on-court performance. But Irving has had difficulties in that department as well.
If the most important ability is availability, Kyrie Irving often comes up short
Kyrie Irving just finished his 10th NBA season, and he has a well-deserved reputation for being fragile. In those 10 seasons, Irving has missed fewer than 10 games exactly once. Since coming to Brooklyn, he has appeared in 74 regular-season games and nine postseason contests. That's out of a possible 162 (144 regular-season and 16 playoff games).
Are all the injuries his fault? Of course not, unless you believe Irving deliberately landed on the foot of Giannis Antetokounmpo during Game 4 of the Eastern Conference semifinals. But some of the absences are self-inflicted.
In January, Irving left the team for what he cited as "personal reasons." But his appearance at a party, sans mask, subjected him to COVID protocols before he could return. Irving missed seven games and was docked about $1 million.
Despite missing 18 games, however, Irving was an All-NBA selection for the third time in his career. In 54 games, he averaged 26.9 points, 6.0 assists, and 4.8 rebounds per game and cracked the vaunted 50/40/90 club by shooting 50.6% overall, 40.2% from deep, and 92.2% at the foul line.
The production isn't at issue. The distractions, however, might be enough to tempt the Brooklyn Nets to cut their losses. If nothing else, it will make for another interesting offseason story line.
Statistics courtesy of Basketball Reference and NBA.com.