Conspiracy Theories and Protests Aside, Kyrie Irving's Basketball Legacy Gets Pushed Further Into the Background Every Day
Here's an odd notion. Let's talk about Kyrie Irving, the basketball player. You remember him. A 5-star recruit who played that one injury-shortened season at Duke before entering the NBA as a No. 1 overall draft pick? Yeah, that guy.
Since hitting the Association, Irving has three All-NBA nods, an All-Star Game MVP Award, a Rookie of the Year trophy, and seven All-Star appearances. Oh, plus that ring from the series in which he hit one of the biggest clutch shots in NBA history.
Some controversy recently cropped up when Irving's name wasn't on the NBA 75 team. One prominent current player and former Finals MVP took significant issue with Kyrie's omission. His resume as a player certainly merits consideration for such an honor. It might have been easier for voters if all they had to consider was that on-court body of work, though.
Kyrie Irving keeps overshadowing his legacy of greatness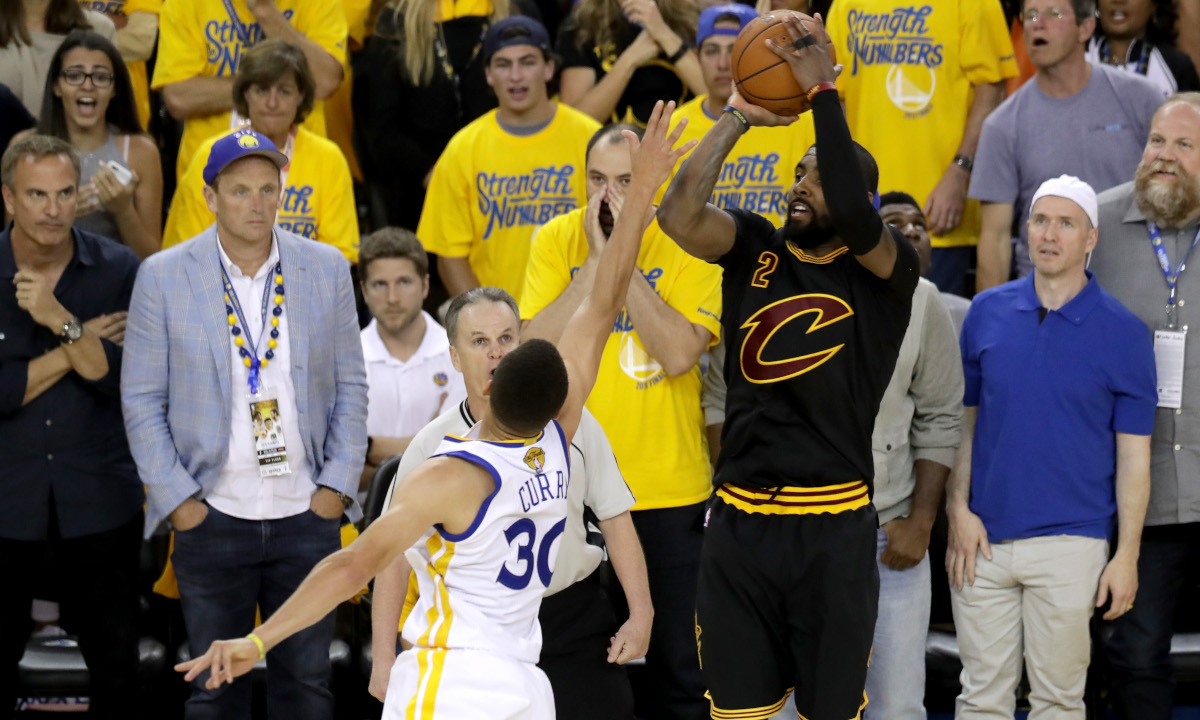 In 10 NBA seasons, Kyrie Irving has averaged 22.8 points, 5.7 assists, 3.8 rebounds, and 1.3 steals. He's a 39.1% 3-point shooter — not elite, but better than average. Last season, he became the ninth member of the 50/40/90 club, shooting 50% overall, 40% from deep, and 90% at the foul line.
That's heady company. The list includes current Brooklyn Nets head coach Steve Nash, teammate Kevin Durant, Hall of Famers Larry Bird and Reggie Miller, as well as Mark Price, Dirk Nowitzki, Stephen Curry, and Malcolm Brogdon. Two-time MVP Elena Delle Donne is the only WNBA player to hit that milestone.
He was part of the greatest comeback in NBA Finals history. No team had ever erased a 3–1 series deficit and won the title. That is until Irving, LeBron James, and the 2015-16 Cleveland Cavaliers did.
Irving can score; he's got tremendous handles, breaks defenders' ankles regularly, owns excellent court vision, and can be a tenacious defender. He's the total package.
Why is it relevant to bring up all these accomplishments and skills? Because Irving sits at a self-imposed crossroads.
Irving's greatness as a player is obscured by everything that comes with it
Kyrie Irving's basketball career has never been as simple as being a great player with a fantastic body of work.
From his "Uncle Drew" alter ego, his views on whether the Earth is a sphere, his leadership style, and whatever non-basketball situation he finds himself in next, Irving's legacy gets muddled.
Irving has been in the headlines most recently because he won't take at least one dose of the COVID-19 vaccine. That's made him a hero in some political circles and a villain in others. Those paths crossed before the Nets' home opener on Oct. 24.
Per CNN, dozens of people protested outside Barclays Center, many holding signs that read, "Stand with Kyrie." It was a fantastic amalgamation of political views blended into one group: people in Black Lives Matter gear side-by-side with folks wearing red Make America Great Again hats.
Putting aside the fact that protesting the Nets over Irving's situation is silly, the case becomes a microcosm of his public life. New York City mandated vaccination before entry into public gymnasiums, not the Brooklyn Nets. But the Nets game was a chance to get signs and faces in front of more cameras than protesting the city's health and hospitals office.
The constant noise around Kyrie Irving becomes what defines him
Kyrie Irving recently stated on Instagram Live that his stance isn't against vaccines but instead in support of workers adversely affected by the imposition of vaccine mandates. That hasn't stopped operatives from seizing on his message to further politicize the country down ideological lines.
It's not limited to politics. A conspiracy theory is bouncing around the NBA world that Irving made the NBA 75 team before losing his spot over his vaccination status, per Slam Studios. The proof offered is a link on the Nets' official website to a video proclaiming Irving's selection, leading to an error message.
Seventy-six players were honored. It's fair to assume more than 100 videos were ready in advance of the three-day rollout of the announcement. The same principle guides news outlets in preparing obituaries of famous people well ahead of their deaths. You know it will happen, and when it does, one doesn't want to be caught unprepared.
In May 2021, Irving said other issues were more important to him than basketball. That's fair, and it's his choice to make.
But Kyrie Irving's legacy in his chosen profession has gotten obscured in the process. He's unquestionably a great basketball player. Unfortunately, the fact seems secondary to everything else surrounding the erstwhile Nets star.
Statistics courtesy of Basketball Reference.
RELATED: Charles Barkley Doesn't Hold Back in 1st TNT Appearance of New Season, Unleashes on Kyrie Irving's Vaccination Status