Ben Simmons, Kyrie Irving Repercussions Could Cost Supermax Players Untold Millions
The NBA collective bargaining agreement calls them Designated Player and Designated Rookie contracts. But we know them more colloquially as the "supermax" deal. And if NBA executives get their way, the next CBA will have conditions to penalize players such as Ben Simmons who sign one of those big-ticket contracts and then almost immediately demand trades.
Simmons is embroiled in drama related to his desire to leave Philly. Last season, James Harden pushed the Houston Rockets into a corner before they shipped him to the Brooklyn Nets. Kyrie Irving's dug-in stance against getting vaccinated for COVID-19 is also drawing some ire from the front-office types. The league recently asked executives about these situations, and the GMs returned the verdict. They are demanding consequences.
The Ben Simmons and Kyrie Irving tragicomedies are different yet similar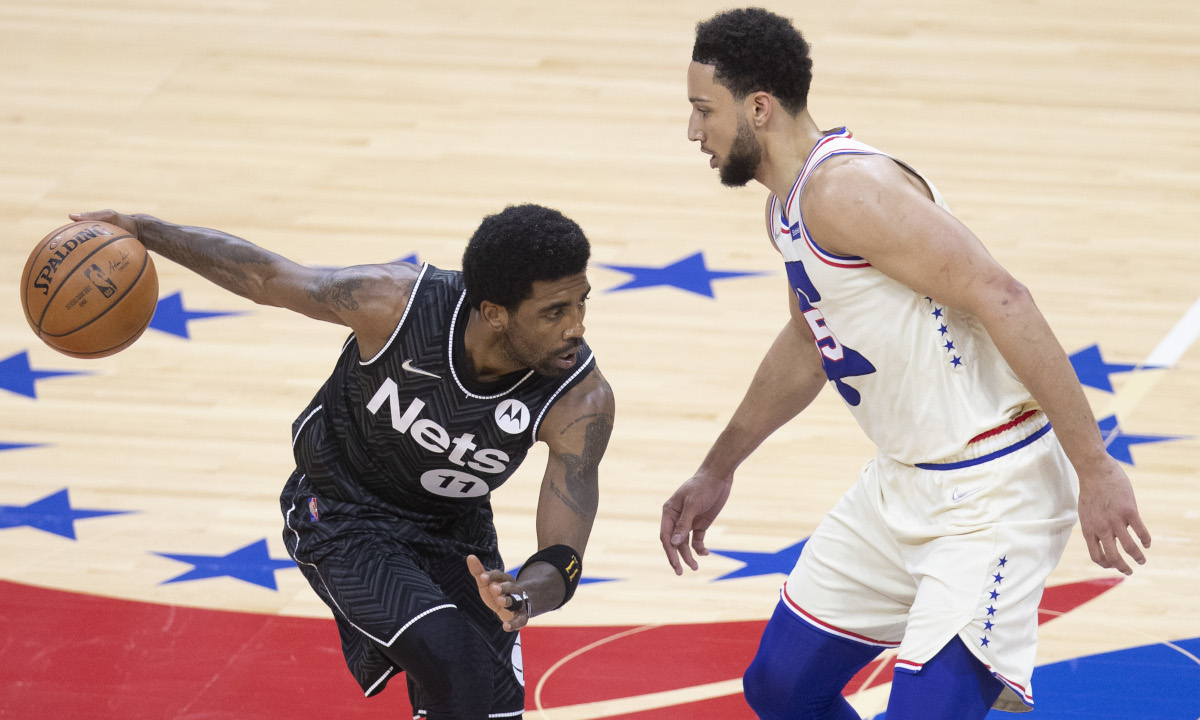 In July 2019, Ben Simmons signed a five-year supermax extension with the 76ers. The $177.2 million deal kicked in last season. Despite having four years left on the deal, Simmons wants out. Last season's playoff meltdown left him with hurt feelings and a desire to leave Philadelphia.
Simmons recently ended his holdout by reporting to the 76ers. Whether that means he's going to play for the Sixers is anyone's guess, however. By showing up in Philly, Simmons managed to make an awkward situation that much more so.
As for Kyrie Irving, he stands to still receive more than half of his $34.9 million salary for 2021–22 despite being ineligible to play in more than half of Brooklyn's games. Willfully making oneself unavailable to your team isn't the sort of behavior teams are hoping for from their franchise players.
Harden's situation in Houston involved another player who had just completed the first year of a supermax extension. Then hetried to misbehave his way out of The Energy Capital of the World. He did so specifically by displaying very little of it while wearing a Rockets uniform.
That has NBA general managers feeling like dupes. They want that addressed in the next round of CBA talks.
Executives want repercussions for players like Ben Simmons
According to an explosive report from Jake Fischer of Bleacher Report, NBA executives unloaded in response to a recent memo asking for feedback about the state of business. Specifically, GMs don't believe the supermax contracts are working as intended. The supermax was designed to give small-market franchises a better chance of holding onto elite talent. Instead, trade demands like those from Simmons and Harden are backing teams into uncomfortable corners.
What executives want are consequences for players that ask out early, according to one assistant GM:
"There's gotta be some kind of penalty or fine. These guys sign the supermax, and they want to get traded the next day."

NBA assistant general manager
Simmons is not only demanding a trade. If traded, his contract calls for him to get even more money when he is. He has a trade kicker, a 15% bonus to be paid if dealt. Not only would the 76ers give up one of their franchise cornerstones. They would also owe him more than $22 million for the privilege of losing an elite player.
The trade kicker is based on the remaining money on the contract, in Simmons' case nearly $146.7 million.
Kyrie Irving's situation is more complicated. He is not demanding a trade. He's not willing to do what is necessary to be available to the club on a full-time basis. The Nets are over the luxury tax apron (by a lot). A team having $35 million, plus the penalties, tied up in a player ineligible for 43 games makes it sting that much more.
There is a road to a solution for situations like those of Kyrie Irving and Simmons
Some executives told the league they want supermax players to forfeit as much as 70 percent of their salary when demanding a trade; that's not likely.
But what could gain traction is if the NBA is willing to give up a more significant percentage of basketball-related income. The union might agree to a designated player losing 40 percent of their guaranteed money.
"If you put a provision in there and say you can't ever ask for a trade, and we'll give you a [BRI] percentage more, the league could win that," said one player agent.
Teams can trade players at their whim, short of a player holding a no-trade clause. Per Hoops Rumors, no one in the NBA has one. As designed, the supermax gave teams and star players some stability.
In practice, Ben Simmons and Kyrie Irving are among the players who have instead exposed its limitations.
Contract information courtesy of Spotrac.
RELATED: If Ben Simmons Gets His Wish He Would Accomplish a Feat Never Before Seen in NBA History