Kyrie Irving's Brilliance and Kevin Durant's Imminent Return Negate Ben Simmons' Setback
The Brooklyn Nets' chances of contending seemed to take a hit this weekend, with Shams Charania of The Athletic reporting that Ben Simmons needs time for a back injury impacting his reconditioning process. But while Simmons remains without a timetable, it's almost inconsequential. Kyrie Irving is showing signs of breaking out and could soon become a full-time player, while Kevin Durant is on the verge of making his long-awaited return to the rotation.
The Nets are currently the No. 8 seed in the Eastern Conference and have some ground to make up if they hope to avoid the play-in tournament. A healthy Simmons would certainly improve Brooklyn's chances of doing that with his playmaking and perimeter defense.
However, the Nets' championship hopes ultimately rest primarily with Irving and Durant. It's a good thing, then, that Uncle Drew is building momentum and KD is on the verge of receiving clearance to play.
Kyrie Irving had his best game of the season in a big win over the Milwaukee Bucks
Before Ben Simmons came to Brooklyn, a part-time Irving struggled to carry a Nets team without (at the time) James Harden, Kevin Durant, and Joe Harris. It proved difficult.
The Nets lost 12 of 14 games heading into All-Star weekend. They then got thrashed by the Boston Celtics in their first game out of the break. However, Irving might have supplied Brooklyn with a vital shot in the arm, pun intended.
Uncle Drew scored a season-high 38 points in Saturday's win over the Milwaukee Bucks. He shot 14-of-26 from the field, also dishing out five assists and grabbing five rebounds.
Irving practically got whatever he wanted against the Bucks. He repeatedly got into the lane and did what he does best in creating separation off the dribble, routinely pulling up for mid-range jumpers and effortlessly putting the ball in the hoop.
The Nets desperately needed this kind of performance from one of their top stars. Although there's still a general lack of clarity as to whether Irving can play in home games in the near future, the sheer possibility of him putting together these types of performances on a more regular basis should encourage Nets fans.
Even more encouraging is the imminence of KD's return to the hardwood.
Kevin Durant expected to return in the next several days
Durant's absence served as the most significant factor contributing to Brooklyn's slide.
Before suffering a sprained MCL, the four-time scoring champion established himself as a top candidate for league MVP honors. Durant has not played since mid-January. The losing has likely made his hiatus all the more agonizing from a personal level, particularly when considering all the drama of the Harden-Simmons trade and Kyrie Irving's on-again, off-again availability.
However, KD is almost healthy for the stretch run.
Nets head coach Steve Nash said after Saturday's win over the Bucks that Durant continues to progress toward a return. He suggested (h/t the New York Post) that return could come before the end of this upcoming week.
"Every day closer. We'll see. I expect in the next week he'll be back for sure. But it could be quick, it could be the whole week barring setbacks."

–Steve Nash on Kevin Durant's eventual return to the lineup
This is terrific news for the Nets, and certainly gives Irving some added juice in terms of getting his co-star back on the floor. Durant rarely needs much of an adjustment period, so he should be at full go once he officially gets the green light.
Can Kyrie and KD hold down the fort until Simmons is ready to play?
Irving and Durant must steer the ship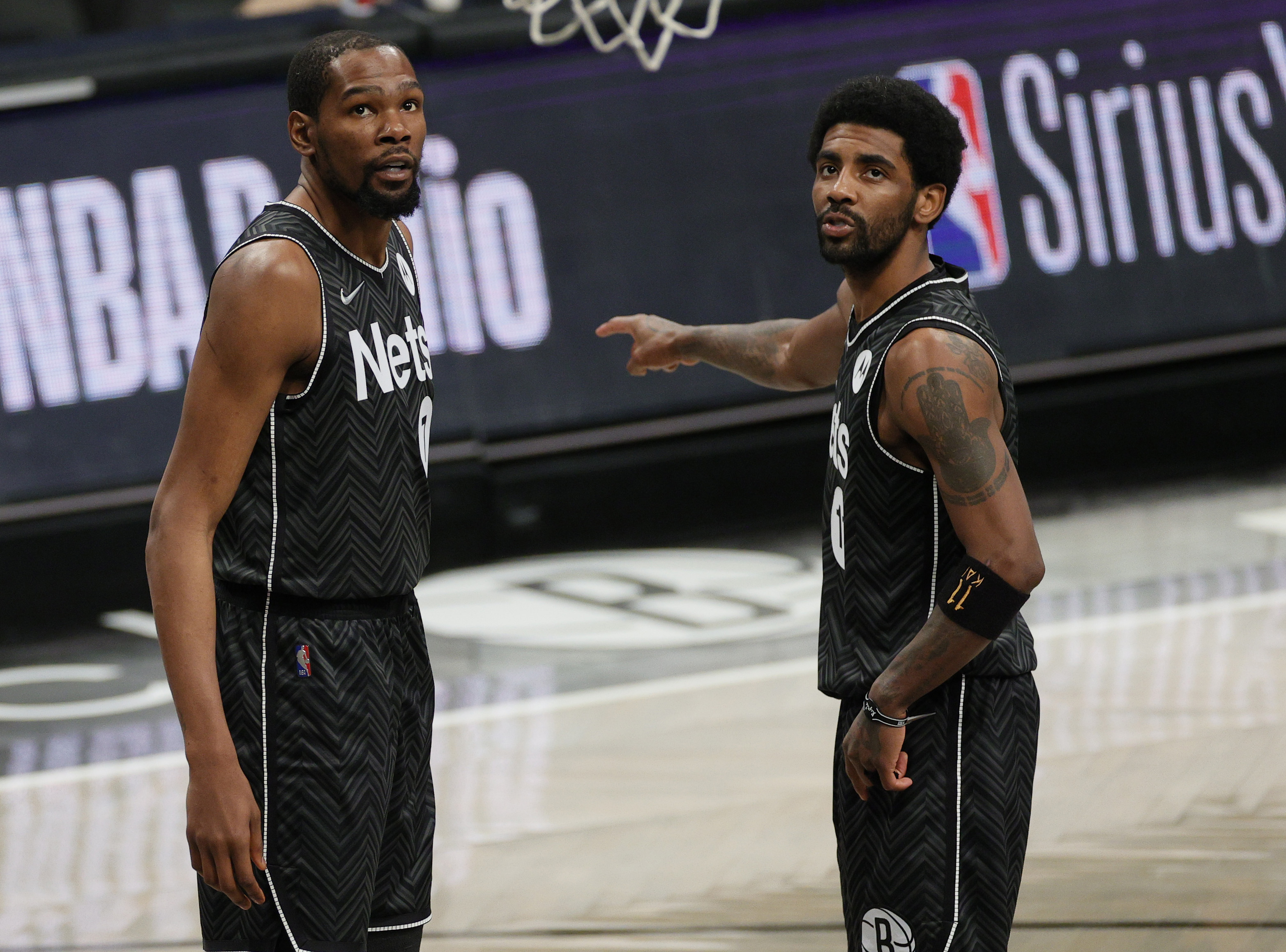 In hindsight, Kyrie Irving and Kevin Durant started the movement in Brooklyn. With Ben Simmons' readiness yet to be determined, can the two superstars carry the Nets in the final month-plus of the regular season?
Durant and Irving have played all of 82 minutes together this season. However, in that stretch, they have a whopping 14.8 net rating, per NBA.com.
Yes, the sample size is small. The two All-Stars didn't play a whole lot together last season, either. Still, the sheer quality of basketball they play makes it seem inevitable that KD and Kyrie can thrive if they can rack up minutes and build for the playoffs.
Irving, his teammates, and Nets management are trying to stay optimistic amid a drama-filled season. Uncle Drew gave fans a reason to smile on Saturday, and the entire borough of Brooklyn will likely light up when Durant steps back onto the court.
Stats courtesy of Basketball Reference unless otherwise noted.
RELATED: Brooklyn Nets News: Seth Curry Emphatically Denies Rift With Ben Simmons