Kyrie Irving Gets Called out by a Hall of Fame Point Guard for a Comment He Made Nearly 11 Months Ago: 'That Should Not Be Said'
Throughout his career, Brooklyn Nets star Kyrie Irving has been in the news several times. From his breakup with LeBron James, to his drama on the Boston Celtics, and even his violation of the league's health and safety protocols with the Nets in 2020-21, Irving is no stranger to receiving media attention. However, a Hall of Famer just called Irving out for something he didn't even say recently, but rather 11 months ago.
The Hall of Fame player was Gary Payton, and it seems that he didn't appreciate Irving's 2020 comment regarding the Nets' head coaching position.
Kyrie Irving said he didn't 'really see' the Nets as 'having a head coach'
About a month after the Nets hired Steve Nash as their head coach, and during the 2020 NBA Finals, Irving appeared on teammate Kevin Durant's podcast, The Etcs, and made a controversial comment about the team's coaching position.
"I don't really see us having a head coach," Irving said, per ESPN. "KD could be a head coach, I could be a head coach [some days]."
However, after participating in training camp, Irving walked that statement back.
"Steve's been amazing," he said, per ESPN. "He kind of commands the respect. I think I've got to take back my comments in terms of the head coach back a few months ago. But it's just like, man, we have such a great synergy. Everyone feels like we're coaching one another to be better, so I'm grateful for that."
Gary Payton, though, recently received a question about Irving's original comment, and he took issue with it.
Gary Payton called out the Nets star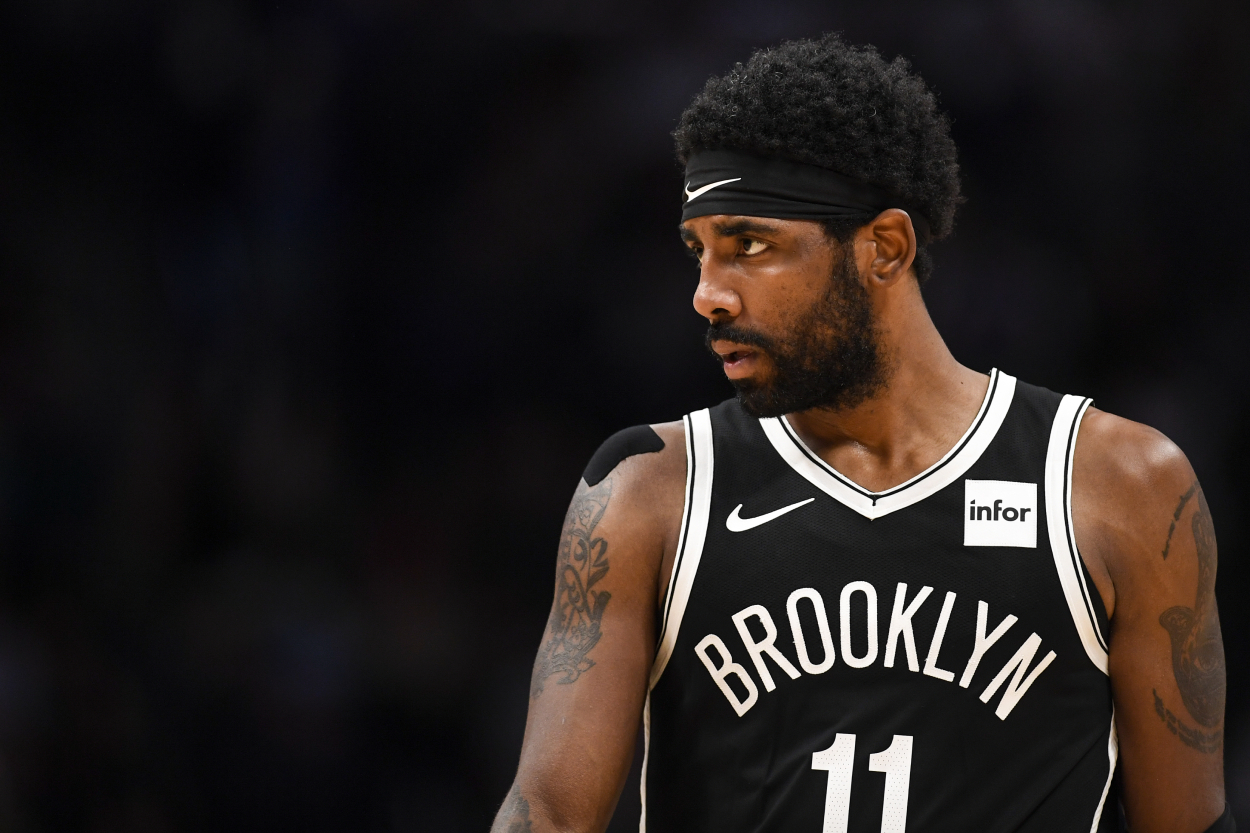 Payton knows a thing or two about being a successful point guard. He was a nine-time All-Star and All-Defensive Team honoree in his career, and he won the 1995-96 Defensive Player of the Year award. Payton is now in the Naismith Memorial Basketball Hall of Fame, as he's No. 10 in league history in assists with 8,966 and fourth in steals with 2,455.
Although he no longer plays, the former SuperSonics star still, obviously, has strong opinions about what's going on around the league, and when asked about Irving's 2020 comment on Nothing Personal with David Samson, he took issue with it.
It's worth noting that Samson paraphrased Irving's quote when bringing it up. But it remains possible Payton saw what Irving actually said around the time Durant's podcast came out.
"That shouldn't be said; that should not be said," Payton said on the Aug. 27 episode. "I think that that was a bad statement by him. You should respect the coaches. You should respect the guys who [are] put in them positions. If you were a guy that was my superstar and you come to me, and you perform on the floor and do the things on the floor that you're supposed to, then I'm gonna bring you in on everything I'm doing anyway because I want to keep you happy and I want to keep our team happy."
Payton then added that he knows Nash pretty well. And he thinks he would have been open to anything Irving had to say.
"Just to blow him up off Day 1, it's just kind of far-fetched," Payton said. "It was far-fetched. But Kyrie is that guy. He's a competitor."
Whether you're a huge Irving fan or an Irving hater, it's reasonable to conclude that — although it wasn't all that bad — he shouldn't have made that comment after his team had just hired a new coach.
But all in all, it appears they worked through it, as the Nets had a lot of success in 2020-21.
Kyrie Irving and the Nets are set up for immense success
It seemed like Kyrie Irving and his fellow Big Three members rarely played together for the Nets in 2020-21 due to injury, and that continued in the playoffs. But he still had a nice year, and Brooklyn was one of the best teams in the league.
Irving scored 26.9 points per game last season, which was a career-high other than the 2019-20 campaign where he only played in 20 games. He also posted 6.0 assists and 4.8 rebounds per game, and he shot a career-best 50.6% from the field.
Irving's play helped the Nets claim the second seed in the Eastern Conference, and they looked ready to go on a deep run heading into the postseason. But injuries to him and James Harden led to a seven-game loss in the Eastern Conference semifinals to the Milwaukee Bucks.
The season may not have ended the way they wanted, but the combination of Nash as head coach and the Big Three's individual skills on the same team proved that — despite Irving's past comment — the Nets are a force to be reckoned with.
Given that they will all be back in 2021-22, the Nets have a bright future ahead of them.
Stats courtesy of Basketball Reference